THIS JUST IN: Michigan underscores EV leadership and momentum with new battery manufacturing plant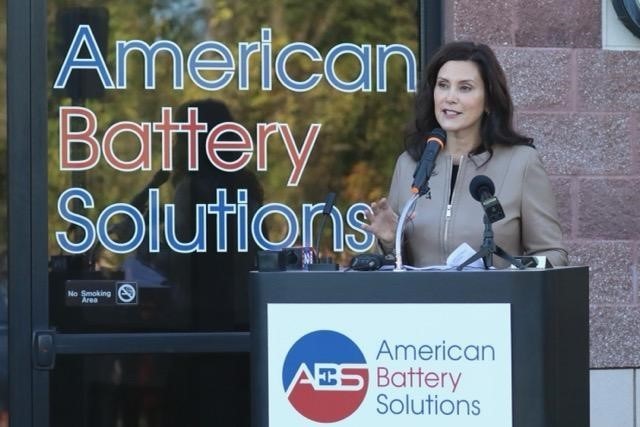 American Battery Solutions Inc. (ABS) celebrated the opening of its new lithium-ion battery manufacturing facility in Lake Orion today while joined by state and industry leaders. ABS will create more than 100 good-paying jobs and build on Michigan's leadership in the mobility and electrification space with the new facility.
"I'm proud that American Battery Solutions is growing in Michigan, and I am laser-focused on collaborating with them and so many other innovators to continue creating thousands of good-paying jobs and building up industries of the future," said Governor Gretchen Whitmer. "We've already made several announcements and investments in the mobility and EV space to complement the work underway in the private sector at the state-level, and I look forward to many more. Together, we can write the next era of Michigan's story—from being the place that put the world on wheels, the arsenal of democracy, the state that built the middle class, the leader in mobility and electrification, to whatever may come next—I am grateful to have partners like ABS as we work together to shape tomorrow."
With the highest concentration of engineering talent in the nation, a wealth of university-led advanced battery research and close proximity to 26 OEMs, Michigan is an ideal location for emerging battery and EV manufacturing. By building its new facility in Lake Orion, ABS will have access to a skilled labor force and robust supply chain to deliver solutions for its global customers on the cutting edge of mobility and electrification. Its innovative technology will further support a range of cutting-edge clients and products.
The investment complements the governor's MI New Economy plan to grow the middle class, support small businesses, and invest in communities and builds on statewide efforts to grow electric vehicle manufacturing and infrastructure in Michigan. It also builds on continued momentum around electrification investments and initiatives throughout the state, including the Michigan Revolution for Electrification of Vehicles Academy/Academies to proactively prepare the talent needed for automotive mobility and electrification current, emerging, future jobs and career pathways. The Governor also recently announced the Lake Michigan EV Circuit to create an electric vehicle route with reliable charging options along Lake Michigan, as well as an initiative to develop the nation's first wireless charging infrastructure on a public road in the U.S. right here in Michigan.
In less than two years, Michigan has attracted more than $9 billion in EV-related investment, including critical EV investments from the Big Three automakers among other key suppliers and mobility companies. Throughout Governor Whitmer's administration, Michigan has built on its rich automotive legacy by creating over 15,000 auto jobs, including the first new auto plant in Detroit in 30 years. Michigan continues to underscore its leadership in the future of transportation through the Office of Future Mobility and Electrification, which drives additional investment and innovation within the industry from throughout the state.
"Michigan's focus on forward-thinking innovations around mobility and electrification continue to attract a host of battery investments from companies around the world, as evidenced by this latest announcement by ABS here in Michigan," said Trevor Pawl, Chief Mobility Officer for the state of Michigan. "We are proud to ensure Michigan remains the center of high-tech electric vehicle production in the U.S. while continuing to build out critical charging infrastructure and prepare Michigan's workforce for the high-tech, high-wage jobs of the future."

To learn more about how the future of mobility and electrification is being led from Michigan, go to michiganbusiness.org/mobility.
To see why companies are choosing Michigan, visit michiganbusiness.org/why-michigan.
About Michigan Economic Development Corporation (MEDC)