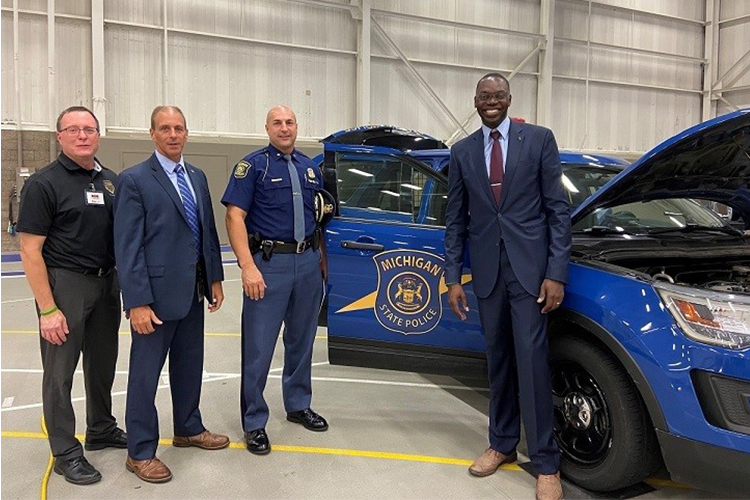 Now in its ninth year, CyberAuto Challenge has kicked off this week at Macomb Community College, with Lt. Governor Garlin Gilchrist II joining officials from Michigan State Police and the Michigan Economic Development Corporation yesterday to highlight the state's leadership in cybersecurity and workforce training.
"With our robust ecosystem and innovative training programs like CyberAuto Challenge, Michigan is leading the future of cybersecurity in the automotive industry and beyond," Gilchrist said. "As we continue to jumpstart our economic recovery, it will be more important than ever that we continue investing in our current and future workforce with good jobs and a business climate where industries like cybersecurity can thrive."
CyberAuto Challenge is a groundbreaking event in automotive cybersecurity held each year in Michigan. The Challenge is a five-day practicum-based workshop in which teams comprised equally of students and professionals, including automotive engineers, government engineers, and ethical "white-hat" hackers, work on real cars to find real answers to the challenges posed by cybersecurity in automobiles. Teams work to identify automotive cybersecurity trends and develop talent in a new technical discipline in a high-tech industry.
Students ranging from Ph.D. to undergraduate from Michigan, Colorado and Ohio are participating in this year's Challenge highlighting the importance of the program both in building the cybersecurity talent pipeline here in the state, and positioning Michigan as a national leader in efforts within the field of cybersecurity. Participating students represent the following universities: Northern Michigan University, Michigan Tech, University of Michigan Dearborn, Walsh College, Eastern Michigan University, Colorado State University, University of Colorado and Ohio State University.
The Michigan State Police (MSP) has been attending the CyberAuto Challenge with technical and enforcement personnel since 2016 and has been attending the sister event, CyberTruck Challenge, since 2018. Members of the MSP have worked closely with the CyberAuto staff and students over the past several years in the focus areas of vehicle forensics and vehicle health (cyber resistant) issues. In 2021, the MSP has taken a more active role to highlight the topic of vehicle forensics in the cyber domain.
"With society's reliance on connected devices in nearly all aspects of our everyday lives, cybersecurity education and careers are more important now than ever before," said Col. Joe Gasper, Director of the Michigan State Police. "Each year, we look forward to working with students at the CyberAuto Challenge and teaching them digital forensic skills that will be applied in automotive safety."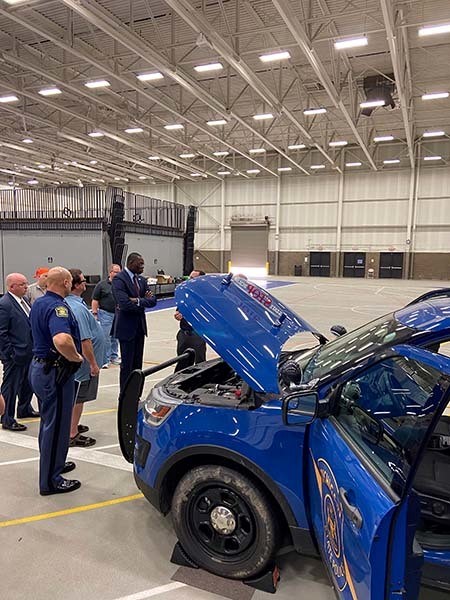 MEDC has been actively involved in the Cyber Auto Challenge in past years, helping secure the Cyber Auto Challenge to its now permanent home at Macomb Community College. Previously, organizations including Battelle and SAE have coordinated the event, but in 2021 MEDC stepped in to run the event – a continuation of the organization's approach to innovative growth through public-private partnerships.
Michigan has the highest concentration of engineering talent in the nation, along with several nationally recognized and accredited universities, equipping the state with the skilled workforce and research expertise needed to drive the next generation of industry innovation.
Michigan is also home to the Michigan Cyber Range, the nation's largest unclassified cyber range with hubs across the state offering more than forty industry-recognized certifications, exercises and workshops aimed at qualifying individuals for positions and contracts in cybersecurity fields. Additionally, programs like MI Reconnect have already helped put more than 70,000 Michiganders on the pathway to receive tuition-free associate degree or skills certificate to meet Governor Whitmer's goal of having 60 percent of working-age adults with a skill certificate or college degree by 2030.
"Michigan is uniquely suited to be the epicenter for developing the solutions that are protecting the security of systems and people across the globe," said Quentin Messer, Jr., CEO of the Michigan Economic Development Corporation. "We are proud that the CyberAuto Challenge calls Michigan home and look forward to working with our partners across the public and private sectors on efforts like these to prepare our workforce for the changing needs of the employers and industry."
To learn more about Michigan's leadership in tech and automotive related industries visit www.michiganbusiness.org/industries.
For more news from the Michigan Economic Development Corporation visit www.michiganbusiness.org/news.
About Michigan Economic Development Corporation (MEDC)