MSF approves support to strengthen Michigan's talent pipeline, continue economic recovery with business growth, community revitalization projects
•Two talent initiatives to focus on strengthening Michigan's workforce, STEM talent •Food producer expanding in Detroit, creating 300 jobs •Community revitalization projects in Kalamazoo, Grand Rapids, Middleville bringing needed housing, growth opportunities •Branding RFPs, Updated Brownfield TIF MSF Program Guidelines, Extension of MSF Awardee Relief Initiative also approved
LANSING, Mich. – The Michigan Strategic Fund today approved new talent initiatives, a business expansion and community revitalization projects along with other actions that will continue to strengthen Michigan's economy and position the state for future prosperity, the Michigan Economic Development Corporation announced.
"Today's actions demonstrate our focus on supporting and strengthening Michigan's workforce as we continue to implement our Michigan Back to Work plan to get Michiganders back on their feet," said Governor Gretchen Whitmer. "From building on our state's agricultural strengths to creating vibrant communities, we remain committed to creating the places where people want to live, work, visit, and play, and where businesses want to invest and grow."

Signature Talent Initiative Invests in Michigan's Workforce, STEM Talent Pipeline

MSF today approved two programs as part of MEDC's talent expansion signature initiative helping to strengthen Michigan's competitive advantage when it comes to talent and workforce – particularly in retraining and upskilling our existing workforce and growing our tech talent. These two programs address both near- and long-term workforce challenges for Michigan's economy by supporting job training initiatives tailored to regional workforce demands and helping to retain STEM talent here in Michigan.

Regional Talent Innovation Grants – This program will provide $7.5 million in Community Development Block Grant-CARES Act funding to local economic development organizations and workforce development partners across the state through proposals for competitive training pilot programs in their regions. The funds will provide grants of between $500,000 and $950,000 to eligible economic development organizations or other nonprofits, which will administer the training programs and target growth in specific occupations in high demand from regional employers. A priority will be training programs focused on low- to moderate-income individuals, particularly those living in geographically disadvantaged areas. It is expected that through these efforts, at least 750 individuals will receive training helping to address the lack of post-secondary credentials and a skills mismatch in occupations related to the MEDC's Strategic Focus industries.
The COVID-19 pandemic has resulted in large-scale job losses across many industries, with disproportionate impacts on individuals working in low-wage occupations and those with lower educational attainment. Also as a result of COVID, businesses now have less capital available to dedicate toward training programs, which would enable their workers to obtain industry-recognized, transferable credentials to continue upskilling, increasing their wages, and supporting their families. These types of initiatives will result in the upskilling and increased wages that are required to set Michigan's workforce on a path toward comprehensive economic recovery, while also safeguarding workers going from low-wage occupations to middle and high-skill occupations from future economic downturns.

Michigan STEM Forward – The MEDC will partner with Ann Arbor SPARK to launch the Michigan STEM Forward internship program on a statewide level. SPARK has run the program on a local level through the Ann Arbor/Ypsilanti SmartZone with a decade of positive results. In scaling the program up, MEDC will work in partnership with SPARK to place 425-450 STEM students currently attending Michigan colleges annually into STEM-focused internships throughout Michigan. With the support of a $1.5 million grant approved today by the MSF Board, SPARK will contribute to 50 percent of the interns' pay, and participating companies will pay the remaining 50 percent. SPARK will track the employment status of the interns for at least 12 months to measure their retention in Michigan as well as those remaining in those knowledge positions.

"Ann Arbor SPARK is thrilled to leverage our decade of experience running our own Ann Arbor-based internship program and take the opportunity to administer the Michigan StemForward program on behalf of the state. We have a solid track record of delivering results that help both businesses and job seekers: Of the students that participated in our internship program over the last five years, 84 percent of them accepted jobs in Michigan upon graduation," said Bill Mayer, Ann Arbor SPARK's vice president of entrepreneurial services. "It's vital that we not only attract talent to Michigan, but retain young jobseekers post-graduation as a strategy to extend the pipeline of workers available to growing companies."

Business expansion in Detroit will bring jobs, spur additional economic activity
EW Grobbel Sons, Inc., founded in 1883, and headquartered in Detroit's historic Eastern Market, specializes in the production of meat and pickled produce. The company has been experiencing a growth in business and has reached production capacity at its existing facility. The growth includes expanding product offerings and new lines of business such as meat snacks, retail sliced meats, additional pickled produce offerings and healthy vegan snack bites. The project will include the construction of a state-of-the-art food storage facility in Eastern Market's Innovation Zone that will include a cooler and freezer, loading docks, shipping, receiving, and office areas, as well as an expansion of the facility in a second phase.

The project is expected to generate a total private investment of $33 million and create 300 well-paying jobs, resulting in an $800,000 Michigan Business Development Program performance-based grant and a $200,000 Jobs Ready Michigan Program performance-based grant. Michigan was chosen over competing sites in Georgia, Nebraska and Ohio.

In addition, the City of Detroit Brownfield Redevelopment Authority received MSF approval of a brownfield work plan including $3,276,724 for the reimbursement of brownfield remediation activities at the site. Local support includes approval of the local tax capture portion of the work plan and a 12-year Industrial Facilities Exemption Tax Abatement valued at $5.6 million.

The project aligns with MEDC's strategic plan by creating attainable jobs in a geographically disadvantaged area of Detroit. The jobs will range from entry-level positions to long-term careers. The company offers a number of training and certification opportunities and promotes from within, and actively hires and supports community residents. Individuals interested in careers with EW Grobbel should visit https://www.ewgrobbel.com/careers/.

"Started in 1883, Grobbel is a long-standing Detroit business and essential to Eastern Market's food production district," said Kenyetta Bridges, DEGC, Executive Vice President Economic Development & Investment Services. "That's a testament to our ability to support Grobbel's continuous growth with development tools. We are truly honored to work with the Michigan Strategic Fund and the City of Detroit Brownfield Redevelopment Authority to secure this project. As a result, Grobbel will add 300 jobs and invest $33 million, which we hope will lead to another 138 years of successful business in Detroit."

Community Revitalization Projects Create Vibrant Communities, Attract Talent

The Michigan Strategic Fund also approved community revitalization projects in Kalamazoo, Grand Rapids and Middleville that are helping to create vibrant places that attract and keep talent. By contributing to traditional downtown districts and revitalizing underutilized public spaces, the projects are bringing new opportunities for economic growth and local vitality to these communities.

The 400 Rose Phase 2 project will construct a new four-story mixed-use building near the primary downtown retail corridor of Kalamazoo. When completed, the project will include 101 apartments, a small commercial space, and underground parking. Approximately 10 percent of the apartments will be designated as workforce housing for households making 80 to 120 percent of area median income. The project is expected to generate a total capital investment of $26.2 million and will add density and bring needed workforce housing within walking distance of several major employers. MSF today approved a $4.85 million Michigan Community Revitalization Program performance-based loan participation in support of the project.

The City of Kalamazoo Brownfield Redevelopment Authority also received MSF approval of a brownfield work plan including state tax capture of $1,821,217 to reimburse for brownfield remediation activities at the site. The city of Kalamazoo is supporting the project with approval of the local portion of the brownfield plan as well a 12-year Neighborhood Enterprise Zone tax abatement valued at $1.5 million. The city of Kalamazoo is certified with MEDC's Redevelopment Ready Communities program.

The project is adjacent to 400 Rose Phase I, which was completed in February 2020 and is currently 97 percent occupied. The development team will seek Leadership in Energy and Environmental Design (LEED) certification for the project, and the construction team will adopt LEED processes for recycling and indoor air quality. The project will include green/live roofs and stormwater storage will be added under the at-grade parking area. The development has access to public transportation and will also include accommodations for bicycle storage to encourage alternate modes of transportation.

"It has been encouraging to see how the city of Kalamazoo and the Brownfield Redevelopment Authority are bringing a diverse group of people to live downtown with a feeling of inclusion as part of this new housing opportunity at 400 Rose Apartments. This $25 million capital investment in Downtown will support much-needed housing. Developers have taken intentional measures with their design, as this part of downtown transitions into our other great neighborhoods to the south, offering a bit of the mixed-use of downtown near the more residentially-oriented and uber-cool Vine Neighborhood," said Nathan Bolton, chair of the Kalamazoo Brownfield Redevelopment Authority. "When people visit downtown, they will no longer walk past these empty parking lots and vacant buildings. Instead, they will appreciate a vibrant, socially inclusive downtown, created by the re-use and activation of a brownfield property which the BRA is excited to support through local incentives."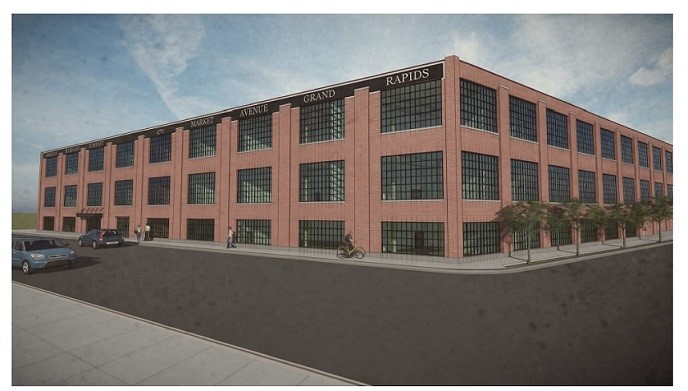 The 470 Market Redevelopment project will redevelop a vacant three-story former industrial building just southwest of downtown Grand Rapids. When completed, the development will include 173 market-rate apartments, office space, a fitness center, clubroom and parking area. The project is expected to generate a total capital investment of $31.2 million and will bring much-needed housing to the area. The City of Grand Rapids Brownfield Redevelopment Authority today received MSF approval of a brownfield work plan that includes $2,674,141 in state tax capture to reimburse for brownfield remediation activities at the site.

The city of Grand Rapids is supporting the project with the approval of the local portion of the brownfield work plan and a 10-year Obsolete Property Rehabilitation Act tax abatement valued at $2.88 million. The city of Grand Rapids is certified with MEDC's RRC program.

Renovation of this underutilized historic building, originally the site of the American Box Board Company, will add vibrancy, bring increased economic activity, and have a substantial impact on the future revitalization of the area.

"The redevelopment of this long-vacant building on the south edge of downtown Grand Rapids is particularly significant for us," said Grand Rapids Director of Economic Development Jeremiah Gracia. "The data supports the need for this housing in our community, and this project is a catalyst for much more to come in the Market and Godfrey Avenue corridors."

Middleville Main, LLC plans to construct a new three-story, mixed-use building on vacant village-owned property in the heart of downtown Middleville. The land has remained vacant since 1981, when the hotel that occupied the property burned down. When completed, the development will include commercial space on the first floor and 11 residential apartments on the second and third floors. The project is expected to generate a total capital investment of $2.8 million and create 10 full-time equivalent jobs, and will serve to bring to life a long-vacant piece of property, fill in the commercial corridor, and transform the village's main street. In addition, the development will provide much-needed workforce housing to Middleville, particularly to employees of the major employer, Bradford White.

The MSF today approved a $990,000 MCRP performance-based loan in support of the project. The village of Middleville is contributing $20,000 from the Middleville Downtown Development Authority Façade Program and a $29,205 Commercial Redevelopment tax abatement. The village of Middleville is certified with MEDC's RRC program, and city officials identified the location for this project through the RRC process. The developer was brought to the project through MEDC's Redevelopment Services Team developer's showcase and the project was awarded a $100,000 Architectural and Engineering grant from MEDC.

"This project will continue to make downtown Middleville a good place to do business and raise a family," said Rep. Julie Calley, R-Portland. "The addition of this space will encourage families to place their roots right here in our community and make Middleville their home."

"The programs and projects approved today lay a path for economic growth and recovery by strengthening Michigan's workforce, bringing good jobs to our residents and strengthening our communities," said MEDC Chief Operating Officer Amanda Bright-McClanahan. "We're pleased to work with our local partners to bring these projects and initiatives to fruition – actions that will continue to strengthen Michigan's economy and further position the state for future prosperity."

The Michigan Strategic Fund also took the following actions:
Grow Michigan II Program Award – The Grow Michigan II Program, a mezzanine-style loan fund that was originally approved in October 2018, was expanded to become more intentional about ensuring that more potential applicants are aware of the opportunity to apply. With this new scope, the Fund will work to increase awareness of the opportunity for capital the fund provides within underserved businesses, including adding another manager to the board to specifically ensure businesses are engaged with and can benefit more directly from the Fund moving forward.
MSF Awardee Relief Initiative – The board approved a temporary extension of the Awardee Relief Initiative, approved in April 2020, to extend through December 31, 2022, to provide emergency relief for up to a total of 24 months for businesses and projects that have received MSF financing.
Image Branding Requests for Proposals (RFP) – The MSF approved the release of four Requests for Proposals to obtain proposals from advertising, marketing and public relations agencies to support the marketing, communications and advertising activities that promote Michigan as a world-class travel destination and business location. Specifically, the MEDC received approval to issue the following RFPs:

Travel Michigan Advertising
Business Marketing Advertising
Travel and Business PR and Communications
Seasonal Travel Guide
Additional details about the RFPs will be announced in the next day, and the full RFPs will be available here: https://www.michiganbusiness.org/public-notices-rfps/.
University Early Stage Proof of Concept-ADVANCE Fund – The MSF today approved support for Michigan State University to administer the University Early Stage Proof of Concept-ADVANCE Fund. Since its inception in late 2016, this program has supported 51 proposals from seven state universities that have received $1.58 million in follow-on funding. Read more about this announcement here.
Brownfield Tax Increment Financing MSF Program Guidelines – The Brownfield Program Guidelines were amended to make the program more accessible for more customers across the state and strengthen MEDC's placemaking efforts through its strategic plan and help guide its work in rebuilding a more equitable and resilient economy for all Michiganders.
About Michigan Economic Development Corporation (MEDC)