THIS JUST IN: Michigan Startups Receive $425,000 Through National Entrepreneur Elevator Pitch Competition
MEDC continues to drive entrepreneurial spirit through Entrepreneurship & Innovation initiatives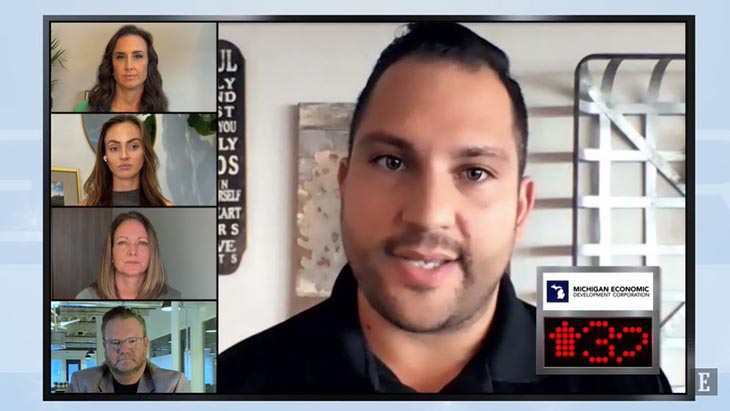 On Wednesday evening, four Michigan startups from Ann Arbor, Grand Rapids, Traverse City and Lowell pitched their companies to a panel of judges – including Patti Glaza from Detroit-based ID Ventures – during a special Michigan-based episode of the national Entrepreneur Elevator Pitch competition.
BrandXR, SampleServe, Inductive Intelligence and Wind Craft Aviation each had 60 seconds to pitch their idea and convince the judges to invest in their company. Sponsored by the Michigan Economic Development Corporation, this opportunity resulted in a total of $425,000 being raised for the Michigan startups, injecting additional capital into the state's robust entrepreneurial ecosystem and igniting further innovation and collaboration from Michigan startups.
"Whether it's a manufacturing solution, a hardware solution or a tech solution, the process is the same. Find good people with good ideas and help them. It's an entire Midwest culture and thrives, in particular, in Michigan," said Russell Schindler, founder of Traverse City-based SampleServe.
Early-stage funding is critical to the success of startup companies and entrepreneurs. Through a number of strategic partnerships, Michigan is able to help startups achieve the early-stage funding needed to succeed. From the MEDC's Entrepreneurship & Innovation initiative's Pre-Seed III Fund – administered by Michigan State University Foundation through Michigan Rise – to the PlanetM Mobility Grants, startups and entrepreneurs have a variety of options for accessing the capital they need early on to spur success.
No other state in the nation provides the breadth and depth of entrepreneurial support to emerging high-tech companies that Michigan does. And through its programs and services – and support for national opportunities like the Entrepreneur Elevator Pitch – the MEDC is committed to continuing to help drive the entrepreneurial spirit and world-class innovation found all across Michigan.
To learn more about the resources and tools available to help startups and entrepreneurs grow in Michigan, go to michiganbusiness.org/entrepreneurship.
About Michigan Economic Development Corporation (MEDC)