THIS JUST IN: Manufacturing Week highlights Michigan's talent, innovation, and resiliency
Thursday, October 1, 2020
This week Michigan celebrates Manufacturing Week in the state, culminating Friday, Oct. 2, in National Manufacturing Day. Manufacturing Week highlights Michigan's continued leadership in manufacturing and tradition of resilience, innovation and ingenuity.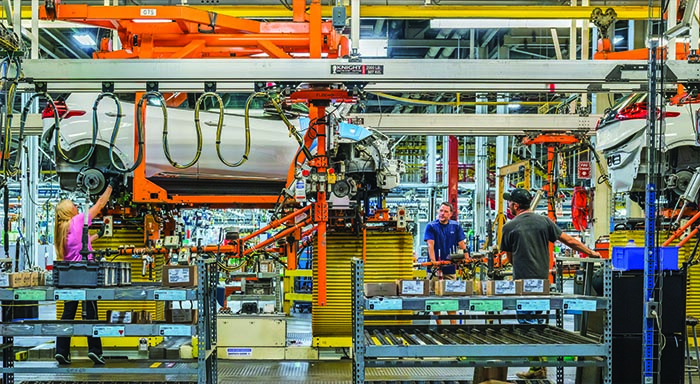 A proclamation issued by Governor Gretchen Whitmer on Sept. 28 recognizes Michigan's more than 11,000 unique manufacturing firms, which account for 626,000 jobs and $98.64 billion of total output annually.
"Michigan is home to hundreds of thousands of hardworking men and women who are dedicated to making the innovative products so many of us rely on every day," Governor Whitmer said. "They were some of the first to go back on the frontlines during the COVID-19 pandemic, many of them creatively retooling their operations to provide critical PPE and other products to keep our state safe and healthy. I'm proud to recognize these dedicated Michiganders not only this week, but every week of the year."
Michigan has been the heart and soul of manufacturing in the United States for decades. The state has diverse manufacturing sectors in automotive, metals, machinery, chemical product, food and beverage, computer and electronics, natural resources, furniture and many others.
Michigan has created more than 162,000 new manufacturing jobs in the last 11 years — an increase of 42.8 percent — remaining the national leader in manufacturing job creation and outpacing all other states.
Other key manufacturing-related statistics for the state include:
Manufacturing represents one-fifth of Michigan's gross state product, according to Bureau of Economic Analysis.
More than 640,000 men and women are directly employed in the manufacturing industry.
Michigan has the nation's highest concentration of mechanical and industrial engineers, and ranks #4 in electrical engineers.
COVID-19: A Statewide Response
Manufacturing Week has always had special significance in Michigan, a legendary global manufacturing leader that is redefining the potential of advanced manufacturing. In the last five years, the state has been at the forefront of job creation and training investment.
But nowhere has that leadership been more evident than during the COVID-19 pandemic, when Michigan's Arsenal of Innovation took its longstanding history of making things – from automobiles to life-saving drugs – and manufacturing know-how, and pivoted to support the nationwide response to COVID-19 by helping to relieve shortages of personal protective equipment (PPE) throughout the country. When health systems, businesses and municipalities in Michigan and across the country faced a shortage of desperately needed PPE for workers on the frontlines, manufacturers of all sizes throughout the state stepped up to retool and support recovery efforts in this time of need.
"In spite of the unprecedented challenges of the past six months, Michigan continues to focus on building an economy driven by technology, innovation, and our manufacturing heritage," said Mark A. Burton, CEO of Michigan Economic Development Corporation. "And as the national leader in manufacturing job creation, Michigan has more manufacturing talent and know-how than any other state, and manufacturing companies will continue to make investments here that will ensure our long-term economic recovery."
National Recognition
Business Facilities magazine recently ranked Michigan as the top state for Automotive Manufacturing Strength in its 16th annual Rankings Report for 2020, a ranking that reinforces the state's manufacturing expertise. And, Michigan maintained its 2019 positions in automotive manufacturing strength, top manufacturing states–percent of workforce, and top manufacturing states–employment. Michigan also added to its top 10 rankings this year in manufacturing output.
Michigan also moved up three places to rank No. 16 in Area Development magazine's 2020 Top States for Doing Business rankings, released earlier this month. The state came in at No. 7 for its site readiness programs, a category that "can be a deal-maker or a deal-breaker" when it comes to companies' location and facility plans.
For more Michigan economic development news, michiganbusiness.org/news.
To learn more about why Pure Michigan means Pure Partnership, visit michiganbusiness.org/pure-partnership.
About Michigan Economic Development Corporation (MEDC)