Action streamlines the PPP forgiveness process for Michigan small businesses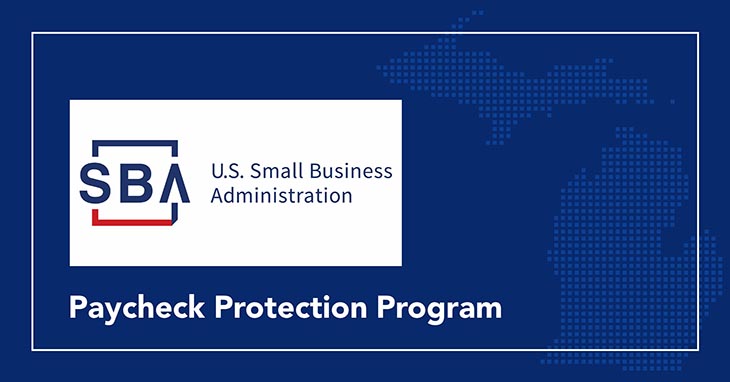 The U.S. Small Business Administration released a simplified loan forgiveness application Thursday for Paycheck Protection Program (PPP) loans of $50,000 or less. This action streamlines the PPP forgiveness process to provide financial and administrative relief to the more than 100,000 small businesses here in Michigan that have received PPP loans to date.
The new loan forgiveness form requires fewer calculations and less documentation for eligible borrowers, including the elimination of a requirement to show calculations used to determine borrower loan forgiveness, through SBA may still request that information as part of the review process. Borrowers with loans of $50,000 or less are also now exempt from reductions in loan forgiveness amounts based on reductions in full-time equivalent (FTE) employees or in salaries
or wages.
"This announcement will help make it easier for small businesses across the state who have received Paycheck Protection Program loans to have those loans forgiven and keep their doors open while protecting the livelihoods of their workers," said Lt. Governor Garlin Gilchrist II. "This is a positive step toward ensuring our businesses, especially those run by women and people of color that have been disproportionately impacted, have the support they need to get through this pandemic, but there is still more work to do including getting a bipartisan recovery package that includes support for families and small business owners through Congress."
Information on new instructions for PPP borrowers of $50,000 or less can be found here, with the new, simpler form for PPP forgiveness available here.
Michigan businesses received 128,159 Paycheck Protection Program loans, as of August, totaling more than $16 billion in support. Additionally, 83,926 businesses received SBA Disaster Assistance EIDL loans totaling $4.35 billion.
The state of Michigan has also deployed $115 million in federal CARES Act dollars directly to support small businesses in the state through the Michigan Small Business Restart Grant program ($100 million) and Michigan Agricultural Safety Grant program ($15 million) helping to supporting more than 11,600 small businesses and farms to date and helping to retain nearly 99,000 jobs statewide. Both programs were administered by the MEDC, and the Restart Grant program in particular was modeled after the MEDC's Michigan Small Business Relief Program, which was launched using existing funding within days of efforts to flatten the curve of COVID-19 took effect.
To learn more about MEDC's COVID-19 response programs and the impact they are having on economic recovery efforts, visit michiganbusiness.org/covid19response. Other resources for economic reopening efforts as well as businesses across Michigan struggling with economic losses as a result of the COVID-19 virus can be found online at michiganbusiness.org/covid19.
About Michigan Economic Development Corporation (MEDC)