Business growth, community revitalization projects around Michigan attract $112 million in investment, continue Michigan's economic recovery
Tuesday, September 22, 2020
• Gerber expanding its facility in Fremont, creating and retaining jobs in community • MI-STEP program to further support export activities of businesses in Michigan • Community development projects will revitalize neighborhoods in Detroit, Eaton Rapids, Ludington, Paw Paw • $10.6 million in infrastructure enhancement grants will help accelerate economic development in eight Michigan communities
LANSING, Mich. – The Michigan Strategic Fund today approved a range of business growth and community revitalization projects, as well expanded initiatives and support for communities that will continue to drive Michigan's economic recovery and further position the state for future prosperity, the Michigan Economic Development Corporation announced.
"Today's MSF actions continue to lay a path forward toward economic recovery for Michigan's residents, businesses and communities," said MEDC CEO Mark Burton. "From business growth and small business support to community vitality, the projects approved today represent Michigan's continued efforts to strategically rebuild our economy to support equitable and resilient growth that will better enable long-term economic prosperity for all Michiganders."
Business growth actions bring jobs, spur additional economic activity

Gerber Products Company, a subsidiary of Nestle USA, Inc., is a leader in early childhood nutrition headquartered in Arlington, VA. Since 1927, Gerber has been a trusted name in baby food and baby care. Gerber owns 10 facilities, with two located in the United States in Fremont, Mich. and Fort Smith, Ark. Gerber is the largest employer in the Fremont area.

Gerber plans to consolidate a line of purees and also relocate a freeze-dry yogurt line that is currently located on the West Coast to its facility in Fremont. The project will add approximately 50 new jobs and retain existing positions as a result of the freeze-dry line, and generate a total private investment of $36 million over the next two years. In addition, Fremont will be the location selected for future new product lines and programs, positively impacting the local supply chain and ensuring that Fremont will become the hub for new programs and technologies in the future.

To support the job creation and investment, MSF today approved an MSF Designated Renaissance Zone for 10 years. Michigan was chosen over competing locations. In addition, the city will receive a Payment in Lieu of Taxes from the company totaling $700,000 that will cover 50 percent of the city taxes abated under the Renaissance Zone. For information on careers with Gerber, visit https://www.nestlejobs.com/our-companies/gerber/.

The project aligns with MEDC's strategic goal of providing competitive wages in an underserved area. In addition, the investment in the Fremont plant will solidify the company's presence in Fremont as the "baby food capital of America" and will secure future opportunities for new technologies and investment. The investment is also important for continued relationships with Michigan growers and suppliers and to strengthen the regionally significant agribusiness industry.

"Gerber's Fremont facility has been a critical component of our regional economy for decades," said Birgit Klohs, President and CEO, The Right Place, Inc. "Beyond providing hundreds of quality advanced manufacturing jobs with competitive wages, Gerber also supports the regional agribusiness industry and has strong relationships with local growers and suppliers. This investment will strengthen Gerber's presence in the region and position the agribusiness industry for continued growth."

MSF also approved a Brownfield Act 381 Work Plan for 400 Island Avenue LLC to demolish two buildings, remediate contaminated land and construct a new facility at the site of the former Crown Vantage paper mill in the city of Parchment. The completed facility will be targeted to warehousing and light manufacturing uses. The project is expected to generate a total capital investment of $12 million and create 15 full-time equivalent jobs and will redevelop an underutilized and unattractive site into much-needed industrial space for the Kalamazoo market. Today's City of Parchment Brownfield Redevelopment Authority Brownfield Act 381 Work Plan approval includes state tax capture of $1,050,133 that will assist with the remediation of brownfield conditions at the site.

The city of Parchment is supporting the project through the local portion of the work plan with an estimated value of $1.5 million.

The project is consistent with MEDC's strategic plan of transforming underutilized properties into attractive places that attract businesses. The project will also increase the taxable value of the property by creating a new spec building that will attract new business to the region.

MSF today approved the acceptance of an anticipated funding award from the U.S. Small Business Administration State Trade Expansion Program (STEP), as well as matching funds to support the Michigan STEP grant initiative (MI-STEP). The approval included allowing the MSF fund manager to accept the SBA award on behalf of MI-STEP and approve the required match funds. Additional details will be announced once the award is officially approved by the SBA.

MI-STEP is designed to spur job creation by empowering Michigan small- and medium-sized enterprises (SMEs) by linking them to resources and opportunities to expand exports to new international markets. MI-STEP provides financial assistance awards to SMEs, reimbursing them for expenses for eligible export-related activities.

MSF also approved an expansion of eligible activities allowed under the program, including e-commerce and compliance testing, as well as increased website expenses. Limited program changes were originally approved by MSF in May based on directives from SBA as part of the Coronavirus Aid, Relief and Economic Security (CARES) Act.

Today, MSF approved an extension through fiscal year 2021 of eligible activities allowed under the program, including e-commerce and compliance testing, as well as increased website expenses. These additions are designed to assist companies in growing their visibility in target foreign markets amid today's evolving business environment. These updates align the program with changes SBA announced earlier this month to the STEP grant eligibility requirements. MSF also approved an increase in the maximum grant reimbursement from 50 percent of eligible expenses to 75 percent, maintaining the annual cap of $15,000 per company.

MEDC's MI Project Exception Program (MI-PEP), which provides export assistance to companies that do not meet SBA's small business requirements, also received MSF approval of additional eligible activities and an increase in the maximum grant reimbursement amount from 50 percent to 75 percent, bringing the program into line with MI-STEP and SBA.

Community Revitalization Projects Create Vibrant Communities, Attract Talent

The Michigan Strategic Fund also approved community revitalization projects around the state that are helping to create vibrant communities that attract talent through innovative placemaking. By contributing to traditional downtown districts and revitalizing public space in geographically disadvantaged areas, these projects are helping to develop attractive places to live, work, visit and play.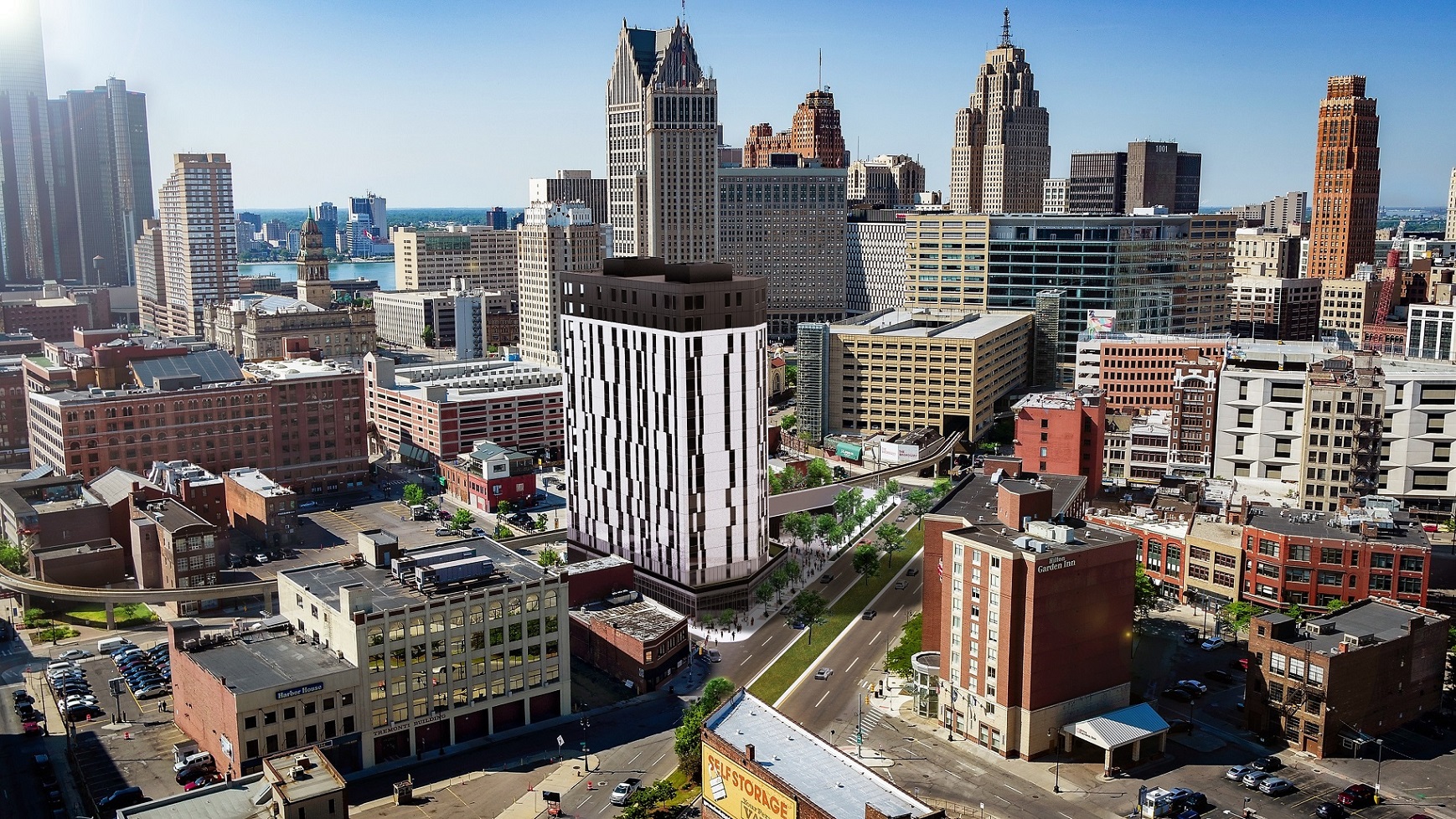 Exchange Detroit, LLC plans to demolish a surface parking lot into a 16-story mixed-use building in the Greektown neighborhood of Detroit. When completed, the development will include retail and office space on the first floor, and 165 residential units on the upper floors with amenities including a fitness room, clubroom and deck. Residential units will include 153 rental units and 12 condominiums, with 20 percent of the rental units being priced to meet affordable unit requirements. Parking will also be available. Public improvements will include sidewalks and curb enhancements, lighting, landscaping, benches, road improvements and more.

The project is expected to generate a total capital investment of $64.6 million, activating an unused space and bringing increased density to the neighborhood, generating increased tax revenue, and bringing much-needed housing to the area.

The City of Detroit Brownfield Redevelopment Authority today received MSF approval of a Brownfield Act 381 Work Plan including $2,553,172 in state tax capture that will assist with the remediation of brownfield conditions at the site. The city of Detroit is supporting the project through the local portion of the work plan with an estimated value of $188,444 and approval of a 15-year Neighborhood Enterprise Zone abatement valued at $12.5 million. The city of Detroit is engaged with MEDC's Redevelopment Ready Communities program.

The city of Eaton Rapids has been awarded $2,905,898 in Community Development Block Grant funds for the Island City Parks Improvement project in downtown Eaton Rapids. Island City Park is historically significant to residents and serves as a site for weddings, memorials, concerts and other events. The project includes the renovation of the existing park infrastructure, constructing new walkways to enhance connectivity and incorporating placemaking features throughout the park system.

A new trail will complete a loop to connect Island Park to Mill Pointe Park to the canoe launch and the proposed new park bridge. The stairs to access the park bridge would be eliminated and replaced with an ADA ramp to provide universal park access. New park benches and trail lights will be installed in various locations; along with replacing outdated playground equipment with new modern equipment. The project also includes structural work to the flood protection walls.

The city of Eaton Rapids is contributing $1.2 million toward the project. The project will increase vibrancy, walkability and activity in the downtown and lead to more economic activity in the area.

The city of Ludington has received $2,123,190 in CDBG funds for public facility improvements needed for the James Street Plaza/Legacy Park project in downtown Ludington. The project will transform a temporary town square on a closed one-way street into a four-season active community and recreational space. The project will include a permanent pavilion, year-round bathroom structure, fireplace and a rain garden. It will also acknowledge the city's maritime and lumbering heritage and honor the three Native American tribes that first settled the area.

The project is expected to benefit the community by increasing outdoor, year-round recreational and cultural activities. The city anticipates that the project will spur increased private investment and additional economic activity within the downtown. The city plans to contribute $389,710 toward the project.

The village of Paw Paw has been awarded $1,968,130 in CDBG funds for public improvements for the Michigan Avenue Placemaking and Streetscape project in downtown Paw Paw. The project includes the transformation of public space including eliminating dangerous steps currently dividing sidewalks, adding bump-outs and public seating, improving street lighting and improving water and sewer infrastructure. In addition, the project will add improved landscaping, green space and rain gardens.

These improvements will enhance the aesthetics and walkability of the district, while also improving connectivity of residents to local businesses and creating a sense of place that will improve the economic viability of downtown Paw Paw. The village and Downtown Development Authority are contributing $804,423 toward the project, and the U.S. Department of Agriculture has awarded the project an $89,025 grant. The total project cost is expected to be $3,598,034.

In addition, the Michigan Strategic Fund today awarded a total of $10.6 million in Community Development Block Grant Infrastructure and Resiliency funds to eight communities around Michigan for infrastructure improvements. The Infrastructure and Resiliency funding round opened In November 2019 and was intended to assist low- and moderate-income communities in making necessary improvements and/or upgrades to their existing public water, sewer, and wastewater infrastructure systems, ultimately leading to accelerated economic development.

Infrastructure and Resiliency grant awardees: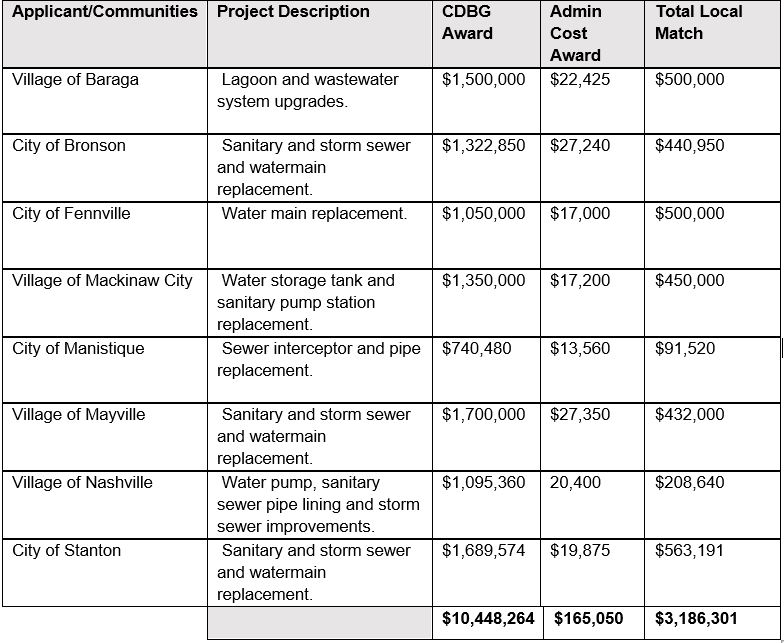 MSF today also approved a total of $19.8 million in Community Development Block Grant Coronavirus Aid, Relief and Economic Security (CARES) Act funding to all 77 Michigan non-entitlement counties through the CDBG program. These CDBG CARES fund allocations are designated for COVID-19 related unbudgeted county expenditures used to prevent, prepare for and respond to COVID-19. Examples of eligible reimbursable expenditures include: Purchase of health care equipment, public services such as COVID testing sites, and hazard pay for essential workers. These counties did not receive CDBG CARES funding directly from the U.S. Department of Housing and Urban Development. To see the entire list of counties that received funding, visit here.

To learn more about MEDC's COVID-19 response programs and the impact they are having on economic recovery efforts, visit michiganbusiness.org/covid19response. Other resources for businesses across Michigan struggling with economic losses as a result of the COVID-19 virus can be found online at michiganbusiness.org/covid19.
About Michigan Economic Development Corporation (MEDC)