THIS JUST IN: FCA's $4.5 Billion Investment in Michigan Recognized as 2019 Deal of the Year
Part of FCA's plans involve converting two Michigan-based plants into the future assembly site for the next-generation Jeep® Grand Cherokee, as well as an all-new three-row full-size Jeep SUV and plug-in hybrid (PHEV) models.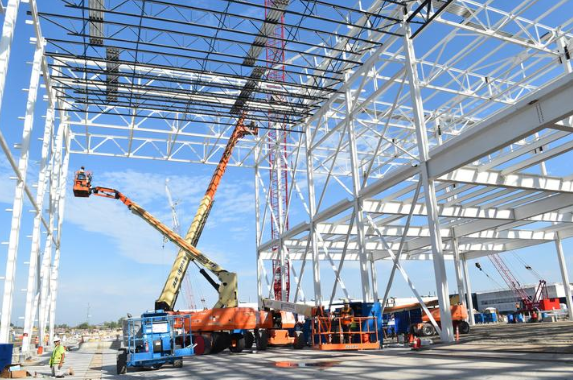 Steel is raised to form the structure of the paint shop being built to support FCA's new assembly plant on Detroit's east side.
Seven days into the new year, Michigan already has cause for celebration as Business Facilities magazine announced today the Fiat Chrysler Automobiles (FCA) $4.5 billion investment in Detroit and nearby Macomb County as the 2019 Deal of the Year. Chosen among a pool of more than 40 projects across the country — making it the most competitive year to date — the judging panel of independent site consultants and real estate executives considered the FCA project a clear standout thanks to the significant investment it will generate and the high-wage direct and spin-off jobs it will create.
During a press conference with Governor Gretchen Whitmer and FCA Chief Operating Officer for North America Mark Stewart in May 2019, FCA announced an investment of $4.5 billion, creating 6,433 good-paying jobs at a new state-of-the-art assembly plant in Detroit and five existing Michigan facilities, that will enjoy expanded production as well as the ability to build fully battery electric models in the future. This generational project represents the largest automotive assembly plant deal in the U.S. in a decade and is the first new automotive assembly plant in Detroit in more than 30 years.
"Michigan is known globally as a home of opportunity for companies like Fiat Chrysler Automobiles that are working to identify, develop and deploy the mobility technologies of the future," said Jeff Mason, CEO of the Michigan Economic Development Corporation (MEDC). "We are proud of the work that went into securing FCA's transformational investment and look forward to the long-term economic opportunities it will create for working families across the state."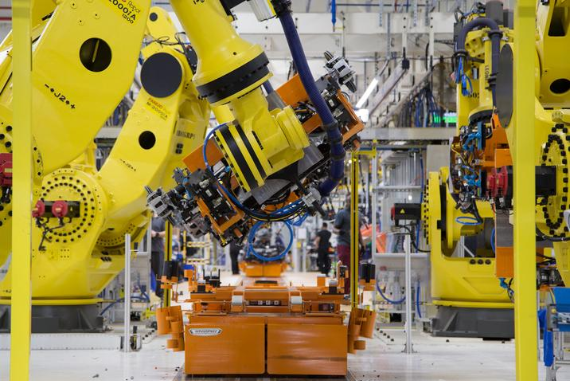 Today's announcement builds off the momentum created over the past year by a series of mobility and automotive business wins in the state. This includes Michigan winning the 2018 Deal of the Year Bronze Award for Ford Motor Company's plans to transform the historic, long-vacant Michigan Central Station in Detroit's Corktown neighborhood into an innovation hub for the company's vision for future mobility solutions. The state also closed out the year with an announcement by Ford of its plans to invest $1.45 billion to expand its operations in two key facilities and establish a new vehicle modification center in southeast Michigan, solidifying the state's global mobility leadership while creating 3,000 well-paying and skilled trades jobs as a result.
Mobility startups and companies also leveraged Michigan's strengthened economy and robust talent pool for business opportunities over the past year. Silicon Valley-based company Waymo invested in Detroit for its future next manufacturing facility where it will integrate its self-driving vehicle systems into the platforms of its OEM partners. Meanwhile, Ann Arbor-based May Mobility launched a new pilot project in Grand Rapids that stands as the first autonomous vehicle route fully open to the public in Michigan and the most complicated AV route in the world to date.
Altogether, in 2019 Michigan's automotive industry created 9,100 new jobs. Over the past decade, however, Michigan ranks No. 1 in the nation for job creation within the automotive industry, having created 58,483 jobs since 2010. Not only did Michigan create more automotive jobs than any other state in the country, but it created nearly 60 percent more jobs than the No. 2 state in that same time, demonstrating the steady resiliency and power of Michigan's automotive manufacturing industry.
As the new decade kicks off, Michigan remains a source of Pure Opportunity for companies of all sizes looking to do business. Learn more about the resources available for doing business in Michigan here, and explore the opportunities for making your next business move by clicking here.
About Michigan Economic Development Corporation (MEDC)