THIS JUST IN: Detroit Metropolitan Wayne County Airport number one airport in North America for overall traveler satisfaction
Wednesday, December 11, 2019
DTW earns the highest score in passenger satisfaction among mega airports, provides key access to U.S. and international markets for leisure and business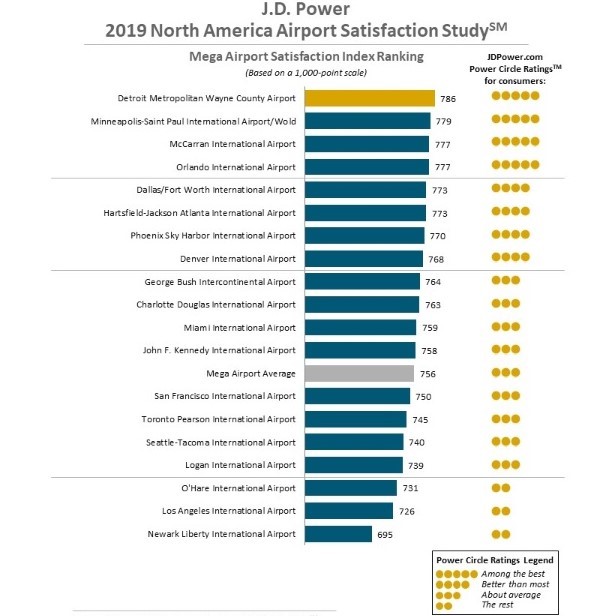 Michigan's Detroit Metropolitan Wayne County Airport (DTW) ranks number one for overall traveler satisfaction among 17 other mega airports in North America, according to J.D. Power's 14th annual North American Airport Satisfaction Study for 2019.
The 2019 North America Airport Satisfaction Study measures overall traveler satisfaction with mega, large and medium North American airports by examining six factors (in order of importance): terminal facilities; airport accessibility; baggage claim; security check; check-in/baggage check; and food, beverage and retail. Now in its 14th year, the study is based on responses from 32,276 U.S. or Canadian residents who traveled through at least one U.S. or Canadian airport and covers both departure and arrival experiences during the past three months. Mega airports are those having 33 million or more passengers per year.
"Michigan continues to grow its reputation as a national leader in both leisure travel and business attraction as a result of key assets like the Detroit Metro Airport," said Jeff Mason, CEO of the Michigan Economic Development Corporation. "This recognition by J.D. Power highlights the strength of Michigan's supply chain and logistics ecosystem for our businesses and the warm welcome visitors can expect when they come to experience all Pure Michigan has to offer.
The Detroit Metropolitan Airport is a world-class global supply chain asset as well as one of the largest U.S. air hubs. Located within 500 miles of nearly half the U.S. and Canadian population and commerce centers, Michigan provides unparalleled access to the market.
In addition, many businesses credit being near Detroit Metropolitan Airport as a critical logistical advantage when choosing to build research and development sites in the state.
One example is KLA, a Silicon Valley-based provider of process control and yield management solutions for the semiconductor and related nanoelectronics industries. Last October, the company announced plans to establish an R&D facility in Ann Arbor, choosing Michigan from a list of 350 North American locations.
"Among the decisive reasons for building a major R&D hub in Michigan are Ann Arbor and the Detroit metropolitan area's attractive talent pool, relative low-cost of living (compared to the San Francisco region where KLA is headquartered), proximity to Detroit Metropolitan Airport and other logistical advantages that support KLA's leading international semiconductor and electronics customers," said KLA Chief Strategic Officer Bobby Bell.
Tourism also continues to be a key industry for the state of Michigan, with visitor spending in the state reaching growing 3.9% in 2018 to $25.7 billion. Additionally, tourism spending supports 6.0% of all jobs in Michigan. Detroit Metro Airport serves as a major point of entry into Michigan for national and international leisure travelers and has been a partner with the award-winning Pure Michigan campaign to welcome visitors – particularly international arrivals – to the state.
For more information on why businesses are choosing Michigan visit michiganbusiness.org/why-michigan.
For more information on leisure travel in the state, your trip begins at michigan.org.
About Michigan Economic Development Corporation (MEDC)