Funds will support 11 small businesses in communities around the state
LANSING, Mich. – Nine communities around Michigan have been awarded more than $260,000 in grants aimed at supporting small local businesses, the Michigan Economic Development Corporation announced today.
Introduced in March, the Match on Main program was intended to provide grants of between $5,000 and $25,000 to Select or Master level Michigan Main Street communities in conjunction with eligible businesses seeking support. Projects could include interior building renovations, furniture and fixtures, permanent equipment, point of sale systems, marketing expenses, and inventory. Participating businesses must also have worked with the Michigan Small Business Development Center on a business plan. The cities of Niles and Saline were selected in March as the first two communities to pilot the program.
"Small businesses drive the economies of our communities," said Michelle Parkkonen, Director of Community Development Technical Assistance Programs at the MEDC. "These grants will support local businesses, further strengthening the downtowns and commercial districts in these communities, while building unique places that are attractive to residents and visitors."
2019 Match on Main grant winners: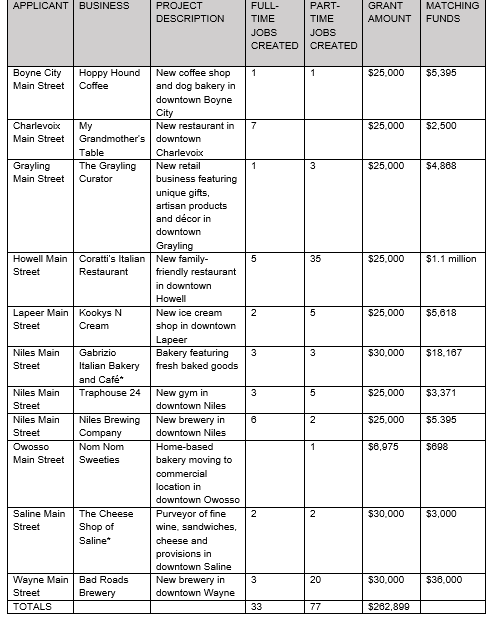 *These projects were announced in March as part of the pilot program
"As a Master Level Michigan Main Street Community, Howell Main Street Inc. is continuously striving for new ways to support entrepreneurs and small businesses within our district," said Howell Main Street Interim Chief Operating Officer Kate Litwin. "The Match on Main Grant program through the MEDC is a fantastic opportunity to provide small businesses with funds that are tailored to their specific needs to achieve growth and success in the community."
Howell Main Street will use its $25,000 grant to assist with the transformation of a vacant call center building into Coratti's Italian Restaurant and Bar, a family-friendly destination restaurant in downtown Howell. The renovations are estimated at $1.1 million and include adding on an additional 1,100 square feet of usable space, extensive interior and exterior improvements, the addition of a bocce ball court, outdoor seating, and more.
Coratti's will use Match on Main funding to secure the furniture and fixtures needed to accommodate seating options for between 200-300 customers within the indoor and outdoor dining areas, as well as help cover some of the kitchen equipment purchases needed to transform the 'Call Center' into a functional restaurant space.
The grant builds on the success of Howell's Main Street development, with the community being named the 2018 Great American Main Street, highlighting exception Main Streets across the nation.
As one of the two communities chosen to participate in the pilot program, the city of Niles identified Gabrizio Italian Café and Bakery, a bakery located on 104 North 3rd Street in downtown Niles, as the business it would support through the program. Gabrizio, a European-style bakery offering innovative cakes, daily baked pastries and coffee, held its grand opening in September.
"Gabrizio Italian Cafe and Bakery has given our community everything we hoped they would, and more," said Niles DDA Main Street Program Manager Lisa Croteau. "Since opening a little more than two weeks ago, Gabrizio's has been steadily busy, bringing people from all over the Michiana area to downtown Niles. They are demonstrating that our transformational strategy to become a restaurant/food district will indeed bring people to downtown Niles and transform us into a dynamic, collaborative, destination community with a variety of experiential opportunities driven by motivated entrepreneurs, that showcase all that Niles has to offer."
"We will be able to invest Match on Main funds to grow our business in downtown Niles," said Gabrizio owner Desyree Alberganti. "We otherwise would not have been able to."
Niles joined the Michigan Main Street program in 2004 and is celebrating its 15th year of participation in the program. Since joining in 2004, Niles has seen $10.9 million in new private investment, 124 new businesses launched and 107 façade improvements as a result of the program. The community will hold an anniversary celebration on Oct. 10.
The Michigan Main Street Center supports local communities across Michigan as they implement the Main Street Four-Point Approach®, a community-driven, comprehensive strategy encouraging economic development through historic preservation in ways appropriate for the modern marketplace. The program aims to create communities distinguished by a "sense of place." The rationale is based on a range of studies that show investing in creating a sense of place is an integral part of developing vibrant city centers and downtowns, thereby making the state economically stronger and culturally diverse.
As part of the Select Level of Michigan Main Street, communities receive five years of intensive technical assistance from MEDC with a focus on revitalization strategies designed to attract new residents, business investments, economic growth and job creation to their central business districts.
After communities have completed the Select Level of the program, they can participate in the Master Level, a two-year commitment that includes additional training and networking and mentoring opportunities.
The 24 communities currently participating in the Michigan Main Street at the select and master levels are Blissfield, Boyne City, Charlevoix, Charlotte, Cheboygan, Downtown Lansing, Eaton Rapids, Evart, Grand Haven, Grayling, Hart, Howell, Lapeer, Mexicantown Hubbard Communities, Milan, Niles, Old Town (Lansing), Otsego, Owosso, Saline, Sault Ste. Marie, Three Rivers, Wayland and Wayne.
Over the past year, Michigan Main Street communities generated more than $28 million in private investment, 116 new businesses and 92 façade improvements. Since its inception in 2003, the Michigan Main Street has been a catalyst for job growth, private investment and community engagement. From 2003 through 2018, 1,299 new businesses have been launched, with a total public investment of nearly $90 million and total private investment of $286 million. In addition, more than 690,739 volunteer hours recorded by Michigan Main Street communities in revitalizing downtowns across the state.
About Michigan Economic Development Corporation (MEDC)