September is the Detroit Month of Design. Running from Sept. 1-30, this city-wide celebration brings together the creative entrepreneurs, studios, companies and educational institutions using inclusive design to help drive economic success.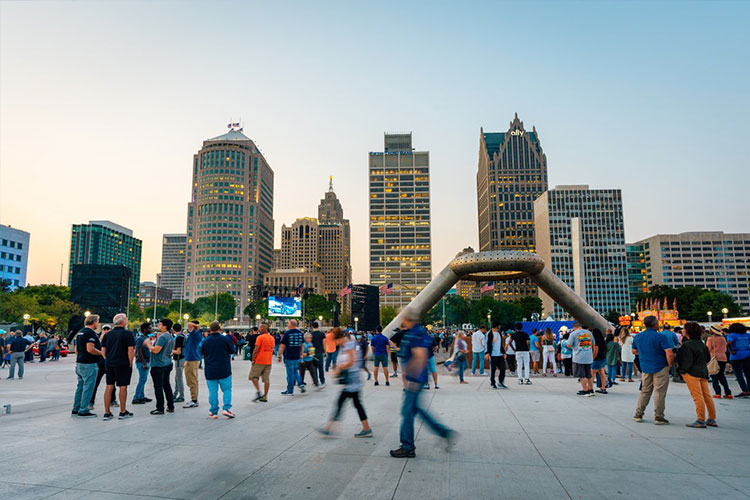 This September series was born from Detroit's designation as a UNESCO City of Design, one of only 34 international cities to earn the title. Detroit earned this recognition for its use of design to create more sustainable and equitable economic conditions for its residents.
From fashion designers and audio and visual artists to industrial engineers, city planners and architects, there are countless creatives keeping Detroit – and all of Michigan – an amazing place to live, work and enjoy. Join the Michigan Economic Development Corporation (MEDC) and The Michigan Opportunity, with host Ed Clemente, to learn more about those that make Detroit a champion of design.
Design Lives at Detroit's Core
Design Core Detroit, within the College for Creative Studies, is the steward for the city's UNESCO designation. The department helps support the city's economic development by fostering inclusive, creative problems solvers and showcasing Michigan's talent on the global stage.
"That's what we're able to do through the work at Design Core, and the work at the college and in terms of really developing what that next generation of creative problem solvers looks like," said Olga Stella, executive director of Design Core Detroit. "But also lifting up the problem solvers who are already here in our own community, who are the graphic designers, the product developers, the architects, all these different fields of design and creativity."
Find out more about all the intersections of design, form and function, art and business, and how they drive the state economy and help put Michigan on the international map.
Listen to learn more about Design Core Detroit
Modern Design that Shaped America
The Modernism movement grew from art and architecture's desire to reject prior rules and experiment with new materials and technologies developed for the industrialized world in the early 20th century. Few places embodied that spirit like Michigan. Michigan Modern celebrates the state's contributions with architectural walking tours through Detroit neighborhoods, background on a collection of influential people and places and a printed illustrated history of Michigan design.
"…Michigan's industries, educational institutions, and businesses employed the most innovative architects and designers of the day, who in turn lured the best and brightest to come and work with them. In this way, Modernism and Michigan were inextricably tied," wrote Wendy Moonan from Architectural Record.
Visit the website to learn more about Modernism's roots in Detroit and the research and promotion recognizing Michigan's place in the movement.
Visit the Michigan Modern website
Michigan Manufacturing – Always a Selling Point
In 2012, Shinola Detroit opened the first watch factory the U.S. had seen in fifty years and established a headquarters inside the College for Creative Studies. Shinola's parent company, Bedrock Manufacturing Co., holds brands nationwide, but marketing Michigan manufacturing remains a must.
"How do we really make sure that we keep Michigan and Detroit at the forefront, even as we're doing more and more business outside of Michigan, right?" said Awenate Cobbina, president of Bedrock Manufacturing Co. "Where are the opportunities and how do we how do we bring a sense of Michigan to other places so that people will come back to Michigan as well?"
Listen to the episode to learn more about Shinola Detroit, the Shinola Hotel and Cobbina's journey through the Detroit Pistons and the White House to become a board member at the MEDC.
Listen to learn more about Shinola Detroit
Designing Michigan's Future with Technology
Technology touches every aspect of city development and design, helping make equitable and sustainable cities possible. Lawrence Technological University (LTU) is at the forefront of marrying design and function, with STEM education that develops leaders with an entrepreneurial mindset.
"You take a look at a university like ours and the kind of R&D projects and the work that we do in industry, it's not really limited to even engineering or sciences," said Dr. Tarek Sobh, president of LTU. "We look at our school of architecture, we work on things like 3D printing of houses and visual gaming and augmented reality design and digital transportation design."
Listen to learn more about what the careers of the future will look like, and how technology will continue to be the great unifier of design and entrepreneurship, engineering and robotics.
Listen to learn more about LTU
Detroit's Equitable Excellence Through Education
Wayne State University (WSU) is a public research university known for academic and research excellence, success across a diverse student body and meaningful engagement in its urban community. Dr. Roy Wilson, president of WSU, believes that knowledge can help drive Michigan's economy and provide an equitable lift to a student's socioeconomic status.
"We want to be the very top, number one research-intensive university that is highly ranked in social mobility," said Wilson. "And we're very proud to always rank in the top in Michigan, in terms of social mobility, but we also highly ranked nationally … there are probably five or six institutions that are ahead of us, so our aim is to catch them and get ahead of them in the next five years."
Check out the episode to learn more about WSU's mission, and Dr. Wilson's unique background that drives him to support social mobility.
Listen to learn more about WSU
Michigan, Creating Great Ideas Together
Richard Florida is a world-leading urbanist, someone who studies how people interact with the cities they live in. Listen as he details why, despite facing global competition, Michigan is poised to continue leading major industries through our collaborative innovation.
"When you talk to talented and creative people in arts, music, technology, software, they all kind of said the same thing, I want to work on great projects with great people in great spaces and great places," said Florida. "When I think about Michigan, there's this incredible portfolio of places, it has a place for every kind of person."
Listen as Florida, from the Mackinac Policy Conference, describes the changes in Michigan that have turned cities like Detroit, Grand Rapids and Traverse City into exactly the places people want to live.
Listen to learn more about Richard Florida
Creativity Driving Michigan's Economy
Learn more about Detroit's focus on combining creativity with economic success:
Learn about a made-to-order approach that results in the perfect-fitting jeans with The Detroit Denim Success Story.
Hear the Detroit City Distillery episode about locally sourced spirits and Michigan's beverage ecosystem, and read the Success Story about the distillery's 72-hour pivot to hand sanitizer in the pandemic.
Listen to the Real Times Media episode to find out how the newspaper publisher became one of the country's leading multi-platform content creators for the African American experience.
Contact Us