Take a Mitten State Road Trip with The Michigan Opportunity
People have long seen America's wonder through the windows of Michigan-built automobiles, and there's no better place for a road trip than the state that put the world on wheels.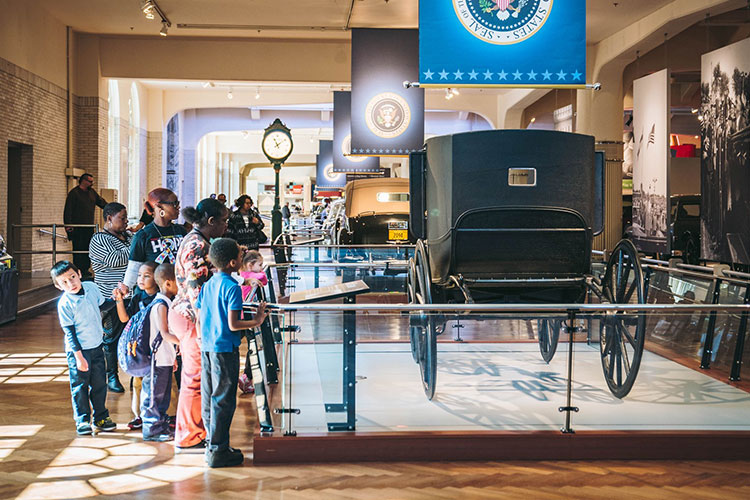 Michigan is full of welcoming people, exciting destinations and beautiful scenery. These factors all add up to make the state the perfect place to live, work and play.
Join The Michigan Opportunity podcast and host Ed Clemente for a road map of some of the amazing organizations and experiences – and don't forget to bring along a few episodes to learn about their impact on economic development along the way.

Start in Detroit, Where the Heartbeat of Motown Draws a Global Audience
The Motown Museum helps visitors learn about the label that brought the world musical greats like Smokey Robinson, the Temptations, Stevie Wonder and the Jackson Five. Hear Robin Terry, chairperson and CEO of the Motown Museum, talk about great Motown musicians, the partners that make the museum possible and the international pull of the original home of Berry Gordy's Motown Records.
"Motown is one of the greatest enterprise stories and business startup stories that we have in American music history because it starts in that one little blue and white house called Hitsville. And then when they outgrew it, Berry Gordy would buy the next available house on the block," said Terry. "And so that's the experience people come here to really witness. It's not only the music and what was the foundation of this music that just moved the world, but also, what is this enterprise that grew out of little houses in Detroit?"
Listen to hear about the musical and entrepreneurial talent that built Motown and the positive effect the upcoming 50,000-square-foot expansion will have on the city's youth, entrepreneurs, performing artists, academics and economy.
Listen to Season 1, Episode 37


Head West to See How the Motor City's Story Reaches Across Michigan
The MotorCities National Heritage Area is a 10,000-square-mile area in Southern Michigan that tells the story of how Michigan brought people the automobile. Join Shawn Pomaville-Size, the designation's executive director, to learn how an act of Congress formed the collection of museums inside the four corners of Detroit, Flint, Lansing and Kalamazoo. The area includes locations such as the Henry Ford Museum of American Innovation in Dearborn, the R.E. Olds Transportation Museum in Lansing and the Gilmore Car Museum in Hickory Corners.
"It is our mission to promote and preserve the very unique story that we have to tell in Michigan. That is specific to us and us only," said Pomaville-Size. "We want Michiganders to be proud of the fact that they have a National Heritage Area, proud of the fact that it commemorates the auto story of the region, which is in so many people's DNA."
Take a deeper dive into what makes a National Heritage Area, the nonprofit's unique affiliation with the National Park Service and how local communities help shape how their story is told.
Listen to Season 2, Episode 46


Turn North to Learn How a Better Future Starts with Appreciating Our History
The Grand Rapids Public Museum is changing the way people experience history, science and culture by focusing on its roots of community education. The museum has partnered with local and national organizations to reconsider how visitors can interact with its over 250,000 artifacts and specimens. Listen as Dale Robertson, president and CEO of the museum, explains how they're helping children understand history by letting them handle 3,000-year-old artifacts, leading plans for a more engaging public space along the Grand River and embracing digital tools so attendees can continue learning after they leave.
"When we begin to reassess where we were and where we are, we of course went back in our history and at our core, we're an educational institution," said Robertson. "Our earliest affiliation – this had to be a Grand Rapids Public School. And so, the Grand Rapids Public Museum is a Grand Rapids Public Museum School, but with partners."
Learn more about the museum and the partnerships it's forming to improve and expand education, and how building a system centered around the Grand Rapids area is a win for the whole community.
Listen to Season 2, Episode 22

Continue Up to See Why It's Always the Perfect Time to Head to the Mountain
Crystal Mountain is a family-owned resort outside Traverse City. The resort began with a focus on skiing, but the location now hosts year-round attractions, including two golf courses, an outdoor water playground and the Michigan Legacy Art Park, a 30-acre outdoor sculpture park. According to Chris MacInnes, president of Crystal Enterprises Inc., it's a devotion to the area that has helped turn a once-sleepy resort community into a host to over 450 residences and around 300,000 annual visitors.
"When we look at deploying capital in the resort business, you kind of do it two ways. We may invest in additional resorts, or you can say we're going to invest all our eggs, all our pretty scarce capital in one place, but try to create a more diversified portfolio – and that's exactly what we've done," said MacInnes. "Our goal here is to be the base camp for enjoying the wonderful Northern Michigan playground."
Join MacInnes as she explains the campus' mission to grow into a steady four-season business and how factors like the pandemic and global warming have a lasting effect on operations.

Listen to Season 1, Episode 43

Follow the Coast to See Why Michigan Is the Perfect Place to Taste the Finer Things
Michigan's growing craft beverage industry has over 400 wineries and 90 cider producers, 300 breweries and 35 distilleries. The state is also heavily invested in agritourism, with tours, regional promotions and beverage shore trail systems. Join Janelle Jagmin, director of the Michigan Craft Beverage Council, as she discusses the maturing industry, locally sourced fruit and the Council's evolution. Once focused only on wine, the group grew to support research, promotion and agricultural business development.
"It's been really awesome, just expanding the scope of the council, learning more about these different beverage segments," said Jagmin. "And of course, being in the Department of Agriculture and Rural Development, understanding those agricultural supply chains that feed the development of our industry."
Find out about some of the most popular craft beverage locations, how Michigan is rising in the national rankings and trends that lean in Michigan's favor.
Listen to Season 1, Episode 18

Discover How Pure Michigan Drives the State's Economy
Hear from Dave Lorenz, vice president of Travel Michigan, as he discusses the economic impact of tourism and the Pure Michigan campaign. A big part of developing Michigan's economy comes from showing the great quality of life available for longtime Michiganders and newcomers alike.
"The same state that created the travel and tourism industry as we know it today, by making the automobile affordable for everyone … now, we're looking to the future of travel, of transportation and it's all centered right here," said Lorenz. "It's an exciting time to be in Michigan because our best times have not been seen yet. And we're about to really see some incredible sustainable growth, at least in the travel and tourism industry. And that, of course, leads to growth in every other sector of the economy."
Learn about Michigan's roughly $22 billion tourism economy that supports local communities and helps attract out-of-state workers and investments.
Listen to Season 2, Episode 19

Hear More from Those Making Michigan Full of Sites to See
Visit The Michigan Opportunity podcast page to learn more about the locations and organizations that make Michigan the perfect road trip state, such as: Shaggy's Copper Country Skis, where Jeff Thompson co-founded a family business one century in the making; and the Office of Outdoor Recreation Industry, where director Brad Garmon works to support businesses embracing Michigan's great outdoors for researching, testing and designing gear, accessories and vehicles.
Contact Us