Celebrating International Women's Day with The Michigan Opportunity Podcast
Recognized annually on March 8 during Women's History Month, International Women's Day is a global day for celebrating the social, economic, cultural and political achievements of women. As we recognize those who have made progress for all women, International Women's Day also serves as a reminder of how far we still have to go.
This year's theme is "DigitALL: Innovation and technology for gender equality," to acknowledge how exclusion from technology education leads to disadvantages for women and other marginalized groups. But by building on the amazing feats of women of the past and focusing on the innovations that will shape the future, women across Michigan are making meaningful strides to bring equal access to economic success.
Join us in recognizing a selection of the women who have visited The Michigan Opportunity podcast to talk with host Ed Clemente about their expertise, what they're doing to ensure equitable opportunities for women and how they're shaping the economy in Michigan and across the world.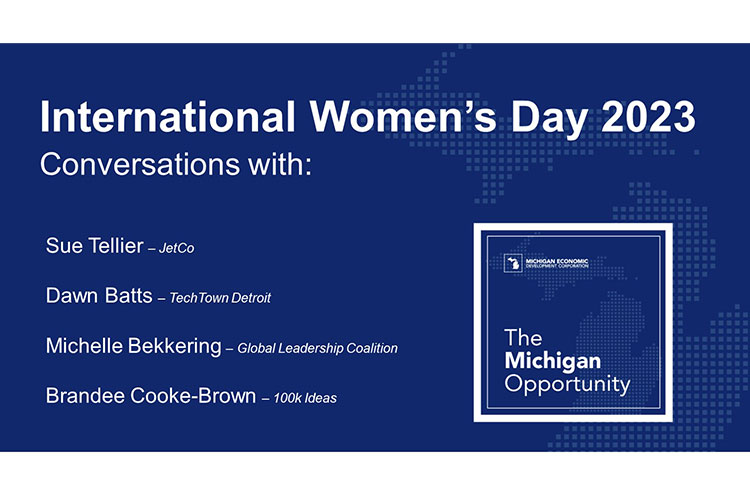 Bringing parity to federal contracting
Sue Tellier is the owner and president of JetCo Federal, a Grand Rapids-based supply chain and logistics company that works with government entities such as the Defense Logistics Agency, the Army and the Navy. It seems a natural fit, then, that Sue joined the board of Women Impacting Public Policy (WIPP), an organization that advocates for women-owned small businesses in federal contracting.
"One of [the pillars] that I care the most about is parity and clarity and the federal contracting programs," said Sue on the podcast. "WIPP does a very effective job advocating for parity for women-owned small businesses, or WOSMs, within that landscape."
Join Sue for a lively discussion on small business, defense suppliers and WIPP. She also has great credentials as the Vice Chair of the Women in Defense National Council, the Vice President of Women in Defense - Michigan and a gubernatorial appointee on the Michigan Strategic Fund.
Listen to Season 1, Episode 39

Building communities with more accessible investing
Dawn Batts is a capital strategist for TechTown, an entrepreneur hub in Detroit. Through TechTown, she's working with the Catalyst Angel program, which aims to train 200 underrepresented potential investors who identify as Black, Latinx and/or women over a three-year period.
"About 30% of angel investors are women," said Dawn on the podcast. "That number has increased over the last year or so, which is good, but it's still, by far, a low number when you look at the percentage of women just in the country in general."
Join Dawn as she discusses the diverse community of investors who seed scalable consumer, enterprise and life science companies. Dawn has an experienced background in finance and anthropology and is a co-founder of Angels Commune, an organization focused on equitable investing. Learn how she is using her experience to find new angels in the Great Lakes area.
Listen to Season 2, Episode 20

Economically empowering women on a global scale
Michelle Bekkering, the U.S. Global Leadership Coalition National Engagement Director, works to level global playing fields for American businesses. That's why it's no surprise she was a lead architect of the Women's Global Development and Prosperity Initiative, a government program designed to make women's empowerment an economic cornerstone of foreign policy and national security.
"Any investment you make in women and girls pays dividends. There's a multiplier effect," Michelle said on the podcast. "We recognized that when we were investing in women, they were turning around and investing in their families, which in turn, helped their communities and their countries."
Join Michelle as she discusses the global marketplace and Michigan's unique international position in that space. Hear how America's diplomats and development workers are helping companies expand their exports, reach new markets and create more jobs here to stay competitive in the global marketplace.

Creating safe spaces for innovators to get guidance
Brandee Cooke-Brown is the executive director of 100K Ideas, a non-profit designed to help innovators and entrepreneurs move their ideas forward. Brandee works with people that have an idea for a business, service or product but need to know how to get started. 100K Ideas provides a safe, confidential place for support as they innovate and create.
"The name itself derives from the fact that roughly 100,000 people live in Flint," said Brandee. "If each one of them can come to us, share their ideas, we can help them move it forward, we'd be making some real economic change in the city."
Join Brandee for a discussion on how a community of hobbyists, thinkers, and inventors offer mentorship to help passionate innovators create their own products, services and startups. Also, learn a little about AmeriCorps and how it's changing people's lives.

Hear more from women building a better economic future
Visit The Michigan Opportunity podcast page to listen to more women who are leading the way to a better economic future, like Fay Beydoun, Executive Director for the American Arab Chamber of Commerce, the largest American-Arab business organization in the United States; Dr. Rebecca Cunningham, Vice President for Research at the University of Michigan, the nation's largest public research university; and Robin Terry, Chairwoman and CEO for Motown Museum, a global tourist destination that embodies the heartbeat of the Motown legacy.
Contact Us