Celebrating the Season and Supporting Local | Livestream
Tuesday, November 29, 2022
With the holiday shopping and travel season underway, Tom Daldin of Under the Radar Michigan joined Dave Lorenz of Travel Michigan and Cathleen Edgerly of Downtown Lansing, Inc. for a live conversation on Tuesday, Nov. 22 to discuss holiday traditions and celebrations across Michigan, and offer suggestions for how to support local businesses when shopping, dining and traveling in Michigan communities this holiday season and beyond.
Tom Daldin: Shopping local is so important. It's good for you, it's good for your neighbors and it's good for the economy. Cathleen, there is a lot going on in Lansing for people who want to support local, correct?
Cathleen Edgerly: Yes, there is! We just celebrated Silver Bells in the City, which is a phenomenal kickoff to the holiday season for families, friends and employers. It draws thousands of people to the capital city and gives everybody a chance to see the businesses and attractions that make up this wonderful community.
Dave Lorenz: This time of year, it's so important that we head back to our cities, go to the shows and the sporting events, all those really cool things. Go shopping, go to restaurants, and support our local folks. If you go to michigan.org/support-local, we're going to give you a bunch of ideas of places to go to and things you can do as you travel around the state of Michigan.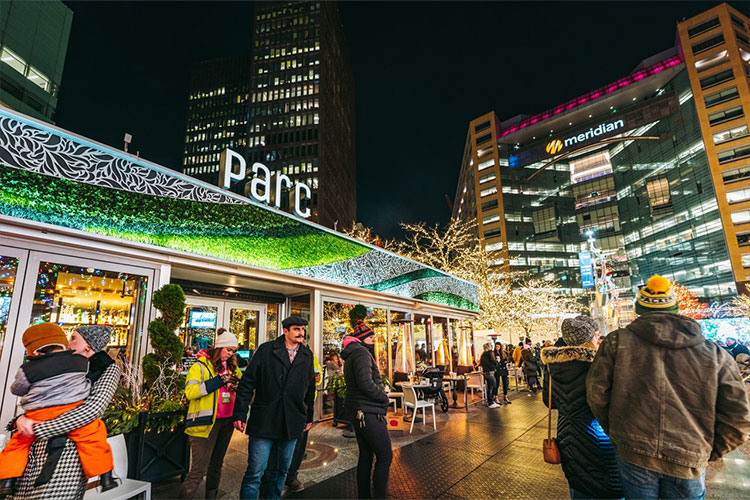 Find unique gifts at holiday markets around the state
Daldin: For a couple years now, my wife and I will pick out a small, medium or large-sized town within a couple hours' drive from our house and we'll go and explore, shop or find a cool restaurant to eat in. Now that we're in the holiday season, you can find local Holiday Markets and shops to get gifts. And Lansing is great city for that isn't it?
Edgerly: Yes, we just launched a holiday market in downtown Lansing and are very excited to continue that throughout the years. It provides a one-stop shopping opportunity and experience. There are also other activities that you can find at local holiday markets, from sleigh rides to ice skating, caroling, and things of that nature.
Lorenz: Some of Michigan's best farmers markets transform into holiday markets. You'll find that in Holland, Frankenmuth, Flint, Muskegon, and more. At Eastern Market in Detroit, it's pretty spectacular what you can find there. You might think you're only going for locally grown produce, but you'll find all these other cool things, especially at this time of year.
Daldin: You never know what you're going to find. That's the neat part. It's like the holiday hunt. Go into these markets and you'll find something that has a story behind it. You might meet the person that made it, you might meet the artists that created it, and that creates a story. It's not something that showed up in a brown box. It's something where you shake the hand of the person that made it, and it creates a story and an experience.
Edgerly: Even with the holiday cards that you're sending out, there are so many local galleries and local artists who are selling their custom-made cards that are whimsical, sometimes snarky, super fun and are going to bring a smile to people's face when they open it. It's unique and different, just like all of our small business owners. They are experts in their product.
Lorenz: We have this innovative, creative spirit in Michigan that is seen in so many ways. This time of year, purchasing art produced by local artists not only supports that artist, but the art often features Michigan scenes. What a great gift idea!
Go into these markets and you'll find something that has a story behind it. You might meet the person that made it, you might meet the artists that created it, and that creates a story. It's not something that showed up in a brown box. It's something where you shake the hand of the person that made it, and it creates a story and an experience.
Eat local and support local restaurants this holiday season
Daldin: If you're a foodie, Michigan is one of the greatest places on the planet to be. I've been around the world and Michigan is still my favorite place to eat. There are a lot of ways you can help restaurants who are all recovering after the pandemic. One of the things that we like to do is give gift cards for local restaurants as gifts for the holidays. And I know that you do a lot of that too, Dave.
Lorenz: One of the one of the smartest things I'm seeing restaurants and retailers do is give you a bounce back offer, like a gift card or a discount for your next visit. So then that's an opportunity for you to give that as a gift or to go back another time.
Edgerly: We have a number of bakeries and cafes that offer cooking classes or subscription kits, which are a great gift for both kids and adults!
Daldin: Another neat thing that a lot of restaurants are doing is preparing entire holiday meals that you can just pick up and take home. We've done that several times now. It's helping these restaurants and businesses that went through so much during the pandemic. When you shop local and eat local, it helps your friends, your neighbors, your community, and it's just the right thing to do.
Give the gift of Pure Michigan travel
Edgerly: As we were talking about the holiday season and the unique gift-giving opportunities, we can look beyond the holidays, too. Think about subscription packages, gift cards for kayaking in the summer, memberships to your local science centers, or museums. You can get out and explore your community in a variety of ways.
Lorenz: The gift of Pure Michigan travel is a great option. Perhaps you know that they've been talking about trying downhill skiing, or trying snowmobiling, or a sled dog experience. There are so many cool things you can do in Michigan at this time of the year, or year-round. Look around, call a resort, or talk to an outfitter and ask about a gift certificate or booking an experience. I think it's a much more personalized gift opportunity.
Edgerly: Your local Convention and Visitor's Bureau can help provide some of those experiential packages. They just make a wonderful gift of travel.
Lorenz: Convention and Visitor's Bureaus have a lot of great ideas. You can check out their website by going to Michigan.org and look for a specific city or region.
Celebrate local in Michigan
Daldin: We're entering the holiday season now, and there are so many so many incredible holiday events coming up this season, like the singing Christmas tree. That's right in your backyard, isn't it Dave?
Lorenz: Yes, it is, in Muskegon! What a unique thing, only in Michigan, the tallest singing Christmas tree. It's truly inspirational, beautiful, awesome to see the talent we have around the state. There are so many cool things like that. We always recommend people go to michigan.org and look at that events schedule. You can find really cool things like this all around the state.
Daldin: Go to Michigan.org/support-local and check out Under The Radar on PBS for lots of great ideas. Get out there and have some holiday fun, and spend some money with people you know!
Contact Us