National Lighthouse Day shines a light on the beacons that stand sentinel along our shorelines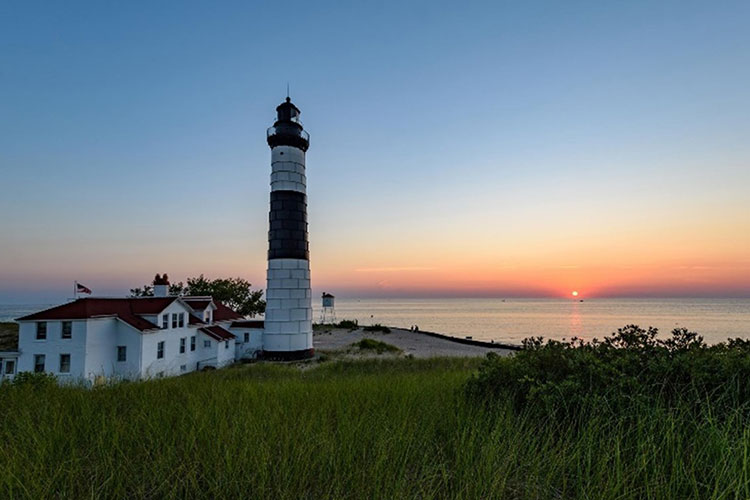 August 7 is National Lighthouse Day, an annual celebration of lighthouses and the commitment and service of those who tended America's lights for generations. With more than 120 lighthouses standing sentinel along Michigan's 3,200 miles of shoreline, Michigan has more lighthouses than any other state in the country. What better way to celebrate National Lighthouse Day than to visit one – or several – of Michigan's iconic coastal landmarks?
"Dozens of lighthouses dot Michigan's shorelines and represent an important piece of Michigan's maritime history. With a few weeks left of the summer travel season, lighthouses offer a unique opportunity for tourists to discover and explore off-the-beaten-path destinations," said Deputy State Historic Preservation Officer Martha MacFarlane-Faes. "And in addition to connecting us to our maritime heritage and providing public enjoyment, lighthouses serve as important economic drivers and bring vibrancy and pride to their communities."
Tall and elegant or short and utilitarian, beautifully restored or lying silently forgotten, the majestic beacons scattered up and down Michigan's coasts are worth a visit. Climb Ludington's Big Sable Point lighthouse, one of Michigan's tallest, for sweeping views of Lake Michigan. Boat around Lake Huron's Thunder Bay Island for glimpses of its red-and-white lighthouse. Visit Lake Superior's Big Bay Point Lighthouse for a rare opportunity to overnight in a historic light. Learn about Great Lakes shipwrecks and the keepers who tried to prevent them at lighthouse and maritime museums in Mackinaw City, South Haven, Ludington and Whitefish Point.
Many of Michigan's lighthouses are open for tours in the warm weather season. Others are home to bed and breakfast lodging or museums. Many lighthouse beacons are still active aids to navigation, but the buildings themselves are owned and maintained by a nonprofit organization or local unit of government. A few are privately owned or in remote locations, inviting admiration from afar. To see a map of all the historic lighthouses in Michigan, visit here.
History Brought to Life
While each lighthouse was constructed for the same vital ship-guiding purpose, every lighthouse has its own unique design and history. No two lights are the same! The Whitefish Point Light Station was established by Congress in 1849 and the current light tower was constructed in 1861 during the administration of Abraham Lincoln. The life-saving beacon illuminated the dangerous waters for mariners for decades before being decommissioned by the U.S. Coast Guard; the site currently houses the Great Lakes Shipwreck Museum, a popular destination in the eastern Upper Peninsula. On a somber note, it's the light the crew of the ill-fated Edmund Fitzgerald was desperately trying to see during the legendary November storm in 1975.
"I once stayed overnight in the old Coast Guard quarters of the Great Lakes Shipwreck Museum site at Whitefish Point. Walking along the wind-churned shoreline of Lake Superior late at night, I watched freighters on the horizon and was struck with the realization that ships just like those have used the lighthouse here as a guide to safety ever since the Lincoln administration – history brought to life," said Dave Lorenz, vice president of Travel Michigan, a division of the Michigan Economic Development Corporation and the state's official agency for promotion of tourism. "A lighthouse visit isn't just a glimpse of a building with a light at the top. It's a multi-sensory trip into the past. Climb the circular steps on the same path lightkeepers did over generations. Listen to the waves lap the shoreline below. Breathe in the fresh lake air. Take a moment to consider what daily life was like to tend a light over 100 years ago."
Lighthouse Preservation
As a result of enduring decades of harsh weather, lighthouses require constant maintenance and attention. The Michigan Lighthouse Assistance Program was established to assist in the preservation, rehabilitation, and protection of historic lighthouses in Michigan. Administered by the Michigan State Historic Preservation Office (SHPO), the Michigan Lighthouse Assistance Program is intended to help lighthouse stewards restore and repair their historic lighthouses, which in turn helps keep them open and an active part of local economies around the state as tourist destinations. Through this program, the SHPO awards matching grants to help repair and restore these iconic structures for years to come.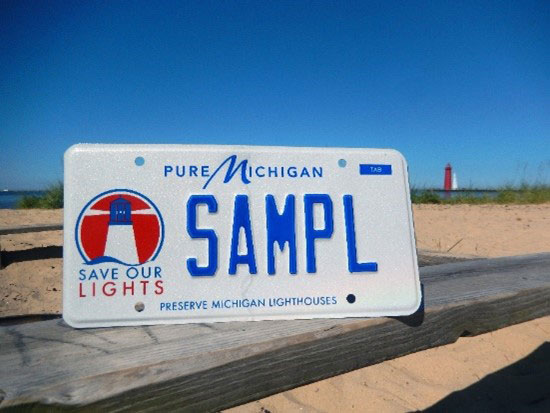 Funding for this program comes solely from the sale of specialty Save Our Lights license plates available from the Michigan Secretary of State. To date, SHPO has awarded nearly $2.8 million in matching funds to help rehabilitate and preserve lighthouses for tourists and residents alike to explore and appreciate. Dozens of lighthouses have received grants since the program began. To learn more about lighthouse preservation in Michigan, visit http://www.michigan.gov/saveourlights.
"Through our lighthouse preservation program, we can help restore these beacons, preserving their beauty and keeping them shining bright for years to come," said MacFarlane-Faes.
Among recent grant awardees, the North Manitou Light Keepers were the recipients of two MLAP grants – one for planning and one for construction/rehabilitation of the offshore North Manitou Shoal Light, known locally as "the Crib." They used the planning grant to develop a core master plan known as a Historic Structures Report which gave the organization credibility and resulted in additional local awards and numerous contributions. The construction grant is being used to repair a major roof leak that will stabilize the structure and prevent further deterioration, not the easiest repair task given that the closest harbor for this offshore light is eight miles away at Leland.
"2022 was our second summer of tours. We also added a larger tour boat and opened a sea door that makes access easier. It is not unusual to have lighthouse enthusiasts who travel from many hours away," said North Manitou Light Keepers Board Member Dave McWilliam. "The community in and around Leland and Glen Arbor has a long and deep connection to its maritime history. The local residents are very appreciative that we are restoring an important part of that history and have been very supportive of our efforts."
Michigan's iconic lighthouses truly offer something for every traveler – from lighthouse enthusiasts, to history buffs, to curious tourists looking to get out there and experience one of Pure Michigan's many gems. Travelers interested in exploring Michigan's lighthouses can learn more by visiting here. To watch a video on Michigan's lighthouses, visit here.
Contact Us