2021's Main Street Vibrancy Grant recipients – Grayling, Owosso, Lansing and Three Rivers – are sharing the results of their transformative projects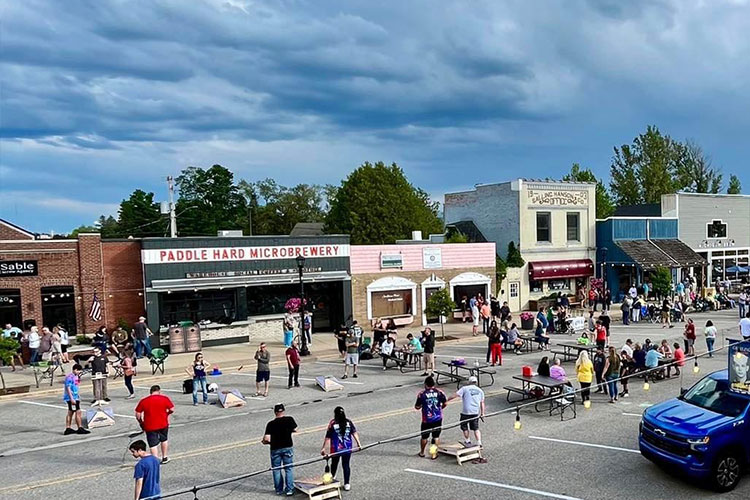 From a business incubator space to public art upgrades, four Michigan Main Street communities across the state – Grayling, Owosso, Lansing and Three Rivers – have completed projects to enhance the vibrancy and economic vitality of their downtowns thanks to the Main Street Vibrancy Grant Program. The communities were announced as grant recipients in June 2021 and are now sharing the results of their transformative projects.
The Main Street Vibrancy Grant Program is intended to provide grants of $20,000 to Select or Master level Michigan Main Street communities. Projects could include pop-up shop programs, implementation of a marketing or advertising campaign, physical improvements such as new seating, seasonal infrastructure, signage, or art, and other transformative projects that help create a sense of place and a more vibrant community.
Over the past year, Michigan Main Street communities generated more than $26.6 million in private investment, 127 new businesses and 143 façade and building improvements. Since its inception in 2003, the Michigan Main Street has been a catalyst for job growth, private investment and community engagement. From 2003 through 2018, 1,622 new businesses have been launched, with a total public investment of more than $128.9 million and total private investment of $346 million. In addition, more than 810,704 volunteer hours recorded by Michigan Main Street communities in revitalizing downtowns across the state.
2021 Main Street Vibrancy Grant winners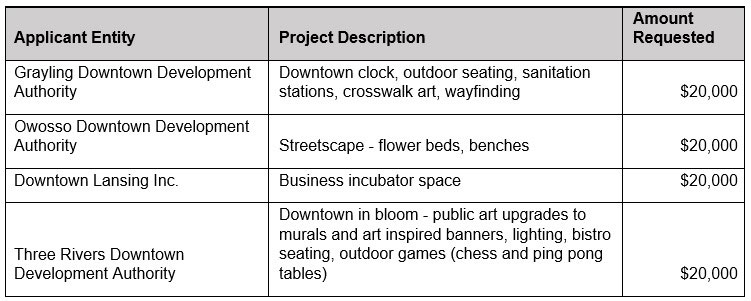 Key Metrics/Results from Completed Projects:
7,979 activated vacant/underutilized square feet
$279,500 amount of additional private investment
$52,691 amount of additional public investment
Physical improvements to three downtown districts in the form of painted crosswalks, banners, murals and public art, town clock, wayfinding signage, and flowerbed improvements and tree/flower plantings
Additional amenities added to three downtown districts in the form of tables/chairs and umbrellas, games, market lights and bike racks
One storefront improved in Downtown Lansing with the addition of a micro market retail space supporting start-up entrepreneurs
Grayling Main Street/DDA
Activated Space: 2,785 sq. feet
Additional Private Investment: $1,500 additional revenue for Grayling Main Street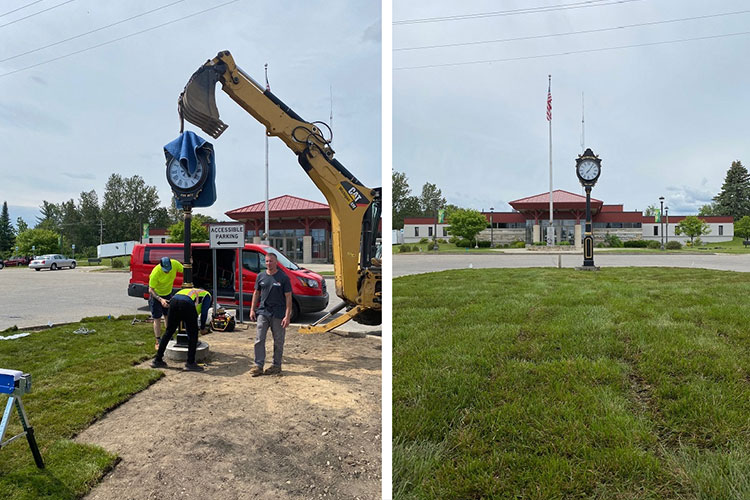 Grayling purchased 20 collapsible picnic tables, 10 umbrellas and 10 bases. The Main Street organization uses these for its community events, such as block parties, and will be using them during the AuSable River Festival. Grayling Main Street also rents them to local businesses and organizations to fundraise. So far, they have generated $1,500 in revenue for the organization.
Painted paddles were added across seven crosswalks throughout Grayling's districts. Paddles are part of Grayling's community branding, as paddling sports are a very popular recreational activity and part of its historical economy. The paddles are bright and fun placemaking pieces, with visitors enjoying them and as a distinctive trait to Grayling. The paddles cover 385 square feet through various spaces in the district.
Grayling landscaped a large island (2,400 square feet) that was previously unmaintained. A new city clock was installed in the area. Grayling Main Street has a vision to continue beautifying this space by adding an inscribed brick pathway, benches, and flower planters to the space.
Purchased and installed a new city clock. This year is Grayling's Sesquicentennial Anniversary. The clock was dedicated to the community by Grayling's mayor.
Installed Downtown Grayling branded wayfinding signage throughout the downtown Social District.
Owosso Main Street/DDA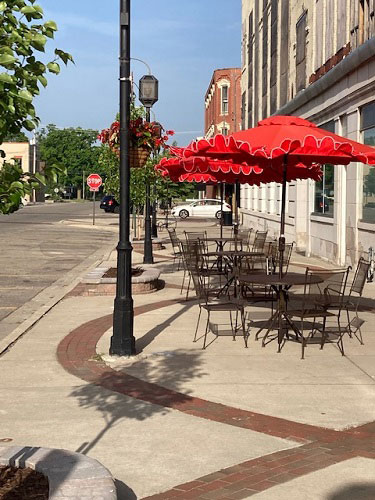 Activated Space: 2,144 sq ft.
Additional Private Investment: $7,500.00 donated product.
Additional Public investment: $32,191.02 from OMS/DDA Design Committee Budget.
Utilizing the Main Street Vibrancy Grant, Owosso Main Street made several Exchange Street streetscape improvements.
Those projects included reconstruction of crumbling flower bed planters, planting of trees and flowers, and installation of outdoor seating and benches.
Downtown Lansing Inc.
1,300 sq. feet of vacant space was activated in a building that had been vacant for 10+ years. Public Funding to produce and support this micro-market shared space includes:
$20,000 market manager funding from DLI & City of Lansing
Private Funding to produce and support this micro-market shared space includes:
$50,000 commitment each year for 5 years from local bank
$20,000 in private rent support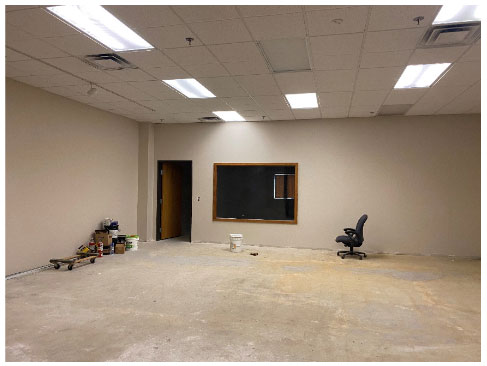 The Middle Village Micro-Market in Downtown Lansing opened with five merchants' spaces selling their local products in October 2021 as a test holiday market. Hours of operation included Wednesday-Saturday, 11:00 am – 6:00 pm.
While housed at Middle Village, merchants received accounting and small business development training/professional development.
Following the end of the test Holiday Market, three Middle Village merchants moved into their own private brick & mortar spaces downtown, helping to meet DLI's Strategic Action Plan.
Those three merchants are:
A Novel Concept Book Store purchased their own building in the 200 block of S. Washington Sq. at $190,000 to open their permanent home
Sweet Encounters Bakery & Café opened in the Knapp's Centre February 2022
Capital Hippie signed a lease to move their store into a vacant building in the 100 block of S. Washington Sq.
The latest cohort of Middle Village Merchants opened March 15, 2022, with seven merchants occupying the Middle Village micro-market. These merchants have already received some of the 12 monthly trainings that will be offered to them through Small Business Development Center, Lake Trust and DLI focusing on accounting practices, hiring your first employee, display, branding and marketing, and more.
These merchants will occupy the space for at least 12 months and include:
Coco Bella, an urban fashion boutique
Sylvia's Sudsery, soaps and other bath products
Nature's 92 LLC offering tea, sea moss products, mugs and holistic health products
Capital City Sweets, a local dessert shop
The Gold Mine, a local artisan co-op shop
Poor Sport, an eclectic mix of Michigan-made home goods and style
Love Lansing merchandise shop
The goal of Middle Village is to empower start-ups, with a focus on having the space house at least 51% women/ethnic owned businesses, while also creating a sustainable feeder system to diversify Downtown Lansing's business mix and fill vacant spaces.
Moving forward, all Middle Village merchants who graduate out of the Micro-Market shared space and choose to move into a brick & mortar space downtown receive up to an additional two years of business training and graduated levels of funding support.
Three Rivers DDA/Main Street
Activated underutilized square feet: 1750 sq. feet
Additional private investment: The Women's Club has donated $500.00 to provide for a monarch wayfinding station in the rain garden area of the existing mural mall.
Additional public investment: The Three Rivers DDA budget provides for continued maintenance in the mural mall area in regard to landscaping and other beautification efforts in the value of $500.00 per fiscal year.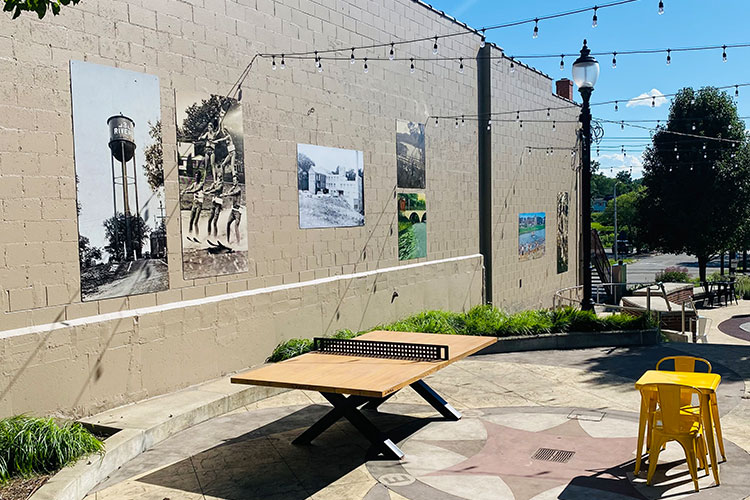 The Three Rivers Vibrancy grant improvements included enhancements to existing alleyways and banners throughout the downtown area, such as installation of market lights, painting new and improving existing murals, and 18 new vinyl banners.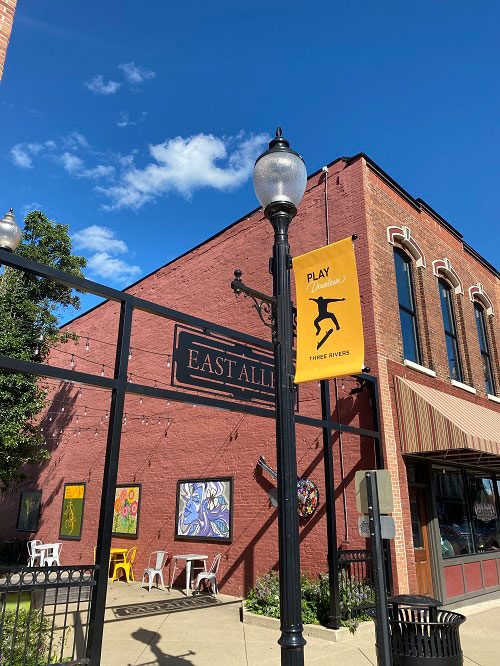 Other improvements included:
Postcard images installation
Eight sets of bistro tables/chairs
Two bike racks
Installation of Sunsails
Outdoor ping pong table and giant oversized chess game set
Addition of a microphone and projector
Learn more about how Three Rivers is reshaping its downtown from Andrew George, Three Rivers DDA and Main Street Chairman, and Tricia Meyer, former Three Rivers DDA and Main Street Executive Director:
Looking Ahead at Future Projects
In April 2022, eight Michigan Main Street communities from across the state were awarded $160,000 total in vibrancy grants to support downtown improvement projects. From updated greenscapes in Ostego to a Social Zone in Grand Haven, Michigan's communities will continue to grow and thrive thanks to the Main Street Vibrancy Grant Program.
Learn how the MEDC is helping to create vibrant, sustainable and unique places across Michigan at https://www.miplace.org/.
Contact Us