Annual Governor's Awards shine a light on historic preservation's impact in Michigan
Seven preservation projects around Michigan honored with 2022 Governor's Awards for Historic Preservation
Now in its 19th year, the Governor's Awards for Historic Preservation program, held annually during National Historic Preservation Month, was created by the State Historic Preservation Office to celebrate outstanding historic preservation achievements that reflect a commitment to the preservation of Michigan's unique character and the many archaeological sites and historic structures that represent our rich past. The awardees aren't simply recognized for their commitment to preservation. Governor's Awards sites play a vital role in promoting our shared history, providing public recognition of our historic places, encouraging tourism, generating economic investment and activity, and fostering a sense of pride in our communities.
Seven Michigan preservation projects were awarded Governor's Awards for Historic Preservation this year. Communities represented by the projects include Battle Creek, Bay City, Detroit, Kalamazoo, Leland, Manistee Township, and Ypsilanti.
"Historic resources and archaeological sites tell us about the past and help us define Michigan's unique identity. Their preservation is vital to Michigan's present and future as they contribute to vibrant places, serve as economic drivers, boost tourism in our communities, and enrich our understanding of the past," said Deputy State Historic Preservation Officer Martha MacFarlane-Faes. "Each year during National Historic Preservation Month the Governor's Award program gives us an opportunity to recognize standout historic preservation efforts across the state, exemplifying the collaboration and deep impact preservation can have in Michigan communities. This year's diverse group of awards has inspired additional preservation activity and economic investment, and illustrate projects that represent preservation best practices."
This year, three projects stood out as noteworthy examples of public-private partnerships, long-term stewardship, and significance to their communities and to the state of Michigan:
1. Collaborative effort to lift Fishtown
Leland, Leelanau County
Awardees: Fishtown Preservation Society, Inc.; Biggs Construction; Kasson Contracting; Team Elmer's; Hopkins Burns Design Studio; and Laurie Sommers Cultural Consulting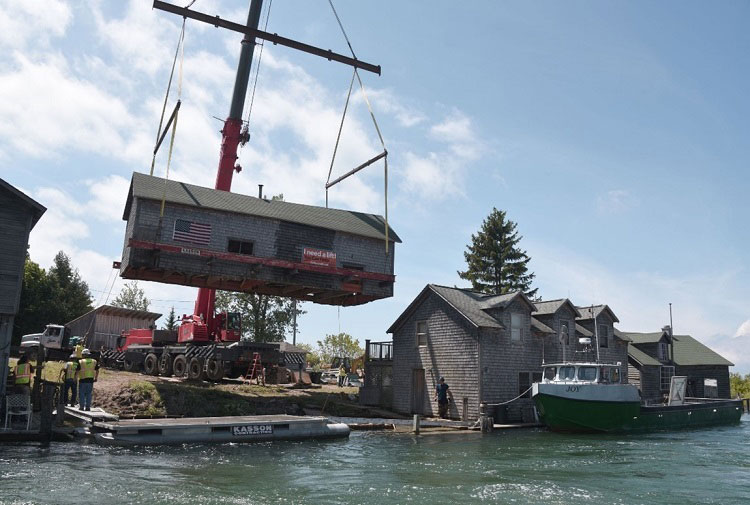 Creative decision-making brought passionate partners together to protect Fishtown, Michigan's only remaining traditional fishing village, from rapidly changing water levels, demonstrating the benefits of intentional preservation cooperation.
Fishing has been synonymous with the maritime culture of Michigan for centuries. Fishtown is considered Michigan's last traditional commercial fishing village, comprised of a series of wooden shanties, docks, smokehouses, and fishing vessels near where the Leland River empties into Lake Michigan. Generations of family members have participated in the fishing industry, which has boosted local tourism as a result, both for the fresh fish and for the authentic ambience.
Still a working waterfront, the wooden facilities have always required upkeep and maintenance to keep them functional for this make-do, do-it-yourself fishing operation. Fishtown was listed as part of the Leland Historic District in 1975 to help recognize its unique character, but this did not prevent potential changes to the landscape as an influx of tourists and new development prospects flourished. The Fishtown Preservation Society (FPS) was founded in 2001, and over the next decade began acquiring buildings, docks and other facilities to ensure long-term preservation.
Mother Nature had other plans. After several years of low water levels allowed initial efforts for long term maintenance to begin, the record high water levels of 2019-20 caused water to pour into the shanties, destabilize wood post foundations, and wreak havoc on docks. The dedication of families and friends to preserving this place and the heritage economy that made it function was nearly swept away to sea.
FPS' established relationships with local partners enabled them to spring into action to both combat and mitigate the high-water danger. Three shanties were fully lifted off their crumbing foundations, set on land while new foundations were driven, and then lifted back into place. Work on other buildings includes foundations, sills, siding, windows, docks and piles. Through it all, an important emphasis has been placed on retaining as much original fabric as possible. With the help of several passionate, creative partners, Fishtown will continue as a working waterfront and fishery for decades to come.
"Fishtown is the heart and soul of the Leland community, it always has been. Over the decades its meaning and rarity has grown as commercial fishing has disappeared from other Great Lakes shore towns," said Fishtown Preservation Society Executive Director Amanda Holmes. "Fishtown is more than a series of buildings, it's a working waterfront that also helps preserve a way of life that has been an active part of this community for more than 170 years."
2. Long-term stewardship of the Alpha House
Detroit, Wayne County
Awardee: Alpha Phi Alpha Fraternity, Inc. Gamma Lambda Chapter
The Alpha House has been carefully maintained as an anchor of the community, earning the fraternity a Long-Term Stewardship award. The Gamma Lambda chapter, the oldest chapter house in the Alpha Phi Alpha fraternity, was founded in 1919. It initially did not have a permanent home and met at various locations in the city until 193, when the chapter raised the money necessary to purchase this property to become their permanent meeting place. Since then, the house has offered a place for gathering, learning, community service, and problem-solving.
Alpha Phi Alpha has always had a community focus and has championed national fraternity initiatives in Detroit such as "Go-to-High-School," "Go-to-College" and "A Voteless People is a Hopeless People." The Alpha House, as the nexus of the chapter, has been the launching pad for outreach programs to support higher level learning, voter and candidate forums, and as a safe space for community discussion.
The chapter has thoughtfully preserved their home while carefully modernizing it to meet current needs. Original woodwork, fixtures, and windows have been restored on the interior. When the unstable front porch threatened to pull down the entire façade behind it, the chapter carefully removed the entire porch and rebuilt it from the ground up, following the original design. Over $200,000 was invested in repairs and upgrades to the house before the 2003 national convention was hosted there, including the creation of a museum space in the attic to highlight chapter history.
The house continues to serve as the offices for the chapter, and as a place to meet and socialize. The Gamma Lambda chapter worked with the SHPO through the height of the pandemic to complete the necessary documentation to list the Alpha House in the National Register of Historic Places, which became official in August 2021.
3. Long-term stewardship of the Kalamazoo State Theatre
Kalamazoo, Kalamazoo County
Awardees: Kalamazoo State Theatre; and The Hinman Company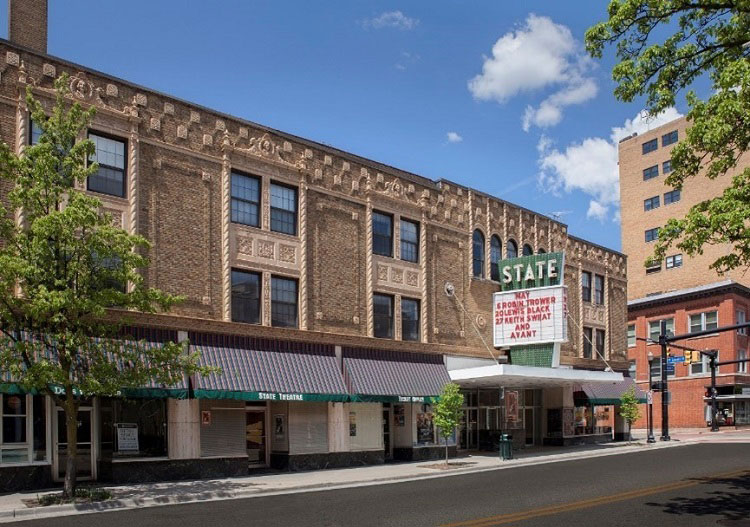 The Kalamazoo State Theatre also earned a Long-Term Stewardship award. Strategic investment in the theater has created an important regional destination for entertainment and artistic programming while preserving the unique character-defining architecture of the original 1927 design.
The State Theatre was opened in downtown Kalamazoo in 1927 at the height of the "golden era" of theater construction during the roaring 1920s. It was operated by the W.S. Butterfield Company, the largest theater operator at the time in Michigan.
Designed by noted theater architect John Eberson, it is one of the few "atmospheric" theaters which remain in the state. Atmospheric theaters use opulent decoration in the auditorium to give theater-goers the immersive sense that they are transported to another time and place, in this case, a Mediterranean Courtyard.
When the Butterfield Company closed the theater in 1982, demolition was planned to enable an adjoining building to expand. The Hinman Company of Portage purchased the building in 1985 to save the theatre and reopened it as a performance venue.
Working closely with academics and students at Western Michigan University, an early project was to try to identify the original paint colors of the auditorium, to have it repainted in an exact match to the original. Substantial interior investments – in heating, air conditioning, and lighting, have enabled more attendee comfort and expanded the variety of acts which can perform here. Dressing rooms were renovated for performers. LED lighting and Wi-Fi connections keep the performance venue up to date.
The Kalamazoo State Theatre got creative during the height of the pandemic, allowing performers to use their façade marquee overhang as a stage and patrons to use the street in front as a seating space. Another bright spot was the late 2021 listing in the National Register of Historic Places, cementing the theatre and its unique architecture in the story of Michigan's history.
"This place matters. It has energy. It has roots. This is Kalamazoo State Theatre's 95th year," said Stephanie Hinman, executive director of the Kalamazoo State Theatre. "This historic building is preserving 95 years of memories – of first dates, first concerts, three generation ticket holders, weddings, engagements, life celebrations, and the list goes on. If only these walls could talk. And it's not just the building, it's the people in it who keep it alive; it's the team who operates it, the artists who perform here, and the fans who patron it who keep the legacy going."
Additional 2022 Governor's Award recipients are listed below. For full details and videos of each project, visit here.
4. Relocation and rehabilitation of the Orchard Beach State Park Shelter Building
Manistee Township, Manistee County

Awardees: Michigan Department of Natural Resources, Parks & Recreation Division; Michigan Department of Technology, Management and Budget, Design and Construction; Hallack Contracting; GEI Consultants Inc., Sanders & Czapski Associates, and Wolfe House Movers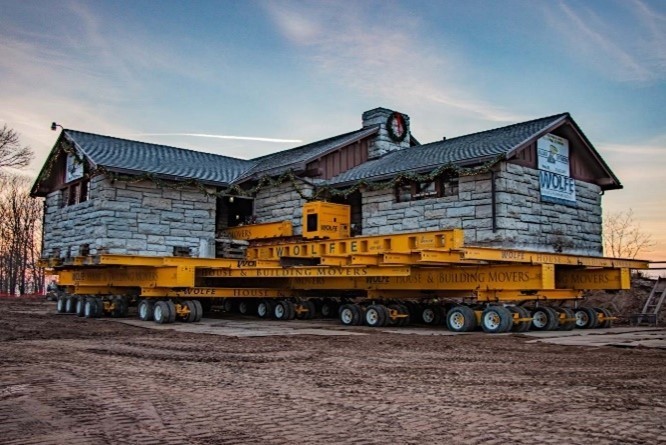 Moving an historic building is rarely a first choice, but sometimes conditions make such a decision necessary. The carefully coordinated dynamic approach to move the Orchard Beach State Park Shelter away from the receding Lake Michigan bluff embodies the progressive thinking needed to ensure humans and nature can coexist long into the future.
5. Rehabilitation of the Crapo Building into The Legacy
Bay City, Bay County
Awardees: 213 Development LLC; Quinn Evans Architects; and Spence Brothers Construction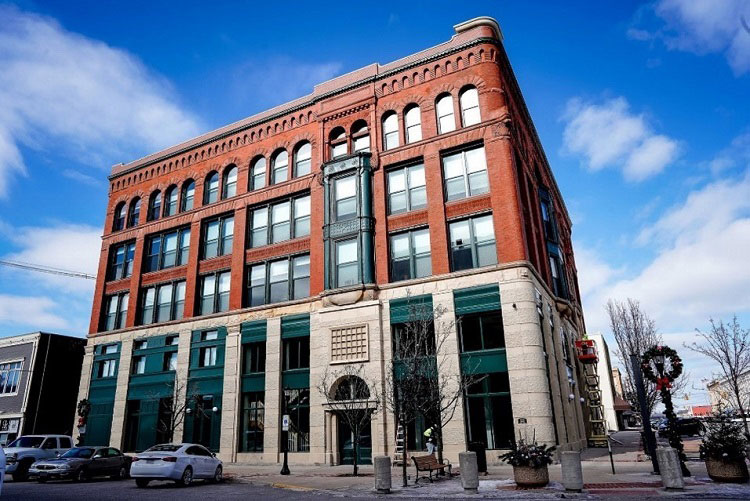 The rehabilitation of the former Crapo Building into The Legacy allowed this prominent landmark to again contribute to the vitality of downtown Bay City. It also serves as home to new residents, and rediscovered a striking example of Romanesque architecture.
6. Rehabilitation of the Thompson Block
Ypsilanti, Washtenaw County
Awardees: Original and Only Thompson Block LLC; Mitchell and Mouat Architects; and Kincaid Building Group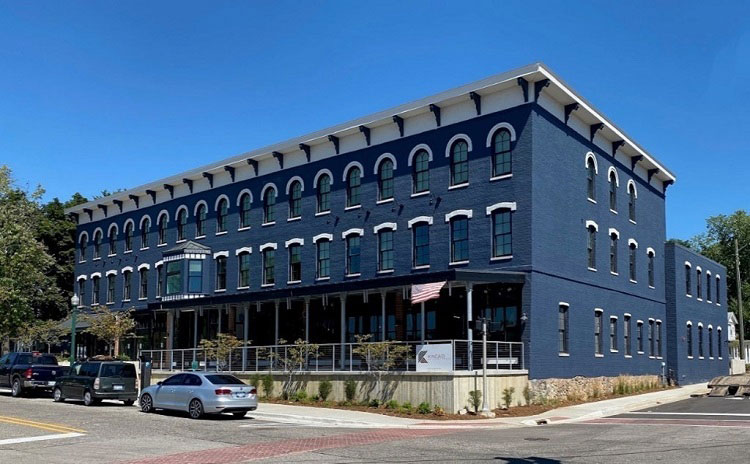 The rehabilitation of the Thompson Block required tenacity to overcome fire damage and other obstacles, bringing new residents and vibrancy to this Civil War-era landmark of the Depot Town neighborhood.
7. Rehabilitation of the Old-Merchants National Bank & Trust Building into The Milton
Battle Creek, Calhoun County
Awardees: MDH Development LLC; The Christman Company; Integrated Architecture; and Architecture + Design Inc.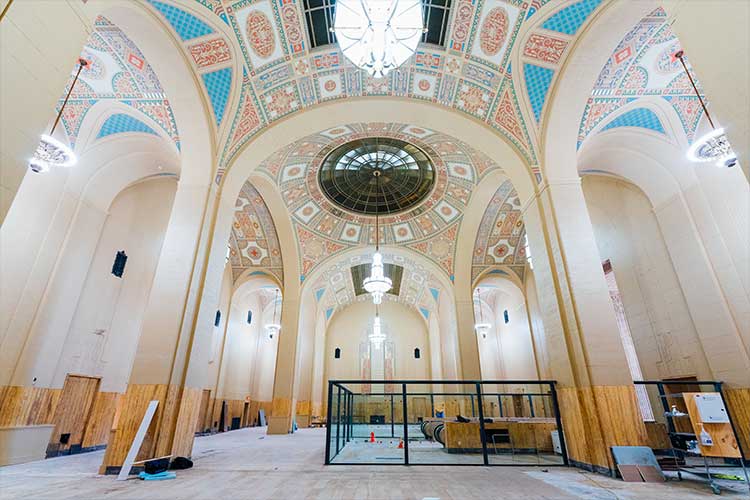 The rehabilitation of the Old-Merchants Bank and Trust Company building into The Milton allowed this Art Deco landmark to again contribute vitality to downtown Battle Creek, and exemplifies the possibilities of adaptive reuse of large historic structures.
"Across two peninsulas, Michigan history surrounds us. From places where we socialize and are entertained, to places where innovators made their mark on the American story, each is a key anchor in its own way," said Dave Lorenz, Vice President of Travel Michigan, part of the Michigan Economic Development Corporation. "As we travel throughout Pure Michigan this summer, be sure to make a Michigan historic site, like one of our Governor's Award-winners, a destination this year."
Focused on the historic preservation of culturally or archaeologically significant sites throughout the state, Michigan's State Historic Preservation Office's main function is to provide technical assistance to local communities and property owners in their efforts to identify, evaluate, designate, interpret and protect Michigan's historic above- and below-ground resources. SHPO also administers an incentives program that includes federal tax credits and pass-through grants available to certified local governments.
To learn more about the Governor's Awards for Historic Preservation program and explore prior year awards by region or by year on an interactive map, visit here.
Contact Us