Michigan mobility and innovation companies find global opportunities during trade mission to Dubai, UAE
Thursday, February 17, 2022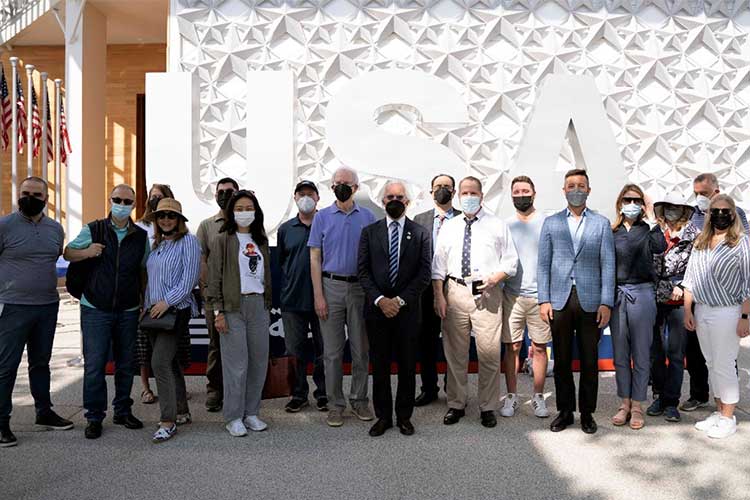 Nine Michigan companies engaged in mobility and innovation solutions traveled to Dubai recently to meet with potential buyers, partners, and distributors of their products and services. The delegation, hosted by Michigan's Arab Gulf Trade Center and led by MEDC's International Trade program, also got an inside look at the USA Pavilion at Expo 2020, this year's World's Fair (postponed from 2020).
The trade mission's purpose was to connect small- and medium-sized Michigan companies to the increasing export opportunities in the region, ultimately growing their businesses and creating more jobs for Michigan residents. The trade mission was developed to coincide with the Expo 2020 theme week of Travel & Connectivity, January 9 – 15, 2022, and participants had the opportunity to visit the Mobility District located within the Expo grounds. Inside the Mobility District, participants explored horizons that drive human progress as mobility continues to transform the way we live, connect with people, understand different cultures, and exchange knowledge and ideas.
"Trade missions like this one open doors for companies by helping them identify and enter into new relationships in foreign markets," said MEDC Director of International Trade Alyssa Tracey. "The Arab Gulf is one of the world's fastest-growing economies with a strong demand for Michigan-made products. These Michigan companies, representing the latest in mobility and advanced technologies, will have new opportunities to reach potential customers in this viable and important trade market."
The participating Michigan companies took part in customized business-to-business matchmaking meetings with prospective partners, distributors, and buyers held onsite at company locations throughout UAE. In their travels to meetings, the delegation witnessed first-hand the opportunities offered by the explosion of development and investment in this country of modern architectural wonders. At Expo 2020, the delegation was hosted by Bob Clark, the Commissioner General of the USA Pavilion, who then provided a private tour of selected country and themed pavilions featuring the latest in innovations.
Participating companies were:
According to Dataspeed Director of Sales and Marketing Heidi Bodell, the mission provided an opportunity to meet a potential customer face-to-face and demonstrate the customized solutions Dataspeed's products could offer.
"We had actually spoken to this customer a few years back, had some conversation back and forth, but it never really went anywhere. To have MEDC and its dedicated Arab Gulf Trade Center create an in-person connection a few years later, here on this trade mission, was a fulfilling second chance," Bodell said. "This company was using a competitor's product and they discussed their challenges with it, and that was a great segue for Dataspeed to show them how we can fill that void. We hope to walk away with a new partner in this company.
"Meeting face-to-face made a big difference in this situation. This company said we were the first to travel to meet with them in-person and that demonstrated how stable we are as a business. They said they feel like we'll be here to support them, whether face-to-face or virtually, and that type of relationship is very meaningful to their team," Bodell said.
In 2021, Michigan was the United States' eighth-largest trade partner to UAE, with a total of $589 million in exports. Since 2017, Michigan has exported a total of $2.5 billion in goods and products to UAE.
MEDC's International Trade Program is committed to increasing Michigan's exporting opportunities by helping businesses identify and enter key emerging foreign markets. Export sales facilitated by the MEDC International Trade program totaled more than $558 million in fiscal year 2021, surpassing the goal of $475 million. This puts the International Trade program-to-date total facilitated export sales at $4.46 billion.
Ready for an opportunity to take your business to international markets? Companies are invited to join the upcoming trade mission to Hannover Messe, the world's leading industrial transformation trade fair. Taking place in Germany May 30-June 2, participants have the opportunity to exhibit in front of 200,000 global visitors and tap new target groups to expand internationally. Learn more and register here.
Studies show businesses that export report higher-than-average sales, employ more workers and pay higher wages. Businesses looking to break into the international market should visit michiganbusiness.org/export or contact an international trade manager.
Contact Us