PMBC's Grand Sourcing Summit brings opportunities to diverse-owned suppliers from West Michigan
As Michigan continues its economic recovery following the global pandemic, MEDC is working to create a more equitable, inclusive and resilient economy for every Michigander. Through the Pure Michigan Business Connect program, we are committed to supplier diversity efforts, prioritizing opportunities for disadvantaged businesses to access procurement opportunities.
Recently the PMBC team held a regional initiative focused on smaller, diverse-owned businesses in West Michigan in partnership with the Grand Rapids Area Revitalization Task Force, The Right Place, West Michigan Hispanic Chamber of Commerce, Grand Rapids Chamber of Commerce and Local First. The Grand Sourcing Summit virtual event sought to connect minority, veteran, women and other diverse suppliers with purchasing organizations to discuss procurement opportunities.
Participating buyers at the summit included the City of Grand Rapids, Consumers Energy, DTE Energy, Gordon Food Service, Grand Valley State University, OST, Interurban Transit Partnership ("The Rapid"), Kellogg, Rockford Construction, SMG – DeVos Place & Van Andel Arena and Spectrum Health.
The event included an overview of resources available to assist with business growth, panel discussions and one-on-one virtual buyer-supplier meetings. Approximately 57 suppliers from around West Michigan participated in meetings, with several successfully landing contracts with participating buyers.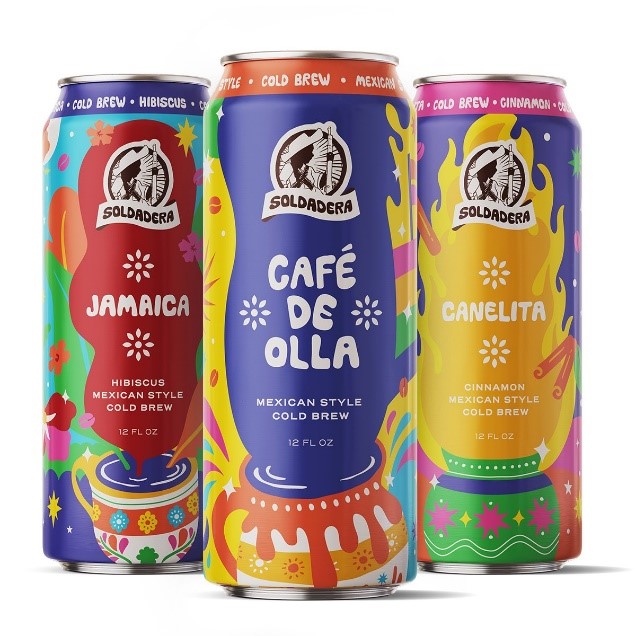 Grand Rapids-based Soldadera Coffee, a family-oriented small business focused on unique-tasting cold brew coffees, was among the businesses at the summit. Inspired by owner Mario Rodriguez's grandmother Cristina, Soldadera believes its coffee should transport its customers to the abundant spices and flavors of Mexico, with the aim of helping to make the world a better place for all.
Rodriguez had the opportunity to pitch his products to Gordon Food Service at the summit, which led to a follow-up meeting that resulted in the leading food distributor adding Soldadera to its online portfolio.
"Eventually we'll be able to enter into other divisions in GFS, but there always has to be a starting point and we're excited about it. It's a great opportunity," Rodriguez said. "We can't thank Pure Michigan Business Connect enough. We're very grateful."
Another Michigan company that found success at the Grand Sourcing Summit was Daddy's Dough Cookies, a Grand Rapids-based homemade cookie company. Launched in 2015 by owner MarcQus Wright after years of baking cookies for family and friends, Daddy's Dough goes far beyond the traditional chocolate chip cookie. Made up of equal parts high-quality ingredients and homemade love, Daddy's Dough Cookies offers creative flavors like Birthday Cake Cream Pie, Apple Cider Cream Pie, Candy Cookie, "The Beast," and more.
Wright met with buyers from Spectrum Health at the summit, which led to the healthcare provider placing the cookies in the cafeteria and convenience store of the Blodgett Campus, with plans to expand into more cafeterias as Daddy's Dough is able to add capacity.
"For us, this event was a great chance to meet with a large employer. We saw a unique opportunity in working with a healthcare provider," Wright said. "Pure Michigan Business Connect created the space for us to make this connection, and it was a game-changer."
Daddy's Dough has worked with several MEDC programs in the past. To learn more about the company, visit here.
Grand Rapids Area Revitalization Task Force Executive Director Joe Agostinelli said the summit came at the right time as large companies are looking for ways to work with smaller, diverse businesses.
"As the Grand Rapids community looks to 'build back better' from the COVID-19 pandemic, there has been a heightened focus on supporting local and diverse-owned small businesses," Agostinelli said. "Working with the Pure Michigan Business Connect team at the MEDC was a logical choice as we looked to take their proven model for business-to-business match making to a hyper-local level. The PMBC team made the planning and logistics for the event seamless for our local partner team and we are excited to see contracting opportunities come to fruition as a result of everyone's collective efforts."
Since 2011, the Pure Michigan Business Connect program has brought small- to medium-sized Michigan businesses together with local, national and global companies for supply chain sourcing opportunities. This demand-driven, multi-billion-dollar public/private initiative is structured to make connections within all industries through a variety of matchmaking events, tours, pitch competitions, and other supplier-immersion initiatives.
The PMBC team can connect all types of companies and meet all types of needs because it has access to a vast and diverse supplier and startup network. These connections include traditional procurement searches, innovation or investment interest and connections to partner programs that offer subject matter expertise and additional resources.
Since its inception, PMBC has facilitated more than $13.9 billion in revenue, hosted more than 220 matchmaking initiatives, provided business connections across 76 industries and organized approximately 15,000 buyer/supplier meetings.
With the success of the Grand Sourcing Summit, the team at MEDC is continuing to offer regional initiatives throughout the state. Visit PMBC's event page for upcoming matchmaking opportunities.
"Michigan's small businesses are the lifeblood of our communities, and as we look at ways to grow an equitable and resilient economy in Michigan, we are committed to continue providing pathways toward success for small businesses in all corners of the state," said MEDC Vice President of PMBC and International Trade Natalie Chmiko. "Through our matchmaking initiatives and other events, we are making it a priority to facilitate connections with traditionally underserved businesses to ensure more equitable access to opportunities statewide."
MEDC is prepared to help Michigan's businesses navigate and adapt to any needs they may have, whether it's helping to connect to new resources, meet new partners or access the capital they. To learn more, visit here.
Contact Us