Small to medium-sized businesses in Michigan utilize the Michigan Economic Development Corporation's (MEDC) Capital Access programming to maintain and grow their companies when private sector lenders need assistance in providing a loan.
Comprised of a team of financial experts who work directly with lenders, the Capital Access programs support small businesses by providing resources to increase availability for loans ranging from $5,000 to $20 million.
Since 2010, Capital Access has supported over 1,400 Michigan businesses and generated more than $1 billion in private investments. The team played a critical role during the 2008 recession, working with businesses in need of support and providing the resources needed to get back on track. Today, the Capital Access team supports three programs to help businesses secure funding: Collateral Support, Sub-Debt Funding and Debt Funding Programs.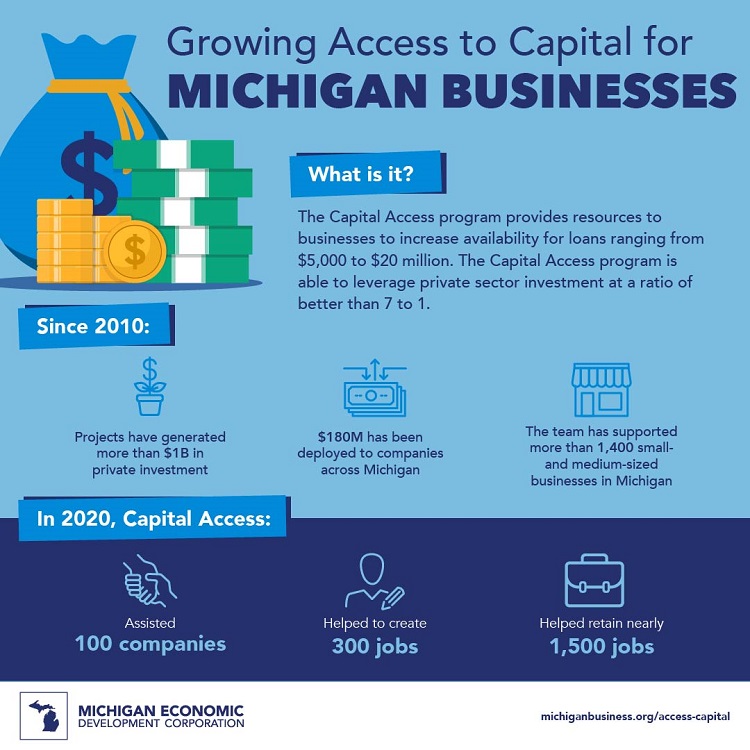 Collateral Support Program
While still recovering from the challenges in 2020, small businesses dependent on loans and financial resources can continue operating their businesses with support from the Capital Access program through mechanisms like Collateral Support Program. This program works to provide cash collateral accounts to lending institutions to enhance the collateral coverage of borrowers. This program seeks to enable borrowers to acquire the necessary financing that may otherwise be unavailable due to a collateral shortfall.
In 2020, the Capital Access team helped 100 companies thrive during the COVID-19 pandemic, boosted job opportunities by 300 positions and helped 1,500 Michiganders keep their jobs.
One company supported by the Collateral Support Program was National Filters Inc., a top-quality filtration manufacturer that has been in business since 1986. Forced to downsize during the pandemic, the company pivoted their production to the development of personal protective equipment in order to keep operations running. Through MEDC's Capital Access connections with Tri-County Bank, National Filters was able to secure more than $190,000 in loans and rehire 16 employees who were furloughed.

"The MEDC stepped in and offered assistance with their MSF Collateral Support Program, which allowed the loan to be done without capital injection by the borrower," said Tri-County Bank Vice President Fred Manuilow. "And in this time of crisis, our borrowers need all the capital they can get. The MEDC could not have made the process any easier or faster. It was absolutely amazing to be a part of this process and experience the MEDC's commitment to Michigan businesses."
Sub-Debt Funding Programs
The Capital Access Program also partners with private investors, such as Grow Michigan II, LLC, 21st Century Investment Fund and Invest Michigan, to give businesses access to mezzanine capital. Mezzanine financing sits between less risky senior debt and higher-risk equity, with features of both financing options. Small business in Michigan look to grow their companies through mezzanine debt because of its long-term financing, ownership rights and debt repayment options. In short, mezzanine options offer longer-term capital for borrowers at an affordable price and give lenders a higher return with lower risk.
Grow Michigan is a public private partnership that provides growth and transition capital for small businesses in Michigan, offering loans from $250,000 to $5 million. All three equity funding programs target funds toward businesses that will retain and attract economic growth, enhance Michigan's entrepreneurial system, diversify the economy and support jobs and investments in the state.
Capital Access Program (CAP)
The Capital Access Program offers resources to help Michigan businesses finance their debts through private lenders. By using small amounts of public resources to generate private lender financing, small businesses can access capital that would not otherwise be available.
Michigan's vast farms depend on companies like Great Lakes Ag Irrigation Inc. to deliver customized water management solutions. When Great Lakes Ag Irrigation started in January 2021, the company needed capital to begin production in irrigation season. They turned to the MEDC's Capital Access Program, who were able to secure the young company a $100,000 operating line of credit by working with Isabella Bank.
"We were confident in their business plan and their ability to execute the goals they have set for themselves," said Tom Gross, vice president and business development officer at Isabella Bank. "By partnering with MEDC and using the Capital Access Program we were able to provide an operating line of credit to help them meet their working capital needs as they grow their new business."
Today, 15 financial institutions are registered with MEDC's Capital Access Program and provide resources for Michigan businesses. The CAP loan amount goes up to $5 million and is a private transaction between participating banks and borrowers. CAP loans can be long or short term, with flexibility to refinance to address the borrower needs. To be eligible, the business must be for profit, no larger than 500 employees and must be for a new extension of credit.
To learn more about MEDC's Capital Access program, please visit https://www.michiganbusiness.org/services/access-capital/.
Contact Us