Over the years, Michigan has been recognized as a national manufacturing hub, thanks to its strong workforce and high-tech innovative ecosystem that helps forward-thinking companies take their products and services from ideation to creation. Today, Michigan is building on its rich manufacturing heritage and technological know-how as an active leader in the latest manufacturing revolution known as Industry 4.0.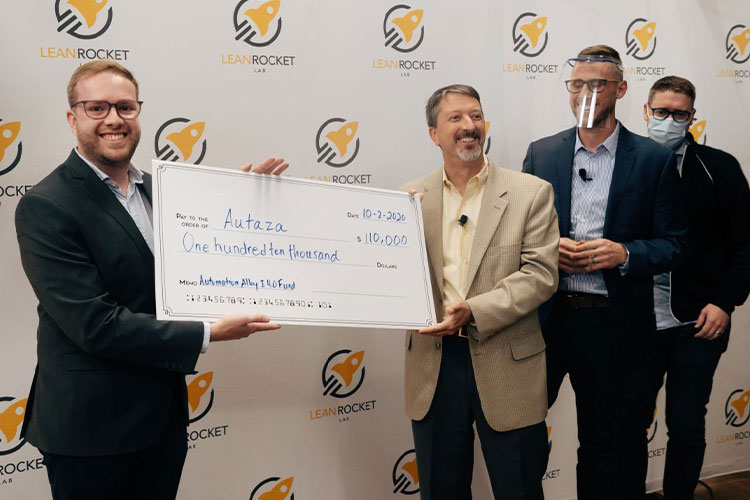 Industry 4.0, or the Fourth Industrial Revolution, is defined as the convergence of digital and physical technologies—or digitization—within the manufacturing sector and is a collection of six emerging technology sectors including connected factory, data analytics, modeling, augmented and virtual reality, additive manufacturing, advanced robotics and cybersecurity.
In order for Michigan to remain competitive—and successful—it must be the most advanced and productive in manufacturing by positioning its workforce and its companies at the forefront of technology. As part of these efforts, the Michigan Economic Development Corporation (MEDC) has partnered with Automation Alley, Lean Rocket Lab and Lawrence Technological University's Centrepolis Accelerator to launch the Industry 4.0 Accelerator, a comprehensive effort supporting the development and adoption of Industry 4.0 technologies across the state.
The innovative Industry 4.0 Accelerator is the first of its kind in North America and provides resources to support startups developing industry 4.0 technologies and to support Michigan's manufacturers in adopting these technologies. The robust accelerator provides education, programming, coaching, strategic partnerships, a technology-readiness demonstration matching fund, and access to seed stage investment funding that is designed to help manufacturers thrive and grow while building a pipeline of the next generation of Industry 4.0-ready talent.
"By attracting and supporting the top industry 4.0 related startups, and connecting them with Michigan's manufacturers, we believe Michigan can be a global leader in the Industry 4.0 space," said Tom Kelly, CEO of Automation Alley. "Our goal is to catalyze a mindset shift within Michigan's manufacturing community. We can help that happen through supporting Michigan-based and global companies with resources tailored to help them adapt and thrive in an Industry 4.0-fueled market. The accelerator is a huge part of that, giving our partners access to innovative and disruptive technology."
Within the first few months of launching the Industry 4.0 Accelerator, Automation Alley, the accelerator has received over 250 applications from more than 30 countries, as well as corporate sponsorship and partnership support from major global companies such as Whirlpool Corporation, Denso, Siemens and Lear Corporation.
"These partner companies have participated in over a dozen technology readiness demonstrations with startups in the program," said Brandon Marken, CEO of Lean Rocket Lab.
"Our team made it a priority to partner with leading companies in the manufacturing space like Whirlpool and Lear who are known for their innovation," said Dan Radomski, CEO of Centrepolis Accelerator. "In being able to tap into the Industry 4.0 ecosystem, startups and entrepreneurs are better able to connect with those experts and leaders that can help them get a foot in the door—which ultimately provides a catalyst for innovation and economic growth throughout Michigan."
Three Michigan companies in particular have seen incredible success from the Industry 4.0 Accelerator:
Ann Arbor-based Autaza is the very first company to receive funding from the accelerator. Autaza is a software and hardware company with five product verticals: Autaza Paint, Autaza Glass, Autaza Hybrid, Autaza Surface and Autaza Aero. The company's patented technology uses cameras and AI to detect defects in surfaces in a manner far superior to human inspection. Currently, Autaza is completing a rollout at a large tier-1 U.S. automotive company.
Also located in Detroit is Andonix, the second portfolio company of the Industry 4.0 Accelerator. Designed to connect people, process and place, Andonix's connected worker platform Safely Pass has become a critical tool for many companies during the COVID-19 pandemic. This platform allows companies to create, access and manage any physical space safely to ensure automated entry, facilitation collaboration and virtual work, effective health containment initiatives and more. As a result, Andonix has raised meaningful capital, has created relationships with name brand manufacturers and has demonstrated leadership and innovation over the past year.
Founded in the San Francisco Bay Area, Invisible AI has since moved its team to Michigan to take advantage of state's rich manufacturing heritage and opportunities for growth. Founded by University of Michigan graduate Prateek Sachdeva, Invisible AI reduces manufacturing costs associated with manual assembly errors through its computer vision platform. The company's AI-enabled cameras track body posture and movement to tell a story of what is happening on assembly lines. Invisible AI has achieved meaningful traction with select OEM manufacturers and is projected to grow among Michigan manufacturers while hiring additional team members in the state.
For the past century, Michigan has been synonymous with manufacturing. While it's important to celebrate its history, state leaders recognize that Michigan must also continue to adapt and redefine itself as leaders in the technology sector—and that means doing everything it can to prepare its companies and workforce for the future.
Industry 4.0 related startups interested in receiving support from the Industry 4.0 Accelerator should visit www.i40accelerator.com to apply for the six to 12 month program, which includes one-on-one business support, mentorship, and introductions to strategic partners including small, medium and large manufacturers in the state, as well as specifically integrators specializing in automation and industry 4.0 integration.
Additionally, as part of the statewide effort to drive adoption of Industry 4.0 technologies among small to mid-sized manufacturers, the Michigan Economic Development Corporation is building on its existing partnership with Automation Alley and the Michigan Manufacturing Technology Association to help traditional manufacturers understand and implement these advanced technologies by 2025, while building a robust pipeline of Industry 4.0-ready talent. Small to mid-sized manufacturers who complete the assessment process are encouraged to connect with the accelerator team to understand if they have opportunities to demo technology from startups within the program.
To learn more about the MEDC's Industry 4.0 Initiative and how your business can get involved, please visit www.michiganbusiness.org/industry4-0/.
Contact Us