Michigan Medical Innovation Makes Nursing Safer
We tend to think of "innovation" as something that happens in a flash of creative insight. And many innovations undoubtedly begin with a "eureka!" moment. But as Spectrum Health Innovations (SHI) shows through its ongoing partnership with the Grand Valley State University (GVSU) engineering department, turning those magical moments into products with commercial potential takes rigorous thought, experimentation, and problem-solving. Which is exactly the process Michigan's innovation ecosystem exists to support.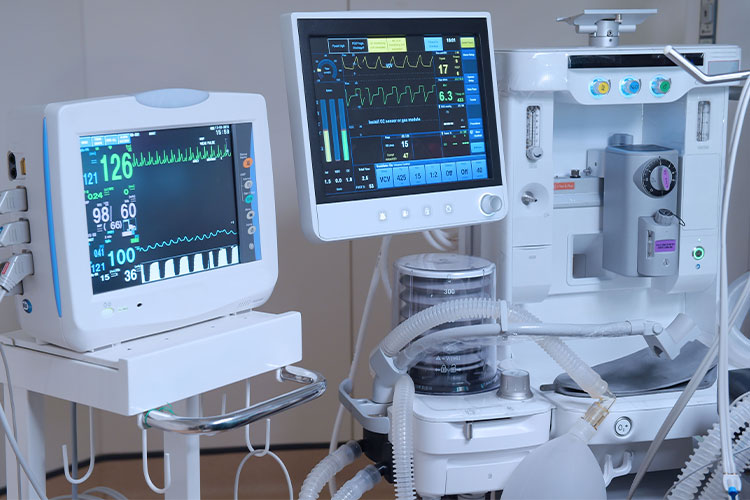 Five years ago, SHI began inviting internal team members to submit new product development ideas and then sharing some of the most promising with the GVSU engineering department. Over five years, the total number of submissions has grown from about 100 in the first year to more than 2,000.
So when a Spectrum Health supervisor presented a difficult, complex challenge - design a device to make lateral patient transport safer, faster, and more efficient for hospital teams and their patients - GVSU engineering students were a logical go-to resource.
Moving patients between lateral surfaces - for example, from a gurney to a hospital bed - is a dangerous hospital task performed hundreds of times each day in a given hospital and hundreds of millions of times each year nationally. A single nurse may move nearly two tons during an eight-hour shift. So it's not surprising that musculoskeletal injuries, particularly to the lower back, occur in health care workers at twice the annual rate or that nursing aids and orderlies rank third among all occupations for injuries or illness requiring days away from work.
In 2016, while SHI product development specialist Andrew Heuerman conducted market research, wrote grant applications, and handled the business side of the project, GVSU engineering students tackled the design process. After exploring the challenges and problems associated with available patient transfer lift mechanisms, the team settled on a design approach. They built a rough proof-of-concept prototype using cardboard, steel framing, and a winch powered by an ordinary electric hand drill. They shot a video of its operation and - based on feedback from engineers and prospective stakeholders - built an improved prototype device they called the "patient auto-slider."
That's when Michigan's innovation ecosystem kicked into gear. The auto-slider won a Michigan Kickstart award through the Life Science Innovation Hub of the Michigan Translational Research and Commercialization (MTRAC) program, allowing a new GVSU class to continue development work. With Andrew Heuerman's ongoing business management support, students began an iterative process of more rigorous refinement: presenting the auto-slider to prospective customers and other potential stakeholders for hands-on inspection; collecting feedback; improving the user interface, portability, and durability; ensuring sufficient weight capacity; and ensuring manufacturing feasibility.
In January 2019, SHI won a Michigan Translational Research And Commercialization (MTRAC) for Life Sciences Innovation Hub Award and received $150,000 in matching funds to complete the design and engineering of a production-representative device and perform a qualitative study.
The MTRAC for Life Sciences Innovation Hub is a statewide program that accelerates the transfer of technologies from Michigan's institutions of higher education, hospital systems, and nonprofit research institutes to the private sector for commercialization. The awards made possible by the Michigan Economic Development Corporation, and co-managed by U-M's Fast Forward Medical Innovation (FFMI) and U-M Office of Tech Transfer, provide mid-stage, translational research funding and resources for proof-of-concept and late-stage translational studies with a high potential of commercial success.
Thanks to the support and guidance the team received through its participation in the MTRAC for Life Sciences Innovation Hub, the device - now pursuing FDA approvals and branded as the SimPull lateral patient transfer device - has undergone 15-20 years of simulated real-world use in testing. It can be set up and used safely by a single clinician to perform a lateral transfer in less than a minute.
Spectrum Health Innovations and Andrew Heuerman have created The Patient Company to market the SimPull device. With the support of Michigan State University Foundation's Conquer Accelerator, the company announced that it had raised $1 million in an oversubscribed seed round to help navigate the transition from innovation and development collaboration to early pilot-testing.
The device will be ready to be brought to market by the end of the year.
By itself, it's a great Michigan story: An effective, innovative solution to a significant problem, conceived, designed, tested, refined, and manufactured in Michigan.
More broadly, it's a great example of what Michigan offers entrepreneurs, innovators, and companies working to realize that first flash of inspiration.
If you are interested in learning more about the services and programs available to early and mid-stage startups, visit michiganbusiness.org/entrepreneurship.
Contact Us