Michigan communities finding creative ways to bring residents downtown this summer, boost economic growth
Social districts, summer concert series, outdoor street games just a few of the ways communities are drawing people to their local business districts
With the arrival of sunny days and warmer temperatures, Michiganders are more eager than ever to get outside and enjoy all their favorite summer activities. Top among those is being able to get out and visit favorite downtown destinations. To encourage these opportunities to support local as well as traveling safely, communities across Michigan continue to come up with innovative strategies and solutions for safely welcoming residents and visitors to their downtowns. By taking some creative approaches, communities are engaging residents while driving economic growth, and the Michigan Economic Development Corporation has been at their side, providing a variety of tools and resources.
"Michigan's small businesses and traditional downtowns are a vital part of the state's economy, and as the days get warmer and COVID-19 restrictions continue to lift, there is a variety of ways communities can attract people to their downtowns while still remaining safe," said MEDC Senior Vice President of Community Development Michele Wildman. "We want to remind all Michiganders to support their local businesses and communities, and we encourage communities to explore the many creative ideas and resources available that help make the most of summer outdoor activity opportunities."
In partnership with Main Street America and Michigan Main Street, MEDC offers a Reopen Main Street website that provides resources, strategies, and assets for downtowns and communities as they plan for their return to operations following the COVID-19 pandemic. The site includes a compilation of a wide range of potential reopening strategies, ideas, hints and tips for businesses, business districts and organizations as we continue to recover from the COVID-19 pandemic. Strategies and ideas for restaurants, retail establishments and arts and culture organizations are available, along with suggestions for ways local leaders and organizations can support their communities.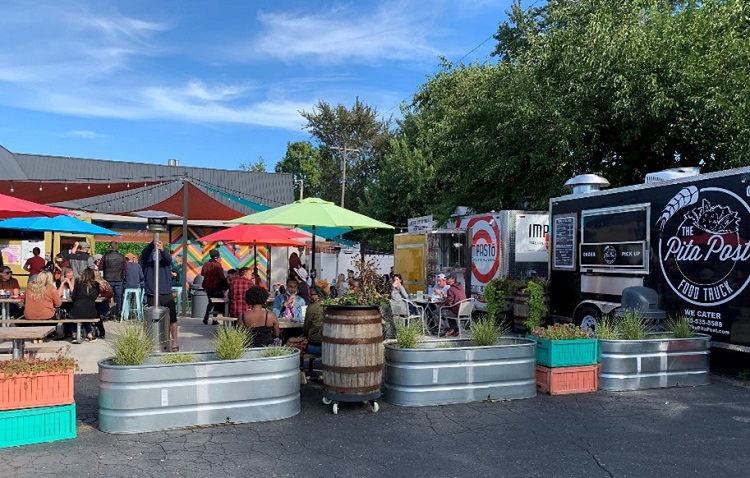 From organizing summer concerts to offering outdoor street games to coordinating community clean-up days, Michigan communities are working hard to engage residents and drive economic growth during the warmer months. Communities across Michigan – like Muskegon, Ferndale, Petoskey and Farmington just to name a few – are creating outdoor social districts in their downtowns, closing off sections of streets that allow residents and visitors to stroll outside with food or beverages and enjoy the downtown scene. Enabled by regulatory changes that were put in place in response to COVID-19 impacts, these social districts are helping to spur additional economic growth and engagement in their communities.
"Ferndale PATIO Zones launched in early May and have been a hit. The Rust Belt Market was able to serve PATIO drinks during their 10-year anniversary event, and they needed an emergency delivery of more stickers by mid-day on Saturday," said Ferndale Downtown Development Authority Executive Director Lena Stevens. "We've also seen more businesses taking advantage of the option to use parking spaces, with Valentine Distilling Company and One-Eyed Betty's creating expanded outdoor space for their patrons. Temporary structures such as tents are allowed with fewer zoning restrictions through November 2021 as well. The DDA and the city of Ferndale will be focusing on outdoor activation and placemaking for the coming year, with new outdoor furniture, art, lighting, and more."
The city of Charlevoix's Main Street program is relaunching its Live on the Lake Summer Concert series beginning in July, after being forced to cancel it last year. The series includes a wide range of performers and will be a huge economic boost for businesses in the downtown, according to Charlevoix Main Street/DDA Executive Director Lindsey Dotson.
"The Live on the Lake Summer Concerts have been happening for years and we didn't realize the impact they had until we had to cancel them last year. It is now clear how important the concerts are to our downtown businesses. The fact that they bring on more staff for Thursdays and sometimes extend hours demonstrates that the underlying mission of the event has in fact been accomplished," Dotson said. "Over time the concerts have helped to extend the weekend during the summer months, which helps when our businesses depend so heavily on that income. We are thrilled to kick the series off this July and look forward to working with community partners to make it the best season ever!"
In addition, communities and businesses are facilitating more outdoor seating and dining by utilizing outdoor pedestrian areas, parking lots, or alley spaces to allow for expanded capacity. A number of small businesses across the state, in partnership with their community, have secured MEDC Match on Main funds to support efforts to increase outdoor dining capabilities and activate space for new and returning customers. Mountain Town Station and Camille's Prime in Mt. Pleasant, Red Brick Tap and Barrel in Alpena, Urbanrest Brewery in Ferndale, and Iron Shoe Distillery in Niles are all undertaking space activation projects to safely serve customers this summer.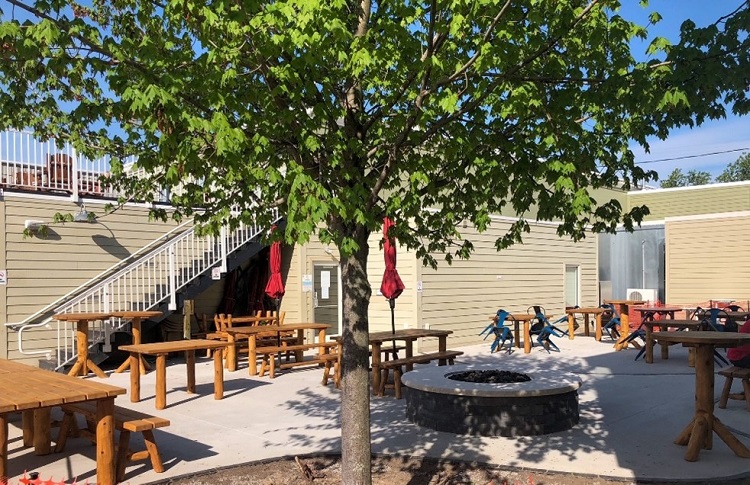 Cheboygan Brewing Company in Cheboygan is using their Match on Main grant to invest in their patio environment and expand their outdoor space by 400 percent. The funds helped the brewery improve the atmosphere of the outdoor patio with an expanded hardscape, space for entertainment, a fire pit, natural plant barriers, new furniture, and landscape design. The goal was to improve their guest experience, Main Street curb appeal, and significantly increase the number of guests they can serve safely.
Having the ability to attract more visitors to the brewery and the city of Cheboygan increases their opportunity to show off the community and improve their return on investment, according to Cheboygan Brewing Company President and Co-owner Mike LaMarra.
"We anticipate this improvement could help increase our revenue by 35 percent! With the support of these funds, we hope to further our guests' enjoyment of the Michigan outdoors on our new patio and perhaps that vacation feeling while enjoying our handcrafted beverages. We feel that by expanding this space we continue to advance toward our goal of 'crafting community through craft beer.' This expansion allows this objective to become reality," LaMarra said. "We were thrilled to be selected by the MEDC to be one of the recipients of the Match On Main. We are so thankful to have the support of the city of Cheboygan, our community, and the MEDC helping us to survive and thrive in this challenging time. Our heartfelt thanks goes out to our community and the MEDC for their contribution to the Cheboygan Brewing Company and our beautiful community."
As part of the Reopen Main Street website, the Economic Recovery Action Plan offers a roadmap to help generate a tactical response for downtown organizations and includes a recovery worksheet to establish a plan tailored to the individual community needs. To learn more about resources, strategies and assets for downtowns and communities as they continue to Reopen Main Street, visit here: https://michigan.reopenmainstreet.com/.
Late last year, MEDC and Pure Michigan launched a Support Local campaign on the michigan.org website, which offers resources that help residents shop and eat local, including links to vibrant downtowns that are filled with local shops specializing in décor, fashion, pet toys, hardware and more. For the craft beverage lover, Michigan's beer, wine and spirits can be found throughout the state at brick-and-mortar shops and local grocery stores. Around Michigan, independent bookstores overflow with page-turning stories and gifts. To refuel, shoppers can visit one of Michigan's coffee shops and get a bag of beans to brew at home.
In addition, on MEDC's community development website, the Resiliency page offers immediate strategies and actions around community resiliency framed through the lens of the Redevelopment Ready Communities Best Practices.
"Now more than ever, we all want to be outside – whether it's for socializing, family recreation, biking, camping, hiking, fishing, or a wide range of other outdoor activities," Wildman said. "Through careful planning and creative thinking, our communities can engage residents and businesses and drive economic growth throughout summer and year-round."
Contact Us