Michigan Winter Strategy Successes
Michigan Association of Planners
Friday, February 12, 2021
Communities look to capitalize on the uniqueness of Michigan winters through partnerships and resources with the Michigan Main Street program.
Michigan communities are no stranger to the colder temperatures and heavy snowfall characteristic of the winter season. In many communities, businesses see lower foot traffic and sales during the winter, which poses a huge challenge to the sustainability of small businesses throughout the state. While the COVID-19 pandemic has only exacerbated these challenges. Now more than ever, it is critical for communities to capitalize on the uniqueness of winter and begin to think creatively about strategies that will help support small businesses within their downtown and commercial districts during the winter season.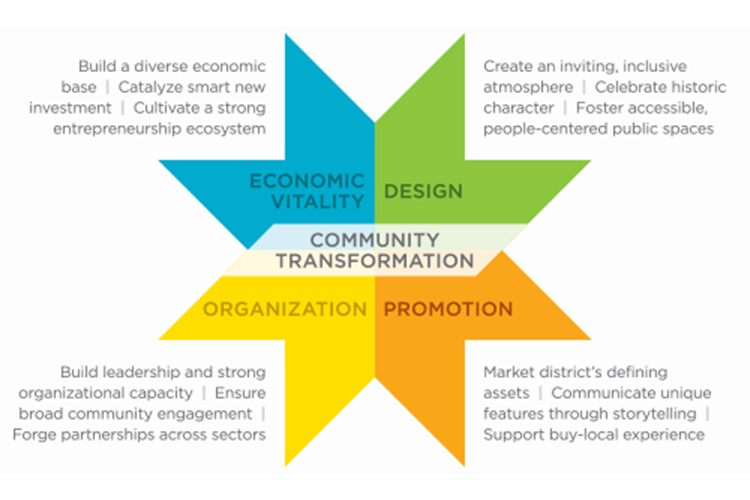 To help communities begin planning for the winter season as a response to COVID-19 as well as for the longer term, Michigan Main Street, a program of the Michigan Economic Development Corporation (MEDC), in partnership with Patrick Coleman of North of 45, LLC, created a Winter Strategies resource guide. The guide is organized by the Main Street Four-Points®, a comprehensive framework for downtown revitalization, and provides immediate and long-term winter city planning principles and strategies for downtowns and business districts to help support a transition to outdoor winter activation within communities statewide.
In this article we will share examples of winter strategy successes from communities across the state with the hope they will spur additional innovation and creativity at the local level. These successes are mostly in response to COVID-19 and the surge of interest in being outdoors for socializing and the reliance on outdoor public space for restaurants and bars. However, many of these community responses can be made permanent to drive economic growth during the winter season year after year.
Winter Strategy Successes - Organization
Organization considerations for implementing winter strategies include: developing a local winter task force and building robust partnerships to brainstorm and implement projects; working to amend the existing regulatory framework such as local ordinances and policies guiding development and outdoor seating, parklets, patios and curbside pick-up; enlisting volunteers for specific winter initiatives; and fundraising for capital to implement winter improvements.
The City of East Lansing has been especially proactive in adapting local ordinances and regulations allowing for outdoor dining. The City created a Winter 2020 Outdoor Dining Area Expansion Application allowing restaurants to expand services to outdoor areas on both public and private property throughout the winter season. In addition, the City has changed downtown parking regulations to establish several dedicated curbside pick-up areas.
Two communities have embarked on fundraising campaigns for lighting enhancements during the winter season. Downtown Lansing, Inc. is raising money through a crowdfunding platform for light installments that include up-lighting and color washes on the downtown buildings. Charlevoix Main Street is hoping to raise $40,000 for the replacement and ongoing maintenance of the iconic tree lights that keep downtown Charlevoix bright year-round and add to the charming atmosphere and walkability of the downtown district, especially in the dark winter season.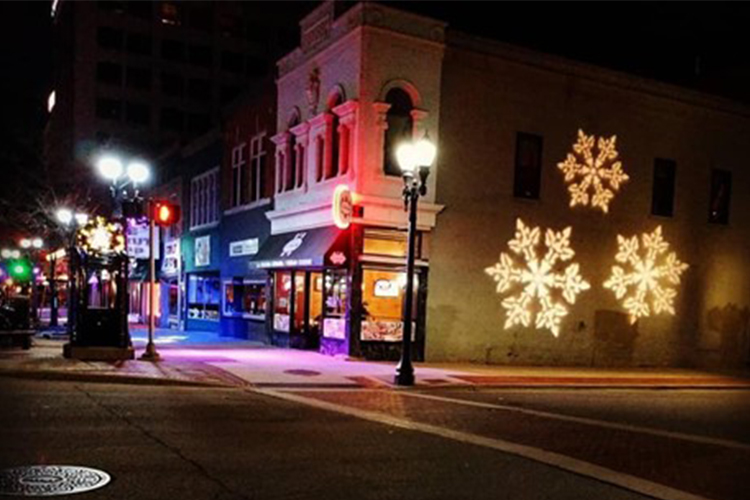 Winter Strategy Successes – Design
As you adapt your downtown district for winter, consider retrofitting existing outdoor public spaces for use in the winter months through the addition of fire pits and heaters, warm materials such as fabric seat cushions, wood, or plastic benches/outdoor seats; and installing awnings or canopies over outdoor areas, and wind barriers using shrubbery, snow walls or straw bale walls. In addition, installing lighting, public art and storefront and district-wide decorations help add to the vibrancy of the district throughout the season. Lastly, snow management in the street and on the sidewalk are important to accommodate increased curbside pick-up as a result of COVID-19 precautions.
Many communities have installed outdoor seating for the winter in creative ways. Saline Main Street has worked with the City of Saline to close a portion of the street to create a downtown recovery zone to accommodate outdoor dining and service from the surrounding restaurants. This winter, Saline Main Street is continuing to support restaurants and the coffee shop through the installation of fire pits throughout the downtown. Similarly, Niles is closing a street and installing fire pits to accommodate for outdoor seating to support downtown restaurants.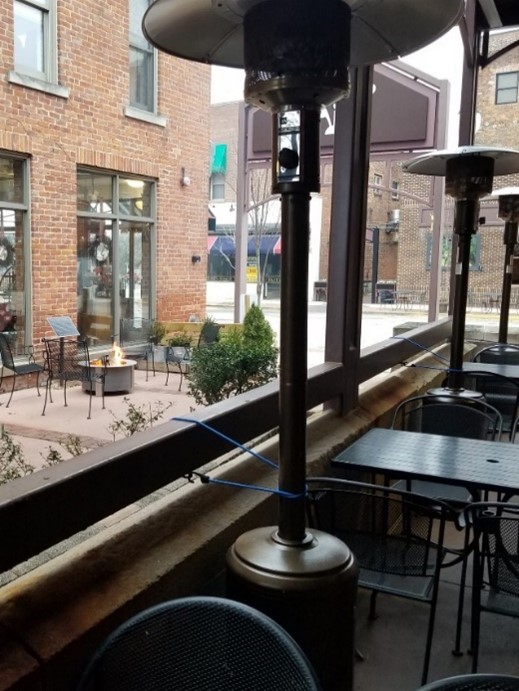 The Southwest Detroit Business Association in Detroit is installing 15 custom designed Luminarias at various restaurants in Southwest Detroit to create a unique dining experience for the vibrant restaurant community in and around Mexicantown during the winter season. Also in Detroit, Bedrock Detroit and Rocket Community Fund launched the Decked Out Detroit initiative, a four month plan to promote outdoor dining, shopping and other activities in Downtown Detroit. Outdoor dining areas complete with pergolas, custom space heaters, tables and chairs will be installed strategically so diners can grab food from a variety of restaurants and enjoy the downtown atmosphere this winter.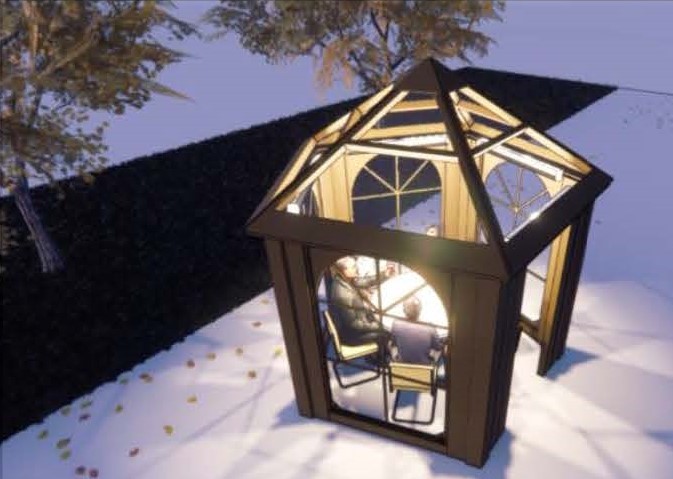 For personal support and guidence find a Community Assistance Team Specialist near you.
Contact Us