Communities Rally Together to Support Small Businesses
Small businesses serve as the lifeline for creating authentic experiences in Michigan communities.
Small Businesses drive tourism, create a sense of place, and support local families as they purchase their goods or services or work at local shops. Recognizing their value, community members across the state rallied to support local business owners as they raised donations through the MI Local Biz crowdfunding program. These donations – matched with financial contributions from the Michigan Economic Development Corporation (MEDC) – were used to help business owners recover from the negative economic impacts of the COVID-19 virus.
MEDC interviewed three local business owners who successfully met their MI Local Biz campaign goals to find out what this community support means to them.
Eliminating homelessness, one sweet at a time
Layla's Cool Pops began with 10-year-old Layla's desire to have an impact on the lives of those in the community with the greatest needs. What started as a 4th-grade economics project in 2016, Layla's Cool Pops has now grown into a storefront in the Edison Neighborhood of Kalamazoo, Mich. Layla's vision for her business is to "eliminate homelessness one sweet at a time."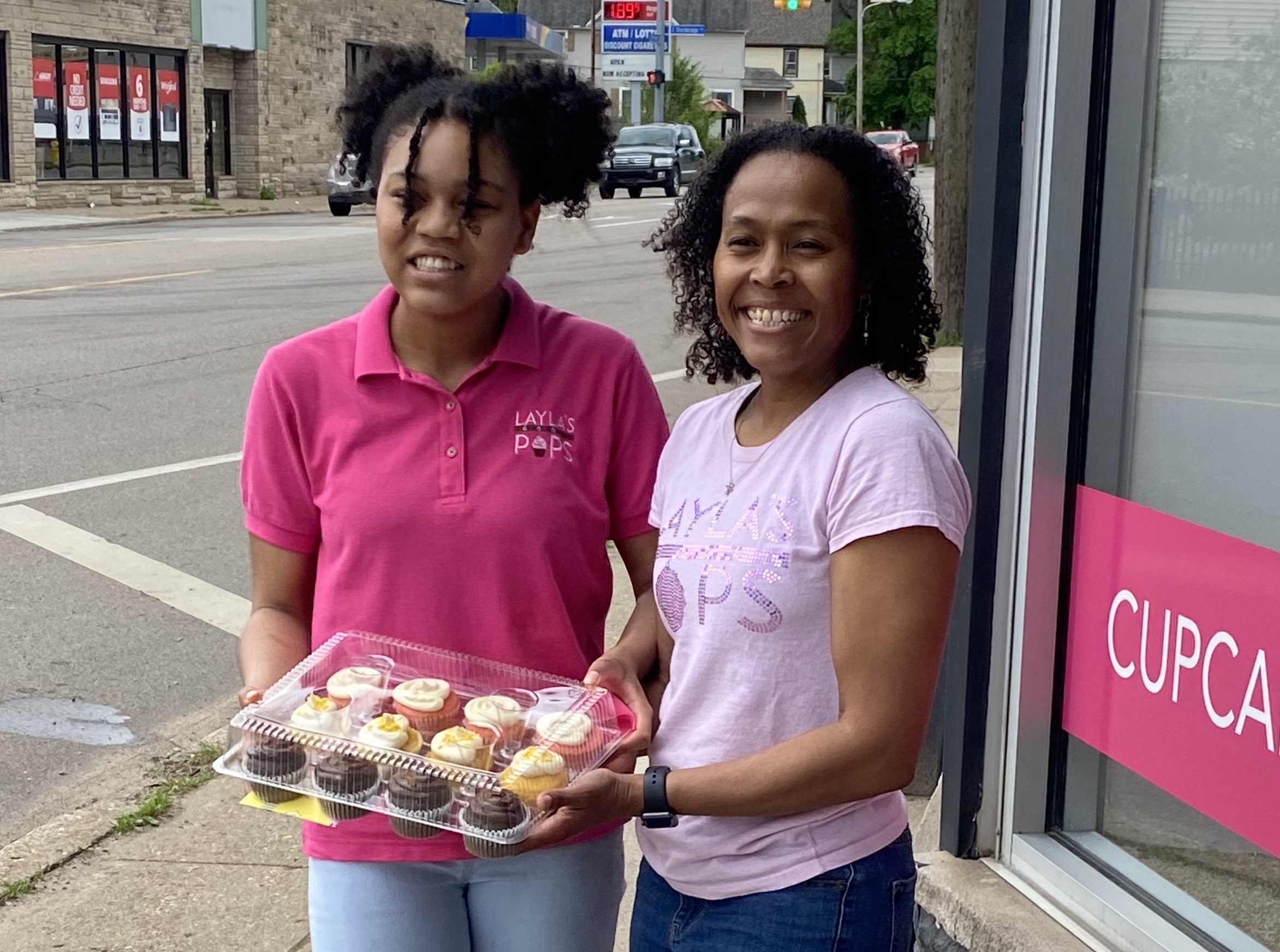 Layla's Cool Pops supports local community nonprofits whose focus is on providing support to the homeless community and other vulnerable community groups. Layla's not only provides sweet treats, but it has also become an employer for local youth through its summer youth employment initiatives.
Prior to COVID-19, 15-year-old Layla was ready to take her business to the next level by opening her café three days a week in March, and then increasing to five days in the summer with the help of student interns. But the pandemic forced her to evolve her business. She applied for every fund that became available in order to make the shift and meet the health and safety requirements for reopening by the end of summer.
Layla is one step closer to seeing her long-term goal of purchasing affordable housing for those who need it most become a reality thanks to MI Local Biz. Layla's Cool Pops successfully exceeded its crowdfunding goal of $5,000, raising a total of $11,000 with the MEDC match to acquire a commercial refrigeration unit for greater storage, a convection oven, aprons and personal protective equipment (PPE).
"We are getting outreach from people all over the country that have seen Layla's story - it's not common to see a young, black woman own and operate a growing business," said Luchara Wallace, co-owner and Layla's mother. "It's amazing how more people are picking up our story and sharing it and donating through MI Local Biz. It's a true testament that people do care and that her product is good. This experience has been incredibly life-changing!"
Marquette coffee company sheds light on coffee farmers around the globe
Velodrome Coffee Company in Marquette, located in Michigan's Upper Peninsula, was founded with the goal of not only serving its community but supporting coffee farmers around the globe with an emphasis on sharing their coffee and their stories.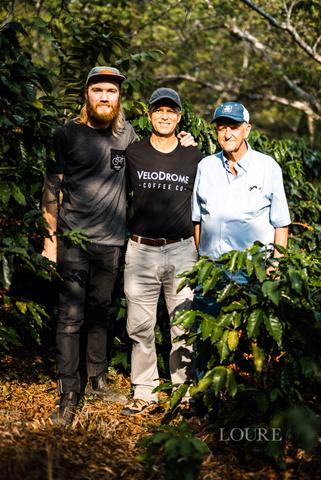 "The whole concept of Velodrome was the idea of doing a single farm only sourcing model, working only with coffee farmers who we know personally," said Velodrome Coffee Company Founder and Co-Owner Brice Sturmer. "When we started, we were trying to run a niche business in a 900-square-foot shop with a 1 KG roaster. People understood our concept and supported us because they care where the products they consume come from."
When the COVID-19 outbreak hit Michigan, Velodrome was experiencing some of its greatest business growth to date. When the café closed its doors on March 22 as part of efforts to limit the spread of the virus, the company faced an uncertain future. As time passed, even as online sales went up, their overall revenues remained drastically low. Through MI Local Biz, Velodrome also exceeded its $5,000 crowdfunding goal, having raised a total of $12,300 from community members and the MEDC match to support its future success.
"It's overwhelming to have the support to do what I love, I think it's a dream come true, it's how a small community ecosystem should work. Meeting our goal gave us so much confidence on the business front. The funds allow us to continue buying coffee from farmers we work with. Plus, we've hired one new part time employee, retained our current positions, and plan to build an outdoor seating experience for our customers."
Multi-generation family-owned business puts Bay City on the map
Bill and Elaine Fournier and their family have been a major part of downtown Bay City for 30 years putting the city on the map as a tourist destination through a variety of businesses. As a way of helping the city grow and thrive, the couple founded the Downtown Antiques Market in 1983, which later expanded and became the Bay City Antiques Center.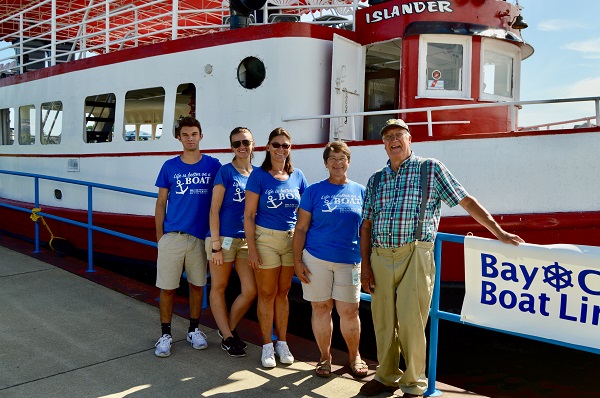 In 1998, Bill and Elaine founded Bay City Boat Lines, and started with a boat that had previously been a car ferry on the Great Lakes that they converted into an excursion boat. A short time later they opened a popular German bar and European restaurant located across from the antiques market. These businesses came into fruition thanks to comments expressed by antiques customers visiting the city.
Today, three generations of the Fournier family own and manage the Bay City Antiques Center and Bay City Boat Lines, which operates two boats and offers public tours and private excursions weekly throughout the summer and early fall. After the COVID-19 pandemic swept across the state, the family's boat business needed a lifeline. That's when the Fourniers found the MI Local Biz program. They exceeded their crowdfunding goal of $5,000, raising a total of $10,575 from the community and the MEDC match to support lost revenue and kick start the summer season.
"It was difficult for me at first. We donate to community causes, but we are not the type of people to ask for help. For us our business is a labor of love," said Michelle Judd, daughter of Bill and Elaine Fournier and marketing and reservation manager for Bay City Boat Lines. "Yet we absolutely needed the help to get the season going so it was very humbling to see the community's support and the notes we received. It was a huge help knowing that others agree our business is something worth fighting for."
Michigan's small businesses and traditional downtowns are a vital part of the state's economy. From the moment the COVID-19 virus hit the state, the MEDC has remained committed to offering innovative access to capital to businesses in communities around the state like the ones featured here. To learn about other MEDC COVID-19 relief programs, visit https://www.michiganbusiness.org/covid19.
Contact Us