Want to know how Michigan is helping entrepreneurs get ahead in the healthcare technology industry? Check out these 5 Quick Questions with Jaideep Rajput, Director of Commercialization at Beaumont Health to learn more.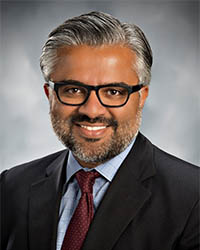 What is Beaumont Commercialization's role in Michigan's entrepreneurial ecosystem?
Historically, the Beaumont Commercialization Center (BCC) only focused on commercializing technologies created within the Beaumont network. When I joined the team as director of commercialization, I wanted to remain true to center's original focus but also incorporate the idea of working with local entrepreneurs and startups in de-risking their technologies through pilot programs, clinical trials and other validation studies. These relationships are symbiotic, meaning entrepreneurs get first-hand experience in navigating complex health systems while physicians have front-row seats to innovations and the ability to become early adopters of those innovations.
What MEDC programs does Beaumont Commercialization utilize?
Beaumont has participated in Fast Forward Medical Innovation's (FFMI) Michigan Translational Research and Commercialization (MTRAC) Life Science Innovation Hub program. Beaumont has received grants from the MTRAC Life Sciences Hub to advance cutting-edge innovations developed by Beaumont researchers. To date, four Beaumont projects have received Kickstart and MTRAC funding, which range from creating a process to detect pulmonary embolisms without contract to genetic testing for MRSA infections to developing a device that assists women in labor.
What trends are you seeing in the medical technology industry?
On a broad level, there is a shift to value-based care from the incumbent fee-for-service model. As a result, we are also seeing a shift in care from an inpatient setting to outpatient, physician and home care settings. This shift has created an opportunity to develop products and services that cater more to patients than hospitals. Another interesting trend is the use of the Internet of Things (IOT), a network of internet connections to collect and exchange data, in healthcare for both consumer-facing and provider-facing technologies.
What tips do you have for researchers who are looking to patent new technologies?
Surround yourself with a great team and get input from administrators and clinicians early on. Focus on how your invention/innovation advances and fits the value-based narrative in health systems and be able to back up your claims with solid proof.
Why are healthcare technologies important to Michigan's entrepreneurial ecosystem?
Nationally, everyone recognizes the importance of addressing costs associated with treating patients. I think Michigan can play a big role in addressing this – both regionally and nationally. From my perspective, three things are fundamental in order to commercialize medical technologies: ideas, funding and test environments. Michigan is blessed with all the three. We have several leading universities in our state to fuel the ideas pipeline, an improving investment capital scene to invest in the ideas and bring them to market, and some of the best hospitals to test and implement ideas that have the potential to improve patients' lives.
Contact Us