MEDC's SVP of Community Development looks toward the future
Thursday, January 30, 2020
A Conversation with Michele Wildman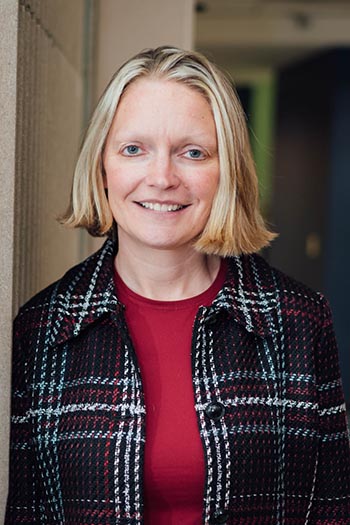 We caught up with Michele Wildman, MEDC's new Senior Vice President of Community Development, to learn more about her passion for the state, insights from her extensive career in state government and trends in community development we can expect to see more of in the state.
Tell us a little about yourself. How did you first become involved in economic and community development?
I started my career in Flint, working for a couple of non-profit organizations. My work was primarily focused around services and housing for the homeless before going to work for Michigan State Housing Authority (MSHDA) where I worked for about 10 years. I held a variety of roles related to housing and community development, including oversight of a variety of development incentives such as loans and tax credits, use of HOME and Community Development Block Grant (CDBG) funds, administration of federal stimulus programs and other programs. The last three years I was with the Genesee County Land Bank Authority, which works to revitalize vacant abandoned properties.
While at MSHDA you were involved in projects of all sizes and locations around the state. Please talk to us about the diversity and range of projects being completed around the state.
That's one of the things I loved about state government - the opportunity to work on a diverse range of projects from rental rehab grants in small towns to large projects that are multi-layered and have Brownfield funding and low-income housing tax credits. You really see the diversity and how partnerships and tools can work together depending on what the need is you're trying to solve in a community. For instance, the needs in Port Huron aren't the same as the needs in Grand Rapids.
Have you lived in Michigan your whole life?
For the most part. I spent a bit of time in Washington, DC after college but other than that I'm basically a lifelong Michigan resident.
What is one thing you like most about the state of Michigan?
I like all things mitten - I'm a Michigan girl! But if I had to pick a favorite thing it's the water. I'm an avid boater and water skier and I can't imagine myself living anywhere where I wasn't surrounded by water.
Please share with us how water and the proximity to it is an essential part of Michigan's communities?
It's become a part of the culture. My experience is that people who live in Michigan love the water and love the easy access to it - from the activities, to the scenic landscapes and the ambiance it creates. I think most Michiganders feel like me.
How does tourism work hand-in-hand with community development?
Tourism brings revenue into the state; it helps create tax base and encourages the addition of desirable community amenities. So, I think the tools that the MEDC has are important to catalyze that type of work. For employers to successfully recruit and the state to successfully recruit new employment opportunities you have to have beautiful places where people desire to live, work and play; and certainly, tourism is a part of that as well. Being a short drive from attractions and easy access to the amenities is a part of what community development is trying to create. Solving housing problems downtown and redeveloping spaces that small businesses can move into is really at the core of what we're trying to do to make Michigan an attractive place.
Is there an aspect of community development that you're particularly passionate about?
I'd probably have to say adaptive reuse projects. I'm from Flint and I've seen the abandonment that has come. Working in land banking for the last few years, including a short stint as acting executive director of the State Land Bank Authority, there were these large and small buildings that have been abandoned. When a community and development team come together to tackle these problem properties - and have the creativity to bring life back into a previously abandoned building and create a new opportunity…it's just exciting to me.
Could you discuss the value of developing relationships at the local level?
Having partnerships is critical to getting the work done. We don't want to sit in Lansing and try to figure out what is necessary to solve the problems of the state that is as diverse as Calumet to Detroit - the challenges aren't the same – so you have to have local partnerships in place in order to really be effective.
What trends in community development can we expect to see more of across the state of Michigan?
Some of the innovative things that the MEDC has done recently around crowdsourcing is important. Communities are always struggling with not enough resources to help do this type of placemaking work. In terms of crowdsourcing, the MEDC has really catalyzed communities to invest in themselves with relatively small financial incentives. So, I think there is strong potential for that to continue to grow as we look to find new and creative sources for solving small problems.

In addition, there will be more talk and work around solving workforce housing related challenges across the state.
How do you work within communities that have such diverse needs from Detroit to Marquette in the Upper Peninsula?
The field staff are really important. Having boots on the ground so to speak is really important to making sure that we can continue to be responsive. Also, our technical assistance tools like Redevelopment Ready Communities and Main Street are really important resources for communities to have. I've certainly seen the need for technical assistance in the local community where I'm from, and I see how these tools set Michigan apart from other states.
What is something you discovered since you started in this role that either surprised you or made you feel even more confident about the work we're doing here?
The one area that I wasn't aware of that fit within the community development team was the small business work that Suzanne Perreault is doing. Through partnerships we rehabilitate buildings. But in order for downtowns to thrive, small businesses have to move into them. There's so much entrepreneurial talent in the state - I've seen it. I've seen it in the community I grew up in and throughout the state. By creating programs like Match on Main, the MEDC gives people an opportunity to go to the next step in their work or their business ventures.
For more information about MEDC's Community Development programs and services, visit: www.miplace.org.
Contact Us