To be part of the future–whether it's autonomous cars and shared mobility or advanced healthcare and sustainable communities — it takes intelligent infrastructure and support. Like what's being created in Michigan.

Smart Cities: Michigan Brings It All Together
Business centers from Silicon Valley to Tel Aviv to Seoul are racing to develop the autonomous future trying to attract technology heavyweights, car companies, and rising startups. And it's easy to understand why. According a study by Strategy Analytics that was commissioned by Intel, self-driving vehicles are expected to create an annual revenue stream of $7 trillion by 2050. The so-called passenger economy is also expected to have ripple effects around the world, not the least of which is saving as many as 585,000 lives in just a decade, according to the study.
But these predictions assume that businesses will be able to build on the experience, established reliability, and safety record of companies steeped in the transportation business, something that will be intrinsic to achieving that autonomous future. That's where Michigan has the edge.
The state is the number one vehicle producer in the U.S., with 71 of the top 100 auto suppliers in North America headquartered within its borders. Michigan is where the moving assembly line was introduced by Henry Ford in 1913, turning what was a 12-hour process into a two hour and 30-minute task to build a car. Today, an automobile may have as many as 30,000 parts, over 250 computer processors, and rely on hundreds of different suppliers. Michigan companies understand how to work with each other and put it all together.
Indeed, it's that kind of experience that is drawing companies from around the world to the state to create the autonomous future. In May 2018, for example, Japan's SoftBank Vision Fund decided to invest $2.25 billion in General Motors' self-driving car business, GM Cruise. Meanwhile, technology firms like Alphabet's (formerly Google's) Waymo are reaching out to firms like FCA partnering up to supply the self-driving tech company with up to 62,000 Chrysler Pacifica Hybrid minivans.
And it's not all about Detroit.
International Data Corporation (IDC) recently named Ann Arbor as one of the winners in its Smart Cities North America Awards. Ann Arbor was singled out for its work coordinating connected and autonomous vehicles with public transit and future mobility solutions, such as ride-sharing and ride-hailing services.
The city is building out its fiber-optic base and expanding its city safety vehicle-to-infrastructure (V2I) project, deploying sensors and electronic equipment around the city to prevent accidents and save lives. Currently, Ann Arbor is expanding it to include 3,000 vehicles and a citywide network that will add pedestrian detection at mid-block crosswalks, including curve speed warning devices, and add ice-warning detection systems. It's part of a statewide expansion of the necessary transportation infrastructure that is using wireless DSRC (dedicated short-range communications) installations so that cars can talk to traffic lights and not only be warned about weather conditions down the road but also communicate with other cars to convey information about accidents or congestion ahead.
Such infrastructure projects are a recognition that you can't go autonomous alone. And that is bringing even more companies to Michigan to work on the future.
One locus of such cooperation is Michigan's Mcity, a 32-acre testing ground that is attracting companies large and small. Mcity was designed to accommodate testing of everything from advanced video and communications systems in autonomous cars to cutting-edge technology like solid-state lidar. The center offers unique expertise and weather conditions that can't be found in southern climes, which is why French companies are there testing self-driving shuttles and companies from Ford to Toyota to Bosch are coming to Mcity to conduct research on the next generation of transportation technologies.
Why is the world coming to Ypsilanti?
Indeed, the state continues to attract global partners. World leaders in their markets, such as Siemens, are increasing their footprint in the state, recently partnering with Michigan-based American Center for Mobility (ACM) to bring Siemens' simulation and test solutions to support virtual and physical testing and validation of automated and connected vehicles in the state.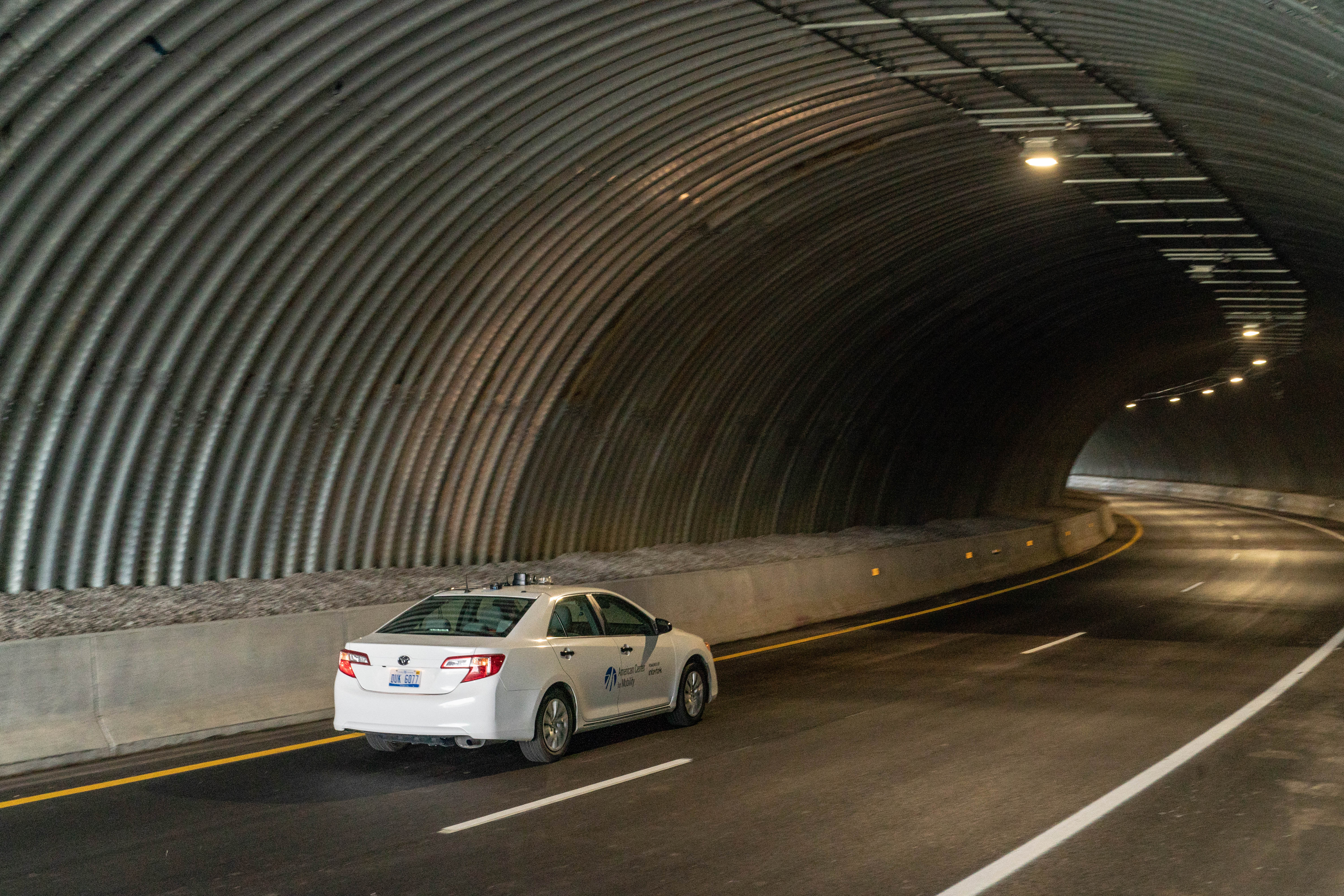 Expanding and complementing the facilities for autonomous research, in the spring ACM opened a 500-acre site in Ypsilanti that was once part of G.M.'s Willow Run plant (site of a famous World War II aircraft factory). The new ACM facility is girded with a fiber-optic network and has a 2.5-mile highway loop, a 700-foot curved tunnel, two double overpasses, intersections, traffic circles and more — all designed for testing autonomous cars even at high speeds, safely away from the public.
Some companies are choosing to open their own facilities in the state. Toyota, for example, recently built the Toyota Research Institute facility — a closed-course in Michigan to test autonomous vehicle technology in a setting that is designed to replicate "edge case" driving situations that are simply too dangerous to test on public roads.
The excitement and potential of the new transportation revolution in Michigan is having a natural halo effect, attracting innumerable other businesses. Smaller firms, like Duo Security in Ann Arbor, are working on cybersecurity that will increasingly be critical in world of connected cars, for example. Meanwhile, world leaders in electrification, such as LG, are expanding in the state. Last year, the South Korean electronics giant enlarged its battery factory in Holland, Michigan, adding 100,000 square feet.
Start-Up City: Grand Rapids
To be sure, the attraction of so many potential business partners in the state has generated its own startup culture. Just a quarter of the size of Detroit, Grand Rapids has become the de facto information technology and startup locus for Michigan. It's here where entrepreneurs will find Start Garden, an accelerator that matches tech startups with established local businesses like Steelcase to speed manufacturing.
Conversely, the active startup scene has, in turn, attracted established tech firms to support the growth. Consequently, Switch is setting up a $5 billion data center in the former Steelcase 660,000-square-foot Pyramid site to handle the data needs of Amazon, eBay, Google, and Sony. Switch is continuing to add data centers that will provide about another 940,000 square feet of space, all powered by 100 megawatts of 100 percent renewable energy sources.
Amidst all this renewed growth, Michigan hasn't lost sight of the original goal of encouraging smart cities and towns: to create a better quality of life. Some of the initiatives will naturally help make communities more livable. An Intel and Juniper report on smart cities discovered, for example, that building such intelligent communities can have a significant impact on the quality of life, giving people back as many as 125 hours a year. That's time that was once lost commuting or sitting in traffic. Time that can now be spent with family and friends.
There are also active programs in Michigan to improve the daily life and sustainability of individual communities. As part of the continued revitalization of urban areas, the Michigan Urban Farming Initiative (MUFI) is turning around neglected neighborhoods and attracting people who want to work on and live in sustainable communities. It's been turning neighborhoods into agrihoods where community gardens produce over 300 varieties of vegetables that are free for residents and are also donated to food pantries and local churches. It means better food, closer ties to the community, and ultimately, a place where people feel more fulfilled.
The final piece of the smart city future is more intelligent healthcare. Fortunately, numerous state academic institutions are working on short and long-term solutions. The Michigan Institute for Data Science at the University of Michigan, for example, is working with Peers Health to apply cutting-edge machine learning to a global database of millions of anonymized disability compensation cases. The goal of the project is to uncover and understand what treatments and programs work best for patients, and then apply those lessons to help people get back on their feet.
It's all part of the realization that in the coming interconnected world it will take not only smart cities, but also intelligent local communities as well as smart state-wide infrastructure efforts to get to the autonomous future, to deliver sustainable growth — and a better quality of life.
Editor's Note: This article was originally published in DigitalTrends on August 1, 2018.
Contact Us