FEAST feeds growing startups
Friday, September 13, 2019
Michigan boasts one of the most diverse agricultural industries in the United States, with 10 million acres of farmland growing everything from fruits, vegetables and grains to livestock.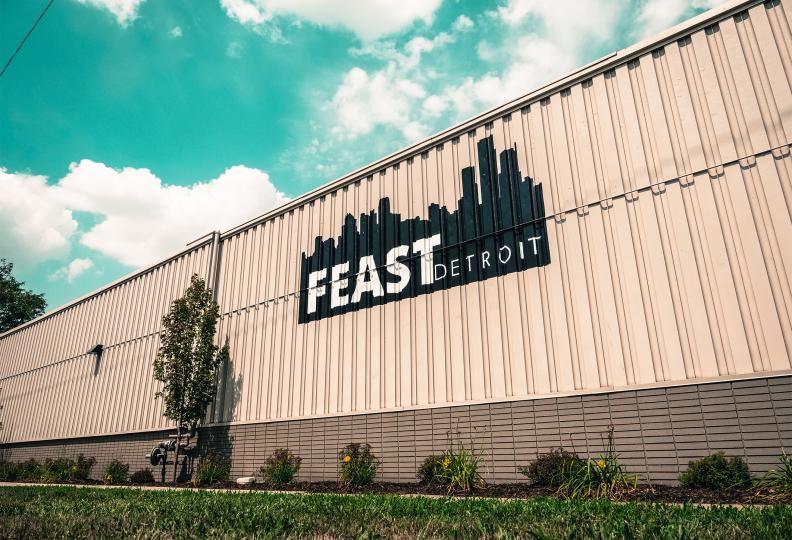 For starters, the state leads the nation in producing 20 different commodities, including blueberries (30 million varieties and 3 million metric tons), cucumbers (for pickling), squash and tart cherries, and it ranks among the country's biggest producers of apples (16 varieties and 1.8 billion pounds) and dairy products (1.2 billion gallons of milk).
It's no wonder that Michigan is home to a burgeoning crop of food-processing startups, making everything from pickled vegetables, wines, chutneys, jellies and jams to sauces and chips and other foods.
"People are excited and want to be part of the Made-in-Michigan movement. People want a story behind their product," said Micah Loucks, an Innovation Counselor at Michigan State University's Produce Center.
From farm to test kitchen
Three growing companies — Scotty O'Hotty hot sauces; M&R Ventures, which makes chutneys and other products; and Marcia's Munchies, purveyors of pickled snacks — united to create a co-packing facility, called FEAST Detroit. The collaborative effort not only enables the companies to grow their own businesses and produce their products at higher volumes but also will assist other small- and medium-sized companies do the same.
FEAST (Food Entrepreneur Accelerator & Startup Terminal) offers bottling, recipe development, private labeling and other services to mom-and-pop businesses that have outgrown incubator space or can manufacture higher-product volumes. Located in Inkster, a Detroit suburb, the 14,500-square-foot facility has two test kitchens.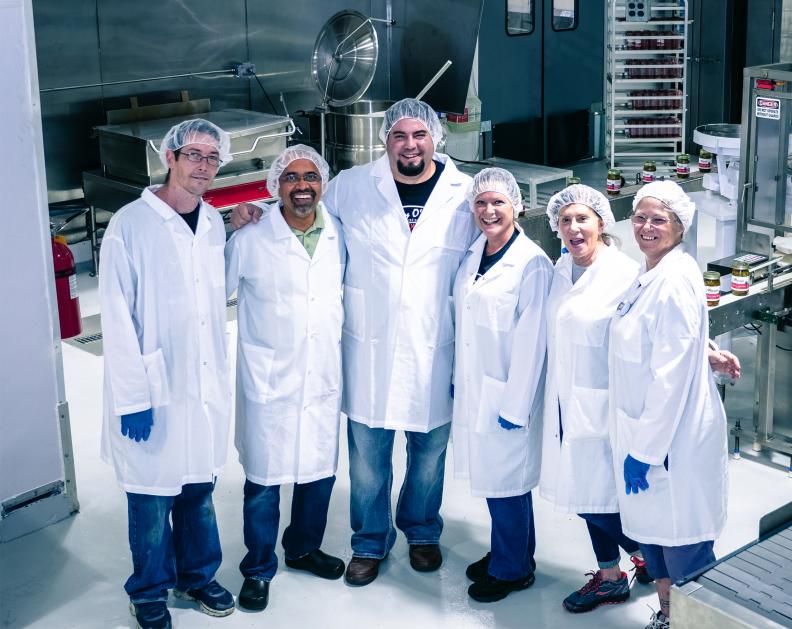 "We're seeing more and more (food-processing) companies up and running," Loucks said. "These companies can only produce so much in church or commercial kitchens; they need a co-packaging facility to get them to the next level, to help them grow."
The business partners know firsthand of the need for an operation such as FEAST.
Scott Owens, who owns Scotty O'Hotty with his wife, Suzi, had been tinkering with hot sauce since his days as a teenager. The couple started their business six years ago by making batches for family and friends and eventually moved to a commercial kitchen. But like other businesses looking to grow and reach new markets, they faced challenges, including production limitations. So, they searched for a facility to boost bottling volumes to meet demand.
"We were very close to closing the books on our business if we couldn't figure out a solution to production," Suzi Owens said. "To have this facility is everything: We have a home now. We can make any sort of volume we like now."
In addition to serving their own needs, the partners are serving a growing demand from small- and medium-sized food manufacturers.
"There's nothing else like this in Southeast Michigan," says Suzi Owens. "We banded together to be unique and are dedicated to maintaining quality of small-batch products but help companies grow. We like to say, 'We give you freedom from the apron, so you can concentrate on other aspects of your business and sell your product.'"
Collaboration is the secret sauce
FEAST's partners created the co-packaging operation with generous assistance from local businesses:
Garden Fresh Gourmet, the Ferndale company known for its salsa, dips and tortilla chips, donated its former food manufacturing plant.
Eastern Market Corp., a regional food hub and the entity that operates the weekly farmers market in Detroit, helped develop the concept, provided expertise and secured the necessary funding — $400,000 — to upgrade and retrofit the plant.
The Michigan Good Food Fund, a public-private partnership, provided an $180,000 loan for equipment.
Michigan State University Produce Center offers advice and technical assistance, such as market plans, nutrition labeling and shelf life information.
"That is kind of our goal at Eastern Market, to help companies grow," says Mike DiBernardo, director of its Food Innovation Programs. "The next step is to help companies grow from incubator to accelerator. The (FEAST) facility in Inkster is the first to do that. It's a dynamic and interesting model."
Like Scott O'Hotty, food startups often begin making their products at incubator sites (such as a home kitchen) or in commercial kitchens, and they bottle and label by hand. It's labor intensive.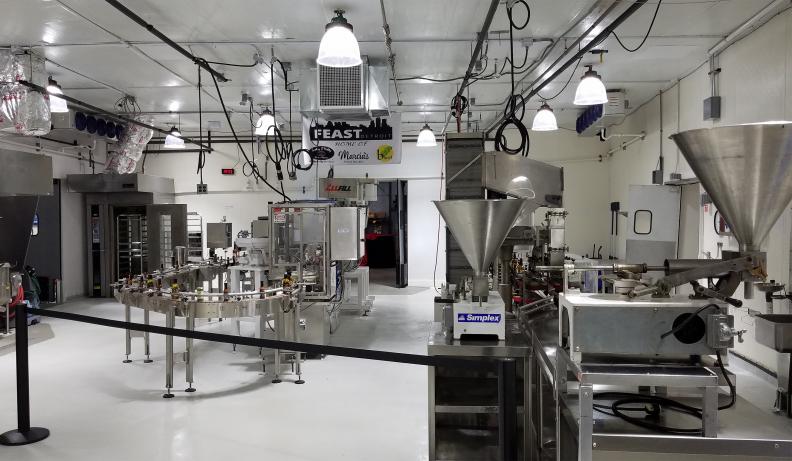 FEAST Detroit provides a cost-effective service for startups.
The trio of owners hired a staff of six to handle bottling and other operations at the plant. FEAST boasts state-of-the-art bottling machines that can simultaneously run two bottling lines. More effective than doing the work by hand, the machinery can package anything from water to thick salsas in various size bottles.
So far, several clients have tapped the company to make pasta sauces, barbecue and pickled products. Non-disclosure agreements prohibit FEAST owners from providing client names.
In-demand more than ever: Michigan-made products
The Made-in-Michigan movement shows no signs of subsiding, pushed, in part, by Detroit's burgeoning independent food scene, gourmet markets wanting to sell unique food products and millennials and other consumers seeking convenient but quality food options. There are more than 2,200 licensed food processors in Michigan, and the state exports $604 million in food products annually.
"We're seeing an increase in companies making locally made products and in the variety of the products," DiBernardo said.
Added MSU's Loucks: "It's interesting to be in a state that is so excited about products that are Made in Michigan. It stems from the diversity of produce we can grow in the state and what we can do with all those products."
Editor's Note: This article was originally published in Crain's Detroit Business on March 12, 2018.
Contact Us