Public-Private Partners Launch Grand Rapids Autonomous Vehicle Initiative #AVGR
Ten-Member Coalition Invites Public to Participate in Year-Long, Real-World Autonomous Transportation Project throughout Downtown Grand Rapids.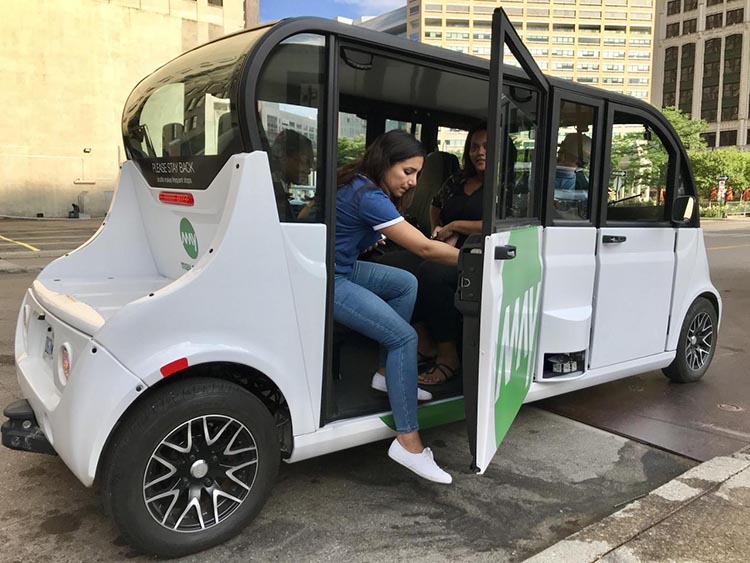 GRAND RAPIDS, Mich., July 25, 2019 — Autonomous vehicles (AV) are driving around downtown Grand Rapids, and the public is invited to take a ride in these self-driving vehicles. Starting Friday, July 26 and extending through July 2020, the Grand Rapids Autonomous Vehicle Initiative (AVGR) will prove civic infrastructure and operational capabilities of the rapidly growing AV market. Users are encouraged to post about their experiences and AV sightings on Facebook, Twitter and Instagram using the hashtag #AVGR. AV service is free for all riders.
Nine Michigan companies, as well as the city of Grand Rapids and state of Michigan, formed a unique coalition placing May Mobility autonomous vehicles on city streets. The coalition – a first of its kind – brings together enterprise and infrastructure to gather and analyze critical information with the goal of understanding the usage of autonomous vehicles in a city environment. The fleet will operate complementarily to the City's existing DASH transportation fleet.
Anyone interested in riding the May Mobility self-driving vehicles can hail a ride at any DASH West stop along the route.
"DASH West was designed from the beginning to be user-friendly, allow people to easily travel around downtown and reach many of the major landmarks and locations in our city. Placing our first AV test on this route will connect this technology with people and the places they want to be," said Josh Naramore, director of the City's Mobile GR department. "Grand Rapids is the best real-world testing ground. We've brought together developers, urban planners, accessibility experts and community stakeholders to understand their needs and design solutions that will build trust and capability with riders."
The Grand Rapids Autonomous Vehicle Initiative will operate on the 3.2-mile existing DASH West bus route, which provides access to downtown and the city's West Side and Heartside business districts. The route includes 22 stops, 30 traffic lights and 12 turns, including three left turns. All autonomous vehicles have an attendant onboard when they are on Grand Rapids streets. As a commuter-driven service, DASH West provides connectivity to more than 10 City-owned parking lots and points of interest that include David D. Hunting YMCA, Kendall College of Art & Design, Grand Rapids Children's Museum, Van Andel Arena and Bridge Street Market.
"As populations are increasing in our cities and reliable transportation is becoming more of an issue with city congestion, May Mobility is using technology to improve how we move through urban places safer and more efficiency," said Edwin Olson, founder and CEO of May Mobility. "Grand Rapids is an incredible city with a coalition of private business stakeholders who have supported this project from the beginning, and we're excited to be partnering on this project that will allow the community to drive less and live more."
Consisting of internationally renowned companies that include May Mobility, Consumers Energy, Faurecia, Gentex, Rockford Construction, Seamless and Steelcase and public organizations that include the city of Grand Rapids, PlanetM and Start Garden, the coalition supporting the Grand Rapids Autonomous Vehicle Initiative includes the people who design and build the environments we live, work and move in every day.
"In Michigan, we've taken steps to nurture growth of electric and autonomous vehicles, and embrace our role as the nation's automotive leader," said Garrick Rochow, senior vice president of operations for Consumers Energy. "As Michigan's largest energy provider, we're excited to work with May Mobility and the City of Grand Rapids to help bring this technology and a clean energy future to West Michigan – powered by Consumers Energy."
AVGR will focus on four areas during its operation:
Feasibility: Little research has been done on the impact of mobility on our cities, yet every change in transportation technology has transformed them. The initiative is designed to gain insight and understand how autonomous vehicles impact existing urban structures.
Accessibility: Address how autonomous vehicles improve or impact mobility for the elderly and people with disabilities and explore solutions around design of interiors and the urban environment to facilitate accessibility.
Safety: Gather data and study safety in real-world operations. The initiative will explore how autonomous vehicles interact with automobile traffic, transportation, bicycle riders and pedestrians on city streets.
Community: Prepare the local community and neighborhoods for the effects of autonomous transportation. This is a priority for the initiative and includes open sessions for city stakeholders for community visioning, goal setting, plan making and recommendations for public investments.
"Ensuring that inclusive and accessible transportation operations exist for people in communities, including Grand Rapids, remains a vital priority for PlanetM, and it starts with identifying solutions to today's most crucial mobility challenges," said Trevor Pawl, senior vice president of Business Innovation at the Michigan Economic Development Corporation (MEDC). "Through this exciting collaboration with May Mobility, AVGR combines Michigan's opportunistic approach to the advancement of new mobility technology with our commitment to improving the quality of life for individuals, by directly engaging with those most impacted in the community."
Fleet operations for the May Mobility vehicles are housed and charged in the parking garage connected to the headquarters of Rockford Construction, which contains the necessary EV charging equipment and parking spaces to clean, maintain and service the technology on the vehicles.
"Unlike any autonomous project of its kind, AVGR will achieve the type of systems integrations and learnings in months that typically take years," said Mike Morin, principal of Start Garden and the Seamless coalition. "Our public-private partnership will create a direct local connection between the vehicles and the community, and the coalition will host conversations with community stakeholders to thoughtfully and intentionally address accessibility of the vehicles."
About May Mobility
May Mobility is unlocking a better life today through self-driving transportation. We deliver solutions that work in today's communities to accelerate the path toward a future where people can drive less and live more. May Mobility's founders bring unparalleled expertise in academia, innovation and the auto industry, counting University of Michigan's APRIL lab, MIT, the DARPA Urban Challenge, Ford, GM, and Toyota among recent experience. Their goal is to realize a world where self-driving systems increase the reliability of transportation, make the roads much safer, and encourage better land use in order to foster more green, vibrant, and livable spaces. The company's investors include BMW i Ventures, Toyota AI Ventures, Detroit Venture Partners, Maven Ventures, SV Angel, Tandem Ventures, Trucks Ventures, and YCombinator. For more information, visit maymobility.com.
About the City of Grand Rapids
The City of Grand Rapids provides a full range of services to residents, students and visitors. Grand Rapids is a diverse and culturally rich community of nearly 200,000 residents located along the banks of the Grand River, 30 miles east of Lake Michigan. It is the second-largest city in Michigan and serves as the county seat of Kent County and the economic engine for the western part of the state. Grand Rapids has been recognized nationally for its quality of life and named one of the 25 best places to live in the U.S. It also has been touted among the best cities to start a career, raise a family and retire, among others. Stay connected with City news, events and information at grandrapidsmi.us, facebook.com/CityofGrandRapids, twitter.com/CityGrandRapids and instagram.com/citygrandrapids.
About Start Garden and Seamless
Start Garden is an unconventional regional startup ecosystem, which brings together financial, intellectual and social capital to entrepreneurs by connecting them to resources critical to their growth-stage. Seamless IoT is the nation's leading multi-industry, multi-channel, proof-of-concept laboratory for our connected economy. It unites startup and enterprise in a non-residential engagement with global leaders of industries including: mobility, retail, health and home. Start Garden and Seamless are located in Grand Rapids, Michigan. More at startgarden.com and seamlessIoT.com.
CONTACT: Brian Burch, Start Garden | 616-828-9813 | brian@startgarden.com
Contact Us