Michigan Driverless Auto Tech's Cross-Border Breakthroughs
In August '17, two cars took a remarkable journey from SE Michigan into Canada, over the Blue Water Bridge back into Michigan, and across the state, and for more than 90 percent of the six-hour drive, the cars drove with no human intervention.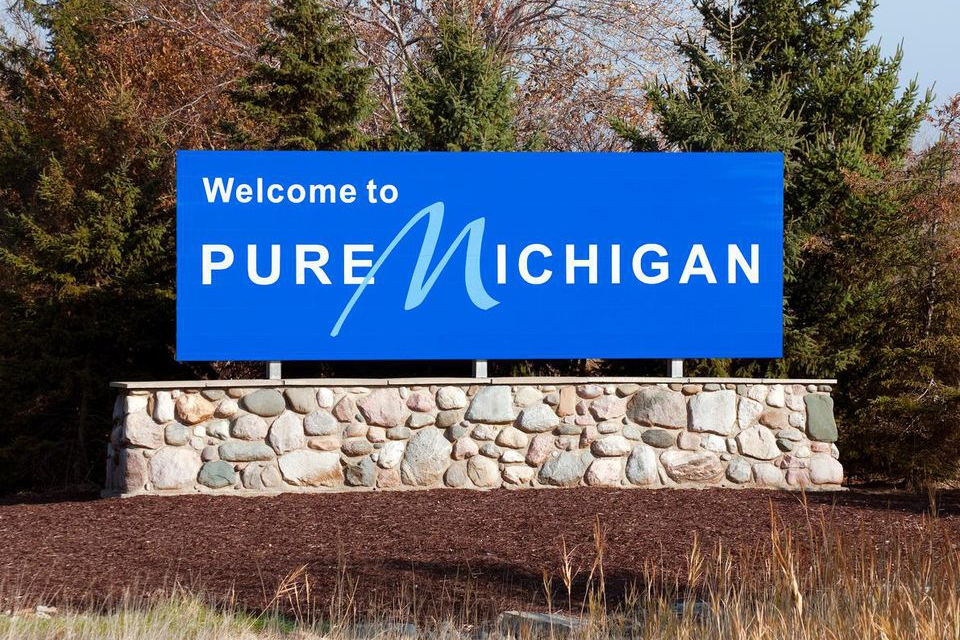 As if a first-of-its-kind international border crossing by semi-autonomous vehicles wasn't extraordinary enough, the drive was the result of a remarkable partnership that included the State of Michigan and the Province of Ontario, along with automotive tech competitors Continental and Magna International.
"The industry as a whole is changing," said Tom Toma, global product manager with Magna. "Partnerships are becoming a necessary piece of the advancement of autonomous vehicles."
In fact, working together is how that drive coalesced in the first place.
Jeremy McClain, head of systems and technology for Continental's chassis and safety division, sits on the Michigan Council on Future Mobility, where the idea was born.
"The council is an opportunity for the public sector and the private sector to get together and discuss opportunities for mobility in the state of Michigan, and to drive a leadership stance in mobility for the nation," McClain said. "We thought, 'Why not see if we can align with the Province of Ontario and actually bring an automated vehicle across the border to see what kind of challenges might arise?'"
That kind of proactive collaboration between mobility-focused public and private entities has made Michigan the launchpad for a number of firsts in the field of semi-autonomous vehicles. From a driverless campus shuttle to military platooning technology, some of the world's most groundbreaking mobility projects have taken off on Michigan roads.
The University Of Michigan's Driverless Shuttle
As the home of the unique urban test facility Mcity and the outdoor unmanned aerial vehicles lab M-Air, the University of Michigan is an established mobility pioneer. But now, even students outside the engineering department can take part in the cutting-edge autonomous vehicle research happening­­­ on campus, simply by hopping on a shuttle bus — one with no driver.
Mcity partnered with French driverless shuttle manufacturer NAVYAto launch a driverless shuttle on the school's North Campus in 2017. It does cruise around with a highly trained safety conductor on board who intervenes in the case of unexpected obstacles, such as illegally parked cars or road work. Otherwise, the 11-passenger bus drives itself around a one-mile, two-stop loop through campus during limited hours on weekdays using lidar (a laser-based version of radar) and GPS.
"We're seeing some things we expected and some we didn't. For example, we thought pedestrians might be afraid of the shuttle. In fact, some pedestrians have become so comfortable with the shuttle they'll walk into its path while distracted by their smartphones, expecting the shuttle will stop," said Carrie Morton, deputy director of Mcity. "There is much more work to be done to better understand this robot-human relationship."
Mcity's current research focus is on the user experiences of the university community members who've used the shuttle. Though their consumer survey data has yet to be released, early responses from the roughly 1,000 riders the shuttle has had since June have been positive.
"Informal feedback from U-M students, faculty and staff about the Mcity Driverless Shuttle has been enthusiastic," Morton said. "We've seen people come to North Campus just so they can ride the shuttle."
Magna And Continental's Great Northern Trip
The partnership between the private companies and government entities involved in the Magna-Continental project was crucial in ironing out the political and logistical challenges of driving two semi-autonomous vehicles across two international border crossings. But it wasn't just a headline that Magna and Continental were after: The unique challenges presented by an international tunnel, a bridge and toll booths offered the companies plenty of hard-to-access data.
"When it comes to developing solutions for automated vehicles, data is really important," McClain said.
The unique driving environment also offered the companies a view into the challenges they'll need to overcome to achieve 100 percent autonomy in extreme situations, such as a dark, underwater tunnel with no discernible landmarks, or an international toll booth area with unclear lane markings.
"You hear a lot about autonomous vehicles in what we call geofenced areas," said Toma, referring to areas with defined geographical boundaries. "This took autonomous vehicles outside of their comfort zone to learn more about what it's going to take for autonomous vehicles to go over borders."
TARDEC's Autonomous Platooning Drive
Though the Continental and Magna international crossing may have been the first of its kind, it wasn't the last — even in 2017. Just two months later, the U.S. Army Tank Automotive Research, Development and Engineering Center (TARDEC) crossed over the Blue Water Bridge in Port Huron, Michigan, to Sarnia, Ontario, and back again.
This military project, however, had a unique goal: to test autonomous platooning technology. The drive included a platoon of four vehicles, including two M915 tractors equipped with TARDEC's Autonomous Mobility Appliqué Systems. These systems allow for semi-autonomous driving along a pre-programmed path.
The project was also a test of TARDEC's autonomous steering and leader-follower platooning technologies. These allow a lead vehicle to instruct follower vehicles on where and how to drive — including how closely to follow — and when to brake, accelerate and steer.
"Driverless capabilities can do so much for our soldiers and their missions," Bernard Theisen, project manager for TARDEC's leader-follower program, said in a U.S. Army blog post. "We are providing commanders with options to move soldiers out of convoy trucks and into missions where they're uniquely suited, and this technology can significantly increase the safety for those soldiers who perform convoy duties."
Whether they're circulating around a small section of campus or crossing international borders, semi-autonomous vehicles are breaking ground in the mobility industry. And many of these breakthroughs are taking place in the Great Lakes State. That's thanks to collaborative partners throughout its public and private sectors — and, of course, to Michigan's status as the center of the automotive universe.
Contact Us