Ongoing support for economic resurgence in the state's urban center builds momentum for historic reinvention; improves international perception of city and Michigan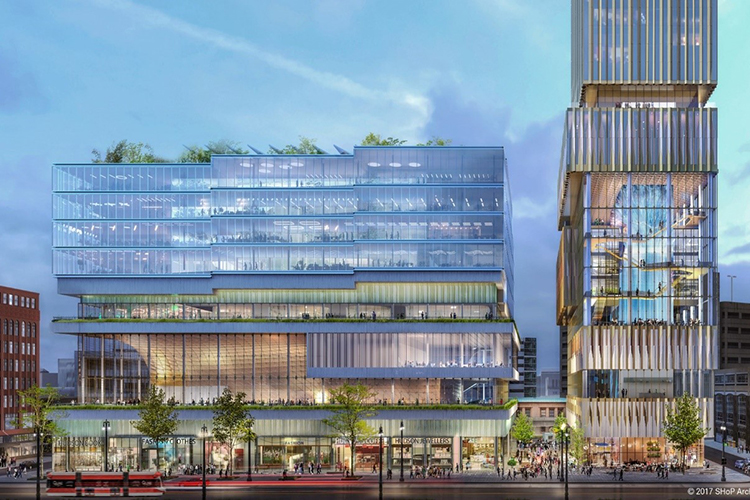 For decades, the crumbling façade of the Michigan Central Station Depot, a few blocks from the Detroit River and a long way from its glory days, has been the often-cited symbol of the city's plight.
In early June, however, that same hulking edifice that once stood as a destination for travelers to and from Detroit and then as an image of urban apocalypse, now stands as a 21s-century symbol of hope and renewal.
Ford Motor Co. announced a top-to-bottom redevelopment at the former train depot, expected to be completed in 2022. The bold move reflects Ford's own transformation from an automaker to a "mobility company." (Early word is the company will move many of its autonomous-vehicle activities to the site.)
Plans to remake the 105-year-old train station expand the company's footprint in Detroit's Corktown, and is expected to serve as a catalytic development that will attract more businesses, residents and prospects. The move also expands the development grid in the city westward beyond the Woodward Avenue corridor that stretches from the riverfront to The District, past Midtown and New Center area.
Revamping the Michigan Central Station Depot has captured the public imagination and stirred excitement. In the days after Ford's announcement, public tours of the depot were sold out. With a second bridge to Canada in the works, Corktown is on the path to becoming an international gateway to the Detroit and Michigan.
The project is another in a growing list of dramatic and visionary developments transforming Detroit, and recasting the economic promise of a region on the rise.
Bedrock's landmark investments
In May, the Michigan Strategic Fund board authorized vital funds for Bedrock Management Services' long-anticipated transformation of some of the highest-profile brownfield properties in the state, including new construction on Detroit's historic downtown Hudson' site (photo upper right) and renovations of the city's treasured icons
"The Transformational Brownfield Plan continues the momentum of Michigan's reinvention by expanding opportunities to create modern and vibrant communities throughout the state," said Gov. Rick Snyder.
The development blueprint is a strategic effort designed to attract businesses and developers to invest in large, catalytic projects – and continue to attract residents to Michigan.
"These landmark developments are a milestone representing Detroit's credible new era of hope, optimism and growth," said Bedrock Founder Dan Gilbert.
"This has been an outstanding example of collaboration between multiple levels of government and private industry that will unleash billions of dollars of investment, resulting in transformational impact to Detroit, the region, and the entire state of Michigan," he said.
Located in one of the highest-profile and historic business districts in the state, the Bedrock project includes $2.15-billion capital private investment in four distinct development sites covering six acres.
The construction sites include:
Hudson's Block – Located on former Hudson's department store on Woodward Avenue. Currently a vacant ground-level site above underground garage. Construction plans include building tallest tower in city, retail, conference, office and 330 residential units.
Monroe Block – Site is currently vacant. Construction to create retail office and 482 residential units.
One Campus Martius expansion – Adding 11 stories to rear of building.
13-story Book Building and 38-story Book Tower – Among city's treasured historic sites. Will add retail, conference center, hotel space and 95 residential units.
In total, about 3.1 million square feet of new office, retail, residential and hotel space will be developed. When completed in 2022, the project is expected to create 7,738 jobs, paying on-average $34 per hour.
Redefining the Future
With the November 2014 conclusion of Detroit's bankruptcy —the largest municipal restructuring of debt in U.S. history— the city has quickly become highly attractive to investors around the world.
In the last several years, MEDC's support for Detroit's economic revival includes:
Supporting investment in affordable, attractive housing
Timely funding for businesses locating and expanding in the city
Preserving and renovating historic buildings
Expanding the entertainment district by fostering a greater range of destinations essential to build a thriving urban center.
Creating a collaborative, forward-looking entrepreneurial environment that pushes investors to imagine the next chapter in the city's history.
In addition to attracting businesses and private investment to the city, the Michigan Economic Development Corporation has played a vital role in attracting residents and visitors, which has had a profound impact in fostering a positive perception about Detroit.
That change in attitude is a critical component in building confidence among investors.
(NOTE: Details of Detroit developments are listed in the PROJECT MAP section.)
Recent accolades and accomplishments include:
Forbes named Detroit to list of "coolest" travel destinations in the U.S. in 2018.
Detroit Foundation Hotel the best places to stay in the world. (Travel + Leisure Magazine's "Best New Hotels in the World" list for 2018)
Metro Detroit had a 4.6 percent growth of residents aged 18 to 34 during the first five years of the decade, according Brookings Institution.
Detroit metro region ranks 61 among 100 major metropolitan areas with 34% of area millennials having college degrees.
Detroit ranks 3rd for cities rapidly attracting millennial job seekers.
Detroit's Midtown neighborhood is ranked one of 25 "hottest hoods" in America based on dimensions of walkability, transit, budget, entertainment, lifestyle and weather. (Source: HotSpot Rentals)
Detroit ranks 3rd in U.S. as "hotbed" for tech jobs based on percentage of jobs considered tech.
Detroit ranks in top 10 for economic growth potential according to Business Facilities' annual report.
Contact Us