Promoting Michigan Abroad
Wednesday, April 18, 2018
Gov. Snyder visits Austria, UK, Germany, Netherlands; focuses on attracting foreign investment, highlighting tourism in state
Gov. Rick Snyder is on an eight-day investment mission to Europe, where he aims to persuade businesses executives to invest in Michigan's economy. The four-country trip, which concludes on April 25, includes Snyder's visit to Hannover Messe, the world's largest industrial technology trade fair in Germany.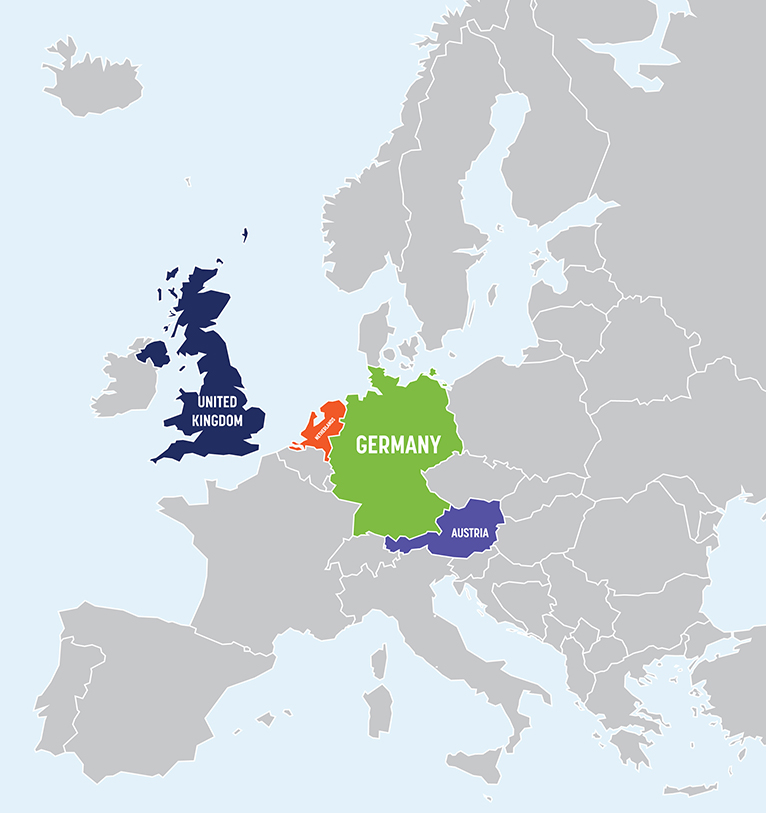 The mission begins in Austria and then moves to United Kingdom, where Snyder will visit mobility and manufacturing facilities. He will also participate at travel media event at the British Motor Museum, where he will promote Michigan as a leisure-travel destination.

Michigan Economic Development Corporation Chief Executive Officer Jeff Mason, Auto Sector Senior Vice President Kevin Kerrigan, and Travel Michigan Vice President Dave Lorenz are joining Snyder on the mission.

"Michigan dominates the mobility industry and we need to tell our story globally to keep the momentum going," Snyder said. "We're the leader in automotive research and design, we have a strong manufacturing base and supply chain, and we have a talented workforce. Those qualities are attractive to businesses considering expanding in the United States, and we want them to create those jobs in Michigan."

After the U.K., Snyder travels to Hannover, Germany for meetings with executives from global automotive suppliers and leading manufacturers. Automation Alley (Oakland County) has organized the participation of six Michigan companies at MEDC's booth at Hannover Messe. The companies include Duggan Manufacturing (Shelby Township), LHP Engineering Solutions (Pontiac), Light Guide Systems (Wixom), Managed Programs LLC (Auburn Hills), MHSI (Rochester Hills), and Zero Gravity Filters Inc. (Brighton).

After Hannover, Snyder will travel to Amsterdam to meet with Dutch company executives and government officials.
Recent investment in Michigan from European companies includes: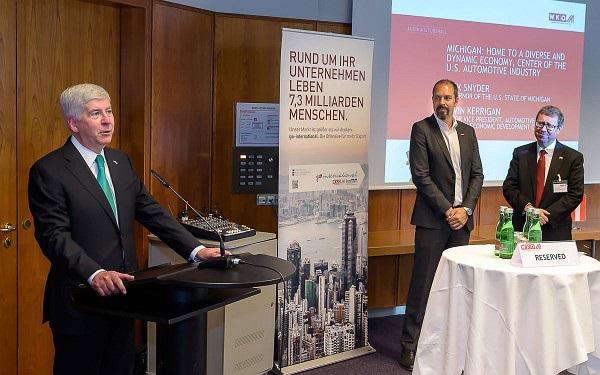 Infineon Technologies Americas Corp. is a subsidiary of Infineon Technologies AG, a German semiconductor manufacturer. The company is expanding into the connected and autonomous vehicle space based on the need for diversification and customer demand and will expand its existing facility in the city of Livonia, investing $1.55 million and creating 25 jobs.
• NAVYA Inc., a France-based global leader in developing and manufacturing autonomous vehicles, announced in July 2017 plans to establish its first assembly plant in North America. To be located in Saline, the project is expected to generate a total capital investment of more than $1 million and create 50 jobs.
• Venice, Italy-based Siliconature Corp. announced in 2017 it would open its first U.S. production facility in Gaines Charter Township, located in metro Grand Rapids. The manufacturer of silicone coated adhesive tapes and labels will invest $19 million and create 26 jobs.
• HP Pelzer Automotive Systems Inc. is part of Witten, Germany-based Adler Pelzer Group, a global manufacturer of soft trim automotive parts. The company announced in 2017 it was adding a new production facility in the city of Port Huron, a project that is expected to generate an investment of nearly $13.5 million and create 124 jobs.
Other missions led by Snyder and Lt. Gov. Brian Calley include trips to France, Japan, South Korea, Canada, China, Brazil, Mexico, Israel, Chile, Columbia, India, Switzerland, Italy, and Ireland. The missions have resulted in hundreds of millions of dollars of investments in Michigan by foreign companies adding thousands of jobs to Michigan's workforce.
Contact Us