The new 'safety frontier'
How Michigan's mobility revolution will save lives
By 2035, drivers will be able to sit back in relative ease while 21 million autonomous vehicles safely navigate inclement weather and traffic commutes on their behalf.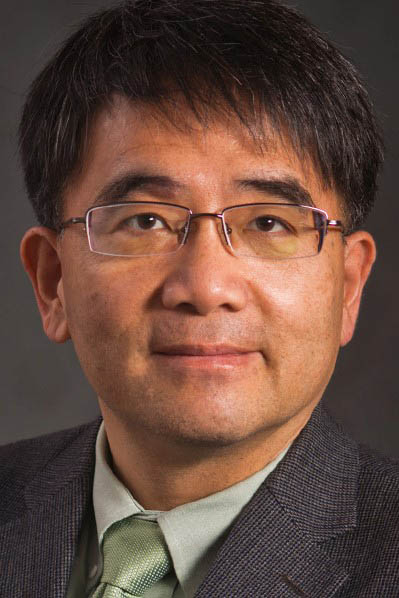 Yet, connected and automated vehicles aren't just cool or convenient: Industry leaders argue they one day will provide unprecedented levels of safety on roadways.
"Connectivity makes driving safer," said Huei Peng, director of Mcity, a public/private initiative led by the University of Michigan that unites industry, government and academia to identify and solve challenges related to connected and automated vehicles.
"Motor vehicle crashes kill about 37,000 people every year in the U.S. and 1.2 million people globally every year," said Peng. "If we use new technologies right, we can save lives."
If the technology works as it should, Peng added, sensors or robot drivers (called guardians) would never get distracted, never get tired and never get road rage.
"The software may not be perfect; but potentially, it will improve every day," Peng said. "If we can eliminate drunk, distracted and fatigued driving, we can potentially improve the roads."
Indeed, National Highway Traffic Safety Administration and other experts say connected and automated vehicles will, in part, reduce 90 percent of vehicle crashes.
Mobility epicenter
Michigan—home to 66 of the top 100 North American auto suppliers, 16 OEMS and the largest deployment of vehicle-to-infrastructure (V2I) and vehicle-to-vehicle communication (V2V) technology in the country—is at the epicenter of mobility.
Peng acknowledged Tesla, Apple and Google strive to be the epicenter and automakers need to leverage capability from other places, like Silicon Valley, to make vehicles more automated or autonomous. But he said Michigan—being the center of the automotive industry—plays a crucial role going forward.
Terence Rhoades, president of Mechanical Simulation Corp. in Ann Arbor, agreed. "In the Detroit area, in the course of one day, I could attend meetings at Ford, GM and Chrysler (FCA) and have no trouble pulling that off. There's a tremendous advantage here with the resources and development capabilities," he said.
Seventy-five percent of the auto industry's R&D occurs in Michigan. And the state is home to several connected and automated vehicle test facilities, including Kettering University GM Mobility Research Center in Flint, The American Center for Mobility at Willow Run (ACM) in Ypsilanti and Mcity.
With ACM and Mcity only 10 miles apart, Rhoades said, "They are both going to be tremendous resources as this autonomous vehicle community continues to grow."
First and foremost, safety
One major focus at Mcity is safety, and that means a gradual implementation of technology.
"We don't yet believe sensors, controls or artificial intelligence perceive the world perfectly and make the best judgement in all conditions. It will still take a decade or two to perfect these technologies in a controlled and safe environment," Peng said.
Auto safety – a history
1901–1950
Fenders
Windshield wipers
Headlamps
Brake lights
Turn signals
Traffic lights
1950–2000
Airbags
Cruise control
Seat belts
Antilock brakes
Speed limits
2000–2010
Electronic stability control
Blind spot detection
Forward collision warning
Lane departure warning
2010–2016
Rearview video systems
Automatic emergency braking
Pedestrian automatic emergency braking
Rear automatic emergency braking
Rear cross traffic alert
Lane centering assist
2016–2025
Lane keeping assist
Adaptive cruise control
Traffic jam assist
Self-park
(Compiled from various news sources, including NHTSA.)
Mcity's controlled and safe environment is the Mcity Test Facility, located on a 32-acre site at U-M's north campus. In addition to operating the test facility, Mcity works with its partners to develop on-road connected and automated vehicle deployments to evaluate innovations. The organization also funds academic research and works with more than 60 industry partners and members—including automotive leaders, researchers, software developers, entrepreneurs, consultants and insurers.
$20 million is invested in 40 research projects at Mcity and about 1,500 connected vehicles are deployed in the Ann Arbor Connected Vehicle Test Environment.
Partners and members there are working to create effective automated vehicle sensors, such as:
Cameras, which help determine distance between vehicles and other objects and see traffic signals, pedestrians and obstacles;
Radar, which detects objects using radio waves; and
Light Detection and Radar (LIDAR), which uses laser to take up to a 360-degree image of the surrounding area.
They are also working to create vehicles that communicate with one another.
"You need all these tech elements combined and integrated together to get a safe vehicle," said Peng.
He explained that before brake lights, cars didn't talk to one another. Instead, drivers relied on human perception to judge distance and velocity. But turn signals and brake lights changed the communication.
Now, connected vehicles can talk directly to one another (V2V) by wirelessly exchanging information about their speed, location and heading.
For example, Peng said, two vehicles driving perpendicular to each other and separated by buildings blocking the drivers' views don't need a line of sight if they have V2V communication because omni-directional messages will generate a 360-degree "awareness" of other vehicles in proximity. So, if one vehicle were to run the red light, the other driver would receive a visual, tactile and/or audible warning to avoid a crash.
Or, if there were a large semi-truck on the road and another car in front of the semi slows down, under normal circumstances, the driver behind the semi might not know until too late to slow down as well. Through V2V communication, the driver would receive an alert and could start to slow down in advance of a problem.
This kind of communication could prevent 615,000 crashes and save more than 1,300 lives each year, NHTSA reports.
100,000,000 miles
Engineers at Autoliv Inc., an Mcity affiliate sponsor, program and test algorithms, and recalibrate and evaluate traffic systems that will be integrated with autonomous vehicles. The company also works on advanced driver assistance systems and sensors that provide input to a vehicle's active safety system, such as whether to brake or steer away from an accident.
"Not only is Autoliv working on future technology at Mcity, but our testing is based on real life safety scenarios," said Mark Gallagher, global manager, Autoliv Technical Marketing Team.
Gallagher said his team looks forward to testing vehicles in Ann Arbor. "Mcity is a fantastic venue that gives us the space to collaboratively innovate and develop our electronics systems and ultimately contribute to our vision of saving more lives."
Ann Arbor-based Mechanical Simulation, also an Mcity affiliate member, creates vehicle dynamics simulation software.
Account Manager Robert McGinnis said autonomous vehicles need to drive 100 million miles on the road to earn validation, a process that could take 15 years. If a vehicle developer then discovered a problem and changed a car's code, they would need to start over with another 100 million miles. Instead, Mechanical's CarSim software simulates the vehicle, sensors, weather, pedestrians, different behaviors and even the Mcity physical environment.
"This gives you the ability to test things you can't physically do and allows you to test your vehicle control systems, simulated, but in hazardous situations," said Rhoades. "Simulation plays a very important role in terms of the safety of the people developing these systems. You don't really want to drive around until the deer jumps in front of your car. You want to do that through simulation and make sure the vehicle responds appropriately. You want to simulate 100 million miles accurately of driving every time you change code."
Once you get the simulations accurate, then you physically validate the vehicle at a location like Mcity, he said.
Mobility ecosystem
In addition to the testing and technology being developed, McGinnis and Rhoades tout the way Mcity brings people together from the legal, insurance and control side and exists as a resource to the community and industry. Even Deloitte Consulting LLP helps them understand how to bring their technologies to market.
"This is a new field," said Peng, "there's a lot of new software, hardware, artificial intelligence."
To optimize the learning experience, he said, OEMS, first- and second-tier suppliers, chip makers, communications experts and others all get together to learn.
"By working side by side, they learn faster," Peng said. "We don't believe technology alone is enough. We need to understand the insurance, legal. We need many, many different companies to work together."
Learn more about mobility in Michigan from PlanetM.
Contact Us