At NAIAS, Pure Michigan Business Connect matches start-up tech companies with auto companies, suppliers and financiers; demand for 'connections' grows dramatically
'M' is for Michigan, Mobility and Motivation
North American International Auto Show focuses on autonomous-vehicle technology
PlanetM initiatives elevating region's auto-tech industry
State's fast-growing mobility companies redefining economic opportunities
Public invited Jan. 20-28 to Cobo Center to witness future of transportation
To even the uninitiated in the ways of Michigan business cycles, the North American International Auto Show is more than a perennial display of the hottest, up-and-coming vehicles – it's the proverbial cultural tremor with year-long economic reverberations.
And, that's after considering the profound economic impact from hundreds of thousands of visitors trekking to resurgent downtown Detroit in what is typically bone-chilling January temperatures.
Few other annual business gatherings capture the state's spirit of innovation, economic promise and offer a reflection of what distinguishes Michigan as the preeminent state that "makes things."
Come along for a ride
The chronology of the auto show dates back when cars were started with a crank and roads were well-worn paths. As in past years, this year's sprawling extravaganza of auto industry designs and concepts offers seductive glimpses into the next chapter of the global automotive industry.
Nine new displays will be featured, including the latest exhibits from Audi, BMW, Lincoln, Buick, Infiniti, Nissan, Kia, Acura and GAC. In addition, visitors will get a close look at Ford's first-ever diesel option for its top-selling F-150.
Overall, the focus for this year's gathering is clearly on how autonomous-vehicle design and mobility technology are remaking an industry and a state that proudly boasts of its legacy of "putting the world on wheels," and now is out to transform the planet into a mobility oasis.
Head to Cobo Center, and you're crossing the threshold into a new world. A new way of thinking about transportation. A new realm of economic possibilities for Michigan.
Supporting Michigan businesses to make vital connections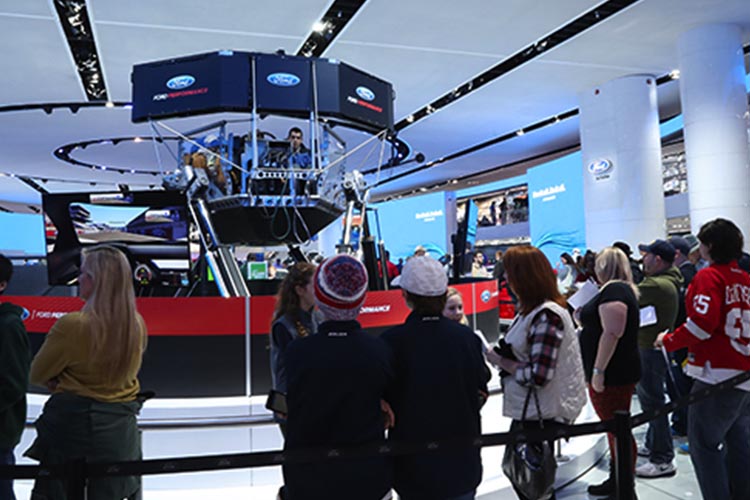 Prior to NAIAS public opening, the Michigan Economic Development Corporation will host a matching making summit. The gathering of automakers, suppliers, startups and venture capitalists is spearheaded by PlanetM and Pure Michigan Business Connect, a program that has facilitated more than $5.7 billion in procurement contracts since January 2013 for Michigan suppliers.
Over 120 startups from around the world are participating in these meetings, including Hitachi Automotive Systems, Intel, HELLA Ventures, Faurecia, Brose North America, LEAR Corporation, Mercedes Benz Research and Development, Daimler AG, Panasonic Automotive, BlackBerry, AISIN, Robert Bosch, Ford, Nvidia and Valeo.
This is the first formal PMBC matchmaking effort aimed at building connections among entrepreneurs working in mobility, potential financiers, hardware suppliers and global automotive industry companies. (More than 450 global purchasers from a wide range of industries are connected with PMBC.)
Into the global stratosphere: Automobili-D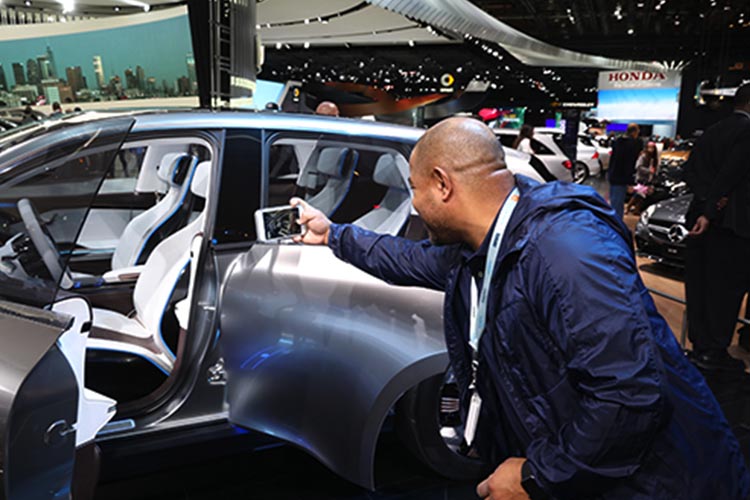 A striking difference in this year's show is that the products of more companies that fall outside the traditional "automotive" are on display. There is no longer a contrast among vehicle design, consumer electronics and software. Among the nonautomotive displays are products by Intel and BlackBerry along with a wider range of startups and suppliers that reflect the evolving automotive ecosystem.
Showing the diverse range of automotive and tech companies, according to NAISA organizers, is what elevates this year's gathering into the global stratosphere – an event that is a "must-cover" for journalism from around the world.
For the first time, the public can see first-hand the broad spectrum of mobility-focused software and hardware from suppliers and automakers. The Automobili-D showcase features 150,000 square feet of displays, providing visitors with an up-close and compelling tactile experience of the next major chapter in automotive history.
Automobiliti-D exhibit includes university experts in engineering, education and the future of mobility. Participating schools include Michigan State University, University of Michigan, Massachusetts Institute of Technology, Clemson University, Stanford University, and Ohio State University.
On Jan. 20-21, Automobili-D will feature, "The Future Automotive Career Exposition," which examines careers related to self-driving cars. The event is a partnership with Michigan Department of Talent and Economic Development, the Michigan Economic Development Corp. and NAIAS.
Contact Us