Accelerating state's mobility leadership
With the aim of continuing Michigan's global leadership position in the development of autonomous vehicle technology, Gov. Rick Snyder held in-depth talks this week with leaders from industry and governments from around the world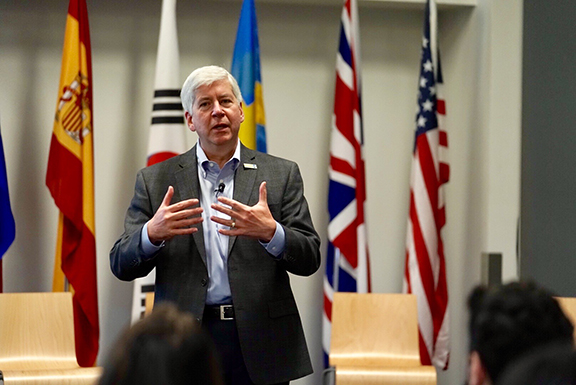 With the aim of continuing Michigan's global leadership position in the development of autonomous vehicle technology, Gov. Rick Snyder held in-depth talks this week with leaders from industry and governments from around the world exploring ways to improve collaboration and accelerate implementation of the next phase of vehicle mobility. These discussions took place at the annual Intelligent Transportation Systems World Congress, held Oct. 29 – Nov. 2 in Montreal.
Gov. Snyder was among leaders from 10 countries who participated Wednesday in the Intelligent Vehicle Testing Symposium, a discussion that included top thought leaders from manufacturing, high-tech industries and the public sector.
"This forum allowed leaders in mobility to share best practices, and to learn more about how testing facilities can work together to advance the technologies surrounding connected-and-automated vehicle development," said Snyder. "The spirit of collaboration is there, and now we need to roll up our sleeves and keep the advancements moving forward. The technology is developing more quickly than industry or government can keep up, and we need safety to be hand-in-hand with progress."
Symposium topics included aligning global policy, regulations and standards to help accelerate worldwide implementation of connected-and-automated vehicle (CAV) technologies.
"Ensuring that this life-changing technology is tested and validated efficiently and safely is of vital importance as we move forward," said Michigan Economic Development Corporation CEO Jeff Mason. "The symposium was a good first step in what we are confident will be a series of more robust discussions in the future."
The event took place on the last day of Snyder's three-day trip to Montreal, where he led a delegation to the Intelligent Transportation Systems (ITS) World Congress to meet with automotive and mobility companies from throughout North America and around the world.
"We see a huge opportunity for collaboration with testing sites around the country due to varying weather conditions," said John Maddox, CEO of the American Center for Mobility. "We can move data faster than we can move vehicles. We can use that to our advantage."
In addition to highlighting Michigan's global CAV leadership, Snyder promoted PlanetM as the "ideal environment" for established and emerging companies looking to conduct business in the mobility space.
PlanetM represents the collective initiatives of Michigan's mobility ecosystem. Made up of private industry, government and institutions of higher learning, PlanetM partners share the common goal of leading the development and deployment of smart solutions that will change the way people and goods move around.
On Tuesday, Snyder unveiled a new study released by PlanetM and MEDC. The "Future Cities" study, developed by the Center for Automotive Research, examines the potential challenges and benefits of CAV technologies for large urban communities, and rural regions. The report offers recommendations and next steps for communities to ensure a successful implementation of civic systems that support CAV technology, such as car sharing services.
The study comes after the recent announcement of the PlanetM Landing Zone made by the Detroit Regional Chamber, MEDC and WeWork. This first-of-its-kind space will serve as an environment where start-ups with connected and automated transportation technologies can connect with Detroit's automotive and economic development network.
Ford Motor Co. is the first automaker to join the partnership via its City Solutions team located on-site. The goal of the space is to attract and connect more mobility-focused startups and other emerging high-tech, automotive-focused companies and to draw them into Michigan's automotive space on a permanent basis.
Contact Us