Shuttered for nearly 30 years, Flint's historic Ferris Building is set to become the region's epicenter of entrepreneurial activity
Shuttered for nearly 30 years, Flint's historic Ferris Building is set to become the region's epicenter of entrepreneurial activity with the introduction of a seven-story flex office space anchored by the Flint Ferris Wheel Innovation Center (100K Ideas). The vision of Flint-based SkyPoint Ventures, the rehabilitation of the Ferris Building and development of the innovation hub today received approval of $2.5 million in grant funding by the Michigan Strategic Fund (MSF).
"Flint's entrepreneurial spirit is flourishing due in large part to visionary companies like SkyPoint that are helping to foster growth across the region and creating more jobs and opportunities for local residents," said Gov. Rick Snyder.
Featuring 46,000 square feet, the highlight of the renovated Ferris Building will be the introduction of 100K Ideas at the Ferris Wheel, the first innovation platform of its kind in the region. The brainchild of David Ollila, president and chief innovation officer at Skypoint, 100K Ideas is modeled after its successful counterpart in Marquette, Invent@NMU, also founded by Ollila. The hub will put a new spin on the way innovators approach the startup process by offering a "one-stop-shop" to support them from concept to commercialization.
"Not only will this project redevelop a seven-story vacant building in downtown Flint, but the business climate and entrepreneurial hub will add vibrancy, people on the street, and a viable way forward for many Flint residents well into the future," said Steve Arwood, CEO of Michigan Economic Development Corporation (MEDC), the state's business marketing and attraction arm that administers and performs due diligence on economic programs on behalf of MSF.
"Our hope is that entrepreneurial businesses graduating from the space will continue to thrive in downtown Flint, locating their businesses to surrounding buildings and commercial spaces," said Arwood.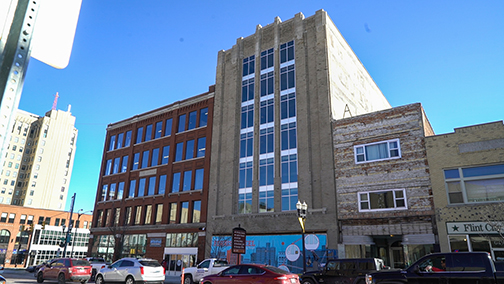 Offering a full spectrum of services to all individuals and companies with a product, software, service or social venture at any stage in the business cycle, 100K Ideas support will include idea validation, concept ideation, product development, prototyping, capitalization, market development, operations management and business formation.
"The most innovative aspect of 100K Ideas at the Ferris Wheel is how it incorporates so many aspects of the community," said Phil Hagerman, CEO of Skypoint Ventures.
"From local university students gaining real job experience in their field by assisting inventors with bringing products from concept to market, to providing aspiring entrepreneurs in the community with access to workshops, competitions, boot camps and demo days through our partnership with U of M Flint," said Hagerman. "With the success David achieved at Invent@NMU, we are eager to see the impact the Ferris Wheel will have across Flint."
Located at 615 South Saginaw Street, the newly dedicated Ferris Building will be comprised of co-working space, a conference center and retail service area to meet the needs of entrepreneurs at all levels.
The investment by the MSF allocates $1.5 million to the establishment of the Ferris Wheel Innovation Center Business Incubator Grant and $1 million through the Michigan Community Revitalization Program to assist the redevelopment of the Ferris Building where the innovation center is housed. It is the latest in a series of efforts to foster long-term economic growth across in Flint.
Earlier this month, MSF approved approved a $450,000 performance-based grant to support an investment by Huntington Bank to create 60 new jobs and invest nearly $5.4 million in downtown. Huntington's venture includes renovation to accommodate a call center at the former headquarters of First Merit, which the bank acquired in 2016. The building is located on Saginaw Street across from University of Michigan-Flint campus.
Today's approved initiative is supported by MEDC's entrepreneur and innovation division, which is committed to making Michigan an ideal place to launch and grow a business by building and supporting a thriving entrepreneurial ecosystem across the state.
Contact Us