Building education partnership with Freep Film Fest
Collaboration aims to raise profile of opportunities for creatives in Michigan; panel discussion focuses on filmmaking careers in state
Michigan Film and Digital Media Office (MFDMO) has been named educational partner for this year's Freep Film Festival. The fourth annual event produced by the Detroit Free Press showcases documentary films, especially those with strong connections to Michigan. The festival will be held March 30-April 2 primarily at venues in downtown and Midtown Detroit, along with locations in Royal Oak and Novi.
"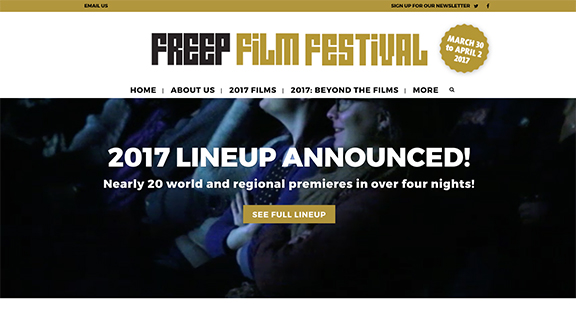 This partnership allows us to engage storytellers and those who appreciate films while broadening the public discussion about the many job opportunities in Michigan for those in the creative industries," said MFDMO Commissioner Jenell Leonard.
In addition to the partnership, MFDMO is collaborating with festival producers on "Creativity Matters: Careers in the Film and Creative Industries," a panel discussion 4 p.m. Friday at the Detroit Institute of Arts, Marvin and Betty Danto Lecture Hall.
The panel features Mark Canavan, executive creative director, McCann Detroit; Steve Julin, vice president, Specs Howard; Jasmine Rivera, filmmaker and 2014 Kresge Arts Fellow; Stephen McGee, filmmaker; Kathryn Dimond, CultureSource; and, Jenell Leonard, commissioner, Michigan Film and Digital Media Office.
The panel will be moderated by Kathy Kieliszewski, photo and video director, Detroit Free Press.
"There's a ton of creative talent in Michigan, and we love that we're going to have so much of it in one room for this discussion," said Steve Byrne, executive director, Freep Film Fest. "For up-and-coming filmmakers, it will be a great opportunity to network and learn. And we hope it can have a bit of a galvanizing effect on the scene as a whole."
The film festival lineup features 29 films at more than 50 screenings and related events, with more than half the films making regional premieres. Among the films are documentaries on the Great Lakes, police-community relations and the legendary racing competition between Ford Motor Co. and Ferrari.
Subsequent to the end of film incentives in 2015, MFDMO broadened its mission to promote "creative-type" jobs in the film industries along with jobs in marketing, music, advertising and industrial design, which are among the 12 clusters of the 90,000 people employed in the state's creative industries.
"The Freep Film Fest is a celebration of Michigan-focused films, and the creative spirt that defines what it means to work, live and play in Michigan," said MFDMO Commissioner Leonard.
Contact Us