Auburn Hills site will be home to engineering, advanced technology center
With an eye on identifying a strategic location for its commercial and defense vehicle operations, AM General LLC has selected Auburn Hills as the new site for its technology and engineering center. The Oakland County site will be home for AM General's engineering and advanced technology offices and prototype development that meets customer needs along with U.S. Department of Defense (DoD) security requirements.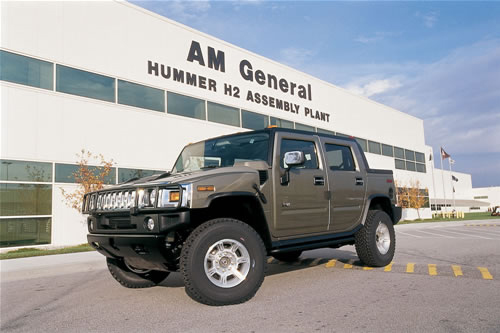 The Michigan Strategic Fund (MSF) board announced Feb. 28 a $1.4 million Michigan Business Development Program performance-based grant to support AM General's capital investment of up to $9.5 million and creation of 55 new jobs. The company will move operations and jobs from its current site in Livonia, where it has been located for 30 years.
"AM General's commitment to Michigan is a testament to the state's incomparable automotive and defense assets," said Steve Arwood, CEO, Michigan Economic Development Corporation, the state's business attraction and marketing arm that administers incentive programs and conducts due diligence on behalf of the MSF.
Deliberations on the new location included possibly moving operations to Indiana, where AM General would be closer to its South Bend corporate offices, military and commercial assembly plants, and proving grounds.
"Proximity to the U.S. automotive research hub, a range of engineering and design talent, along with a network of manufacturers and auto suppliers closed the deal and proves there's no better place for a commercial and defense vehicle manufacturer than Michigan," he said.
"Throughout our evaluation process, it was critical for us to find a location that supported our unique needs, gave us great access to both defense and commercial customers, as well as continued access to a talented workforce to meet our future growth needs," said Andy Hove, AM General's president and CEO.
"Continuing to have a strong presence in Michigan, and in particular in Auburn Hills, provides AM General with a strategic advantage," said Andy Hove, AM General's president and CEO.
In response to the state's defense industries economic growth potential, Gov. Rick Snyder and the Michigan Defense Center in June of last year initiated "Protect and Grow," a strategic plan based on a collaboration between MEDC and the U.S. Army Tank Automotive Research, Development and Engineering Center.
"Protect and Grow" aligns with DoD spending planned over the next decade and the state's existing defense industry infrastructure and resources, which has historically played a significant role in U.S. military operations. Michigan's defense industry supports 105,000 jobs and represents an $8 billion economic impact on the state's economy.
Further, the automotive and defense industries are strategically located to take advantage of Michigan being the forefront of the next revolution in transportation – autonomous automotive mobility. The public/private sector collaboration builds on automotive assets, advances in autonomous automotive design and research, and the state's preeminent place in the vanguard of developing cybersecurity platforms.
"Auburn Hills is honored that AM General has chosen to invest in our community," said Auburn Hills Mayor Kevin McDaniel. "This investment represents a strategic decision by AM General which will allow them to continue to grow and be successful. Defense is a growing industry in Michigan and the addition of AM General will complement our diverse tax base".
AM General is among the longest established manufacturers of iconic, military, commercial and consumer vehicles. Highlights of AM General's 115-year history include development of Willys Jeep, the first 4-wheel drive tactical utility truck; production of delivery vans for U.S. Postal Service; production of 112,000 five-ton trucks for armed forces; production of more than 280,000 HMMWVs; assembly of General Motor's HUMMER; and, 2015 agreement with Mercedes-Benz to manufacture the Mercedes-Benz R-Class luxury vehicle.
Last week, AM General showcased its "innovative vehicle solutions" at the International Defense Exhibition & Conference at the Abu Dhabi National Exhibition Center. Among the featured vehicles were the multi-purpose truck (MPT), engineered for extreme-environment needs of energy, mining, industrial and government customers around the world; and, the lightweight, state-of-the-art HMMWV/Hawkeye Howitzer System.
Photos: Courtesy of AM General
Contact Us