GM, Honda establish auto industry's first fuel-cell system manufacturing joint venture
A first-ever automotive industry collaboration to design and manufacture fuel cells for electric vehicles received funding support Jan. 30 from the Michigan Strategic Fund.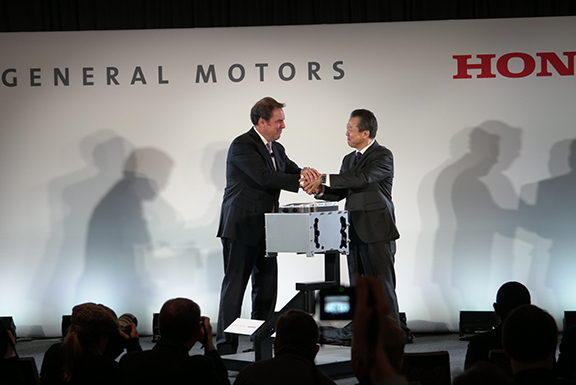 The partnership between General Motors Co. and Honda – known as Fuel Cell System Manufacturing LLC (FCSM) – will produce an advanced hydrogen fuel cell system in the same location as GM's battery pack manufacturing facility in Brownstown Charter Township, southeast of Detroit Metropolitan Airport in Wayne County.
Production is expected to begin around 2020, and aims to offer a "more affordable commercial solution for fuel cell and hydrogen storage systems," according to the companies' joint press release. The fuel-cell system will be used in distinct products from GM and Honda.
The companies announced the partnership and production timeline at a joint press conference on the morning of Jan. 30 in Detroit, attended by Lt. Gov. Brian Calley.
"We're extremely proud that in Michigan two automotive industry giants have come together to create a significant advancement in fuel-cell technology," said Calley. "This collaboration and the potential impact is a testament to GM and Honda's commitment to the state, and reflects the promising possibilities of conducting business in the global automotive capital."
Meanwhile, at its monthly meeting this morning, the MSF board approved a $2-million performance-based grant to Fuel Cell System Manufacturing that calls for the creation of 64 jobs, and a $48.9 million investment in the Brownstown Charter Township facility. MSF is entrusted with state authority to promote economic growth and job creation.
GM and Honda said today that the joint venture is expected to create nearly 100 new jobs. The companies are making equal investments totaling $85 million in the joint venture.
"Brownstown values our existing partnership with General Motors," said Brownstown Township Supervisor Andrew Linko. "We look forward to this new endeavor which will bring additional employment and capital investment to our community. We are honored to be considered a partner in these new innovations in the auto industry."
"This collaboration between GM and Honda draws on expertise of two companies at the leading edge of fuel-cell research, and brings a new advanced technology product to Michigan's automotive manufacturing," said Steve Arwood, CEO, Michigan Economic Development Corporation, a marketing arm of the State of Michigan, which administers programs, grants and loans along with performing due diligence on behalf of the MSF.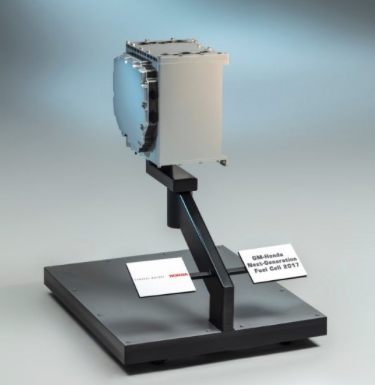 Fuel cell technology addresses many of the major challenges facing automobiles today – petroleum dependency, emissions, efficiency, range and refueling times. Fuel cell vehicles can operate on hydrogen made from renewable sources like wind and biomass. The only emission from fuel cell vehicles is water vapor.
"We are very excited about this development, which promises to help keep Wayne County and the region on the cutting edge of advanced manufacturing," said Wayne County Executive Warren Evans.
"Our focus is on making sure Wayne County has a business environment that is welcoming and customer-friendly," he said. "As we did in this case, we will work to ensure that our regulatory compliance and permit processes are as quick and responsive as possible to support economic development."
Together, GM and Honda have more than 2,220 patents related to in fuel cell technology, according to the Clean Energy Patent Growth Index. GM and Honda rank first and third, respectively, in total fuel cell patents filed from 2002 to 2015.
The companies have been working together through a collaboration agreement announced in July 2013, which includes integrated development teams and shared hydrogen fuel-cell intellectual property.
Contact Us