New construction of the state's second soybean processing plant and storage facility is expected to have a transformative impact on the state's emergent agribusiness industry and provide exponential growth for Michigan's top agricultural export.
In support of ZFS Ithaca LLC's new soybean processing plant in Ithaca, the Michigan Strategic Fund approved Nov. 22 an agricultural processing renaissance zone, a designation based on resolutions passed by the city of Ithaca, North Star Township and Gratiot County that provide a property tax abatement valued at $14.8 million through 2031. Final approval consideration will now go to the Michigan Administrative Board on December 6.

The Michigan Commission of Agriculture and Rural Development approved the request at its meeting earlier this month.

As part of the agreement, ZFS Ithaca will invest up to $123 million and create 74 full-time jobs at the 435-acre processing site. Zeeland Farm Services Inc., an affiliate of ZFS Ithaca, owns and operates the only other soybean processing plant in the state in Zeeland Township, located outside of Holland about 20 miles southwest of Grand Rapids.

ZFS Ithaca announced its plan for a second, larger facility in early October. The plants will produce soybean meal, hulls and oil. Nearly half of processed soybeans are used in animal feed.

"With ZFS Ithaca's construction of the processing plant and storage facility, the state's agriculture and food-processing industries become more competitive , and as a result, livestock farmers and consumers will benefit," said Steve Arwood, chief executive officer, Michigan Economic Development Corporation, the state's chief marketing agency for business attraction and retention.

"The benefits from the Renaissance Zone provide a timely incentive and long-term commitment to ZFS Ithaca, which is putting up a significant private investment that backs their obligation to play a major role in the state's agribusiness industry for many years," said Arwood.

Michigan ranks 12th in the country for soy production, and soybeans are the state's top agricultural export with top trade partners including Canada, China, Japan, Mexico and South Korea. Soybean farming in the state accounts for about $1.67 billion in economic activity, according to the Michigan Department of Agriculture and Rural Development (MDARD).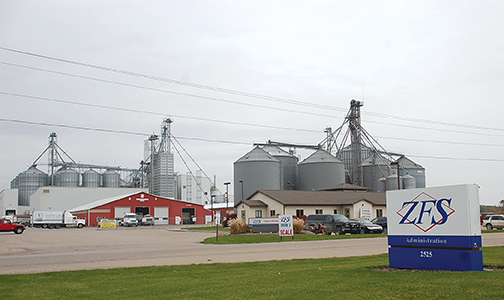 Construction plans include a grain shipping and storage center, soybean processing facility, soybean oil extraction plant, fleet service operations, and an administrative office complex.

From an economic standpoint, the new facility will potentially boost the percentage of Michigan-grown soybeans processed in-state from 10 percent to as much as 60 percent. That increase translates into cost savings for Michigan farmers who will reduce transport expenses by no longer sending soybeans to out-of-state processing facilities. The savings will be 25-40 cents per bushel, according to MDARD.

Approximately 12,000 Michigan farmers plant and harvest more than 2 million acres of soybeans each year.

"I'm thrilled to see a strong commitment to Michigan's farming and ag community by companies like ZFS and Clemens. This is proof positive that Michigan is recognized both for producing high quality goods and fostering an environment where companies can expand and create new jobs," said Jamie Clover Adams, MDARD director. "By partnering with local communities and other state agencies, we're putting out the welcome mat to generate new market opportunities both domestically and globally."

The increase in soybean processing provides growers around Michigan a convenient site to deliver their crops, while livestock farms – especially those producing hogs and poultry – will have an expedient location to purchase soybean meal to feed animals.

Demand will increase sharply in the near future.

Next fall, Clemens Food Group will complete construction and begin operations at a new pork processing facility in Coldwater. Products will be primarily bulk, fresh pork items. By 2020, Clemens expects to harvest about 20,000 hogs per day.

Michigan ranks 13th in U.S. states pork production, and the pork industry plays a central role in the state's agriculture and food processing industry. Pork production uses nearly 9 percent of all soybeans grown in Michigan.

And, with a cost-effective processing system in place, soybean growers are likely to expand their markets.

"The plant will allow Michigan grown and processed soybeans to break into new domestic and international markets," said Gail Frahm, executive director, Michigan Soybean Association & Michigan Soybean Promotion Committee. "There is also potential for different soybean components to be utilized for value-added and bio-based products, which could increase the value of soybeans."

"The City of Ithaca, with its partners North Star Township and Gratiot County, began working on strategies for attracting agri-industrial opportunities in 1996," said Don Schurr, president, Greater Gratiot Development Inc.

"Now, through our expanded working partnerships with MDOT, Gratiot County Road Commission, and Consumers Energy we may begin. ZFS is an excellent Michigan company to be our new partner," he said.