State incentives attract private investment of $215.3 million, 265 jobs to Detroit
The promise of Detroit's industrial future and the restoration of a hotel from the city's heyday are among the catalytic projects approved Nov. 22 by the Michigan Strategic Fund board.
Adient, the world's largest automotive seating supplier, will locate its operational headquarters in the city of Detroit
Adient, the world's largest automotive seating supplier, will locate its operational headquarters in the city of Detroit while ArcelorMittal Tailored Blanks Americas Corporation, one of the leading steel producers in the world, will establish a new manufacturing center, and the historic 15-story mixed-use Metropolitan Building, vacant for 39 years, will undergo a renovation in downtown.
Collectively, the projects inject $215.3 million in private investment and create 265 jobs in the city of Detroit.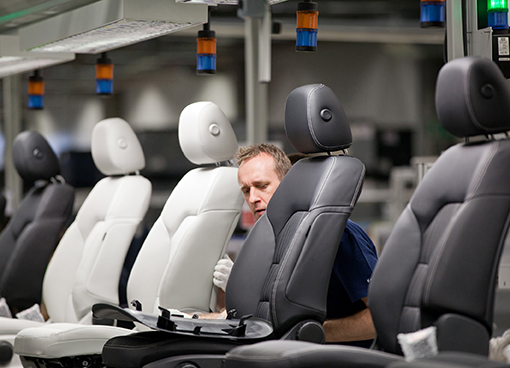 "These projects reflect each private companies' long-term commitment to the economic viability of Detroit," said Steve Arwood, chief executive officer at the Michigan Economic Development Corporation, the state's business attraction arm that administers programs and conducts due diligence on incentive agreements with private companies.

"Having Adient and ArcelorMittal locate in Detroit deepens and broadens Michigan's rightful claim as the global auto capital," said Arwood. "Furthermore, these companies are strategically positioned in a manufacturing and R&D center here in Michigan that is transforming the auto industry and the future of transportation. In addition, the redevelopment of the Metropolitan building is another attraction to Detroit's expanding cultural scene."

Earlier this year, Adient became a publically traded company when it spun off from Johnson Controls Inc. Since late October, the company has been listed on the New York Stock Exchange. In wooing Adient in a competition with the city of Milwaukee, which is home to Johnson Controls, the MEDC negotiated a $2 million Michigan Business Development Program performance-based grant. In return, Adient committed to a $97.8 private investment and the creation of 115 jobs.

"We appreciate today's decision and support from the MEDC and the State of Michigan to help Adient decide that southeastern Michigan was the right place for our new global headquarters," R. Bruce McDonald, chairman and CEO of Adient. "We will take these incentives into consideration as we make a final location decision in the next several days. We look forward to a continued partnership as we expand our presence and bring new jobs to the area."

Adient executives and city of Detroit officials will hold a press conference in the upcoming weeks to announce the location of their new operational headquarters.

With their move to Detroit, ArcelorMittal Tailored Blanks – a subsidiary of one of the world's leading steel and mining companies, ArcelorMittal – will produce high-strength steel laser welded blanks for the OEM automotive industry. The new manufacturing operation in a 317,000-square-foot building north of GM's Hamtramck Assembly plant is the first plant in the state for the company.

ArcelorMittal Tailored Blanks is located in the recently established industrial park near I-94 that includes Flex-N-Gate, a key site to the state's automotive industry resurgence. With the support in May of a state grant, Flex-N-Gate will invest $95 million to manufacture exterior trim components along with aluminum and steel modular stamped body chassis assemblies, among other products.

ArcelorMittal receives a $2 million Michigan Business Development Program performance grant for a project that will create a minimum of 120 jobs over five years, and a capital investment of $83.5 million.

"The state's consideration of a performance-based grant to support this endeavor is critical in advancing our business strategy as we further expand our footprint in Michigan, bringing new jobs and investment to the region," said Ben Orler, vice president of operations, ArcelorMittal Tailored Blanks.

ArcelorMittal along with Adient joins other Michigan-based automakers and manufacturers building high-tech, safer, and cost-and-fuel efficient vehicles. The companies will benefit from proximity to Lightweight Innovations for Tomorrow (LIFT), a nonprofit supported by a $10-million grant from MEDC and founded by the University of Michigan, Ohio State University and DWI, an Ohio-based engineering and technology organization.

LIFT conducts research to develop multi materials to be used in leading-edge manufacturing processes, including in defense, energy and transportation.

The restoration of the historic, 98,000-square-foot Metropolitan Building introduces a mixed-use, extended-stay 110-room hotel
Meanwhile, the restoration of the historic, 98,000-square-foot Metropolitan Building introduces a mixed-use, extended-stay 110-room hotel, including retail space a several blocks from Comerica Park. The redevelopment of the hotel after being vacant since 1977 offers another timely symbol of the city's economic and cultural resurgence.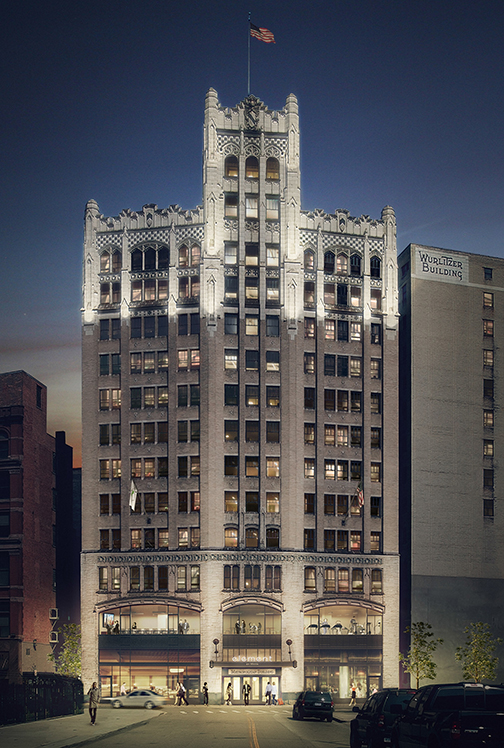 The redevelopment of the Neo-gothic hotel, which opened in 1925, is a collaboration between Detroit-based Means Group Inc. and Roxbury Group LLC, known as Metropolitan Hotel Partners. The project receives a $6.5-million Michigan Community Revitalization Program performance-based loan as part of a total capital investment includes $34 million and the creation of 30 permanent full-time jobs.

"This is about more than brick and mortar," said Eric Means, founder and CEO of the Means Group. "This breathes life into downtown Detroit and is strong evidence of the commitment the state has to preserving an important piece of history in urban America."

The Roxbury Group received MSF incentives to support the renovation of the historic David Whitney Building, and the currently under construction Plaza Midtown and Griswold Lofts developments.
Contact Us