If you had never heard of Pokémon before this summer, you've surely heard of it by now thanks to the biggest mobile game in U.S. history – Pokémon GO. While this game was a viral sensation, the technology behind it is being used to develop similar experiences to provide tools to hospitalized children right here in Michigan.
Christina York from Ann Arbor founded the company ALTality nearly two years ago and created SpellBound, a mobile app and publishing platform. The app brings books and other print materials to 3-D life using augmented reality - or AR.

Augmented reality is an enhanced version of reality created by adding a digital layer to the real, physical world, like the digital Pokémon users see jumping around in the living room when playing the Pokémon GO.
Hospital therapists with pediatric patients use the app to create an out-of-world adventure for children at C.S. Mott Children's Hospital in Ann Arbor. The reimagined technology allows users to hold their smartphone up to the pages of a children's book and watch the characters come to life as they jump around and interact with each other. The app also has the ability to read the story aloud and has interactive feature allowing users to touch words on the page to hear definitions.
Bringing this idea to life was a result of funding and resources from Ann Arbor SPARK, a business incubator program supported by MEDC. York participated in the customer discovery portion of the Ann Arbor SPARK's Boot Camp program and found children's hospitals to be a logical audience for her product. In speaking with parents and teachers, one parent informed she was a child life specialist at a children's hospital and envisioned this technology as a therapeutic tool and magical escape for those in her care unit.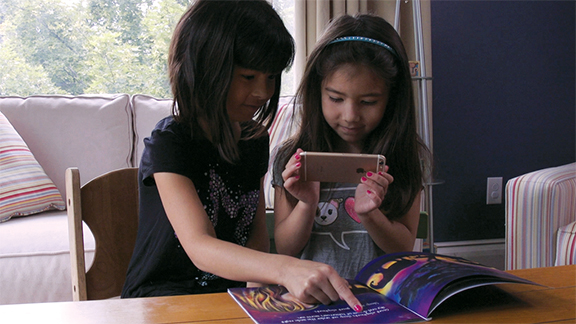 "Making a connection that can further ALTality's business and provide a positive impact to children is an example of the type of ideas that can develop within Ann Arbor SPARK," said Fred Molnar, MEDC's vice president of entrepreneurism and innovation.
"Discovering unique target audiences and developing business models are what makes Ann Arbor SPARK an incredible resource for entrepreneurial start-ups in Michigan."
When asked what advice she would give other entrepreneurs, York said, "Do it in Michigan. Our state has the resources and the talent pool to create our own community of companies working in the field of augmented and virtual reality."
The Pokémon GO craze has opened the public's eyes to what augmented reality offers and will expedite the advancement of the field and widen the range of potential uses for the technology. York has already begun to brainstorm an expanded range of her company's capabilities and plans to keep her company where she believes the best talent is available – right here in Michigan.
One of her next ideas is creating an even more mythical experience by transforming a hospital room to look like a scene in one of the children's books using augmented reality technology.
Currently, the company is focusing on licensing its technology to children's hospitals. The pilot program at Mott is being used by 25 child life specialists in the treatment of their patients.