Focusing on projects from across the state in four specific market segments – devices, diagnostics, therapeutics and health care IT – the hub was approved by the Michigan Strategic Fund (MSF) during its July board meeting.

The Life Sciences Innovation Hub is part of the Michigan Translational Research and Commercialization (MTRAC) Statewide Program, which reinforces the commitment of the MSF, the Michigan Economic Development Corporation (MEDC) and U-M to innovation and entrepreneurship as a dynamic catalyst for economic growth.

The MTRAC for Life Sciences Innovation Hub will have an initial operating budget of $4.05 million, with half of the funds coming from the MSF and the remainder coming from U-M and partnering institutions.

In April, the MSF approved $3.5 million initial funding to support the acceleration of technology transfer from Michigan's institutions of higher education, nonprofit research centers and hospital systems. Supported projects will focus on cutting-edge research, competitive edge technology and bioeconomy technologies with commercialization potential based on private sector interest. Once accepted into the program, projects will be reviewed and scored by an external oversight committee for funding consideration and project mentoring.
"As a statewide innovation hub, FFMI can now service innovators from across Michigan with support processes and resources to expand the capabilities of our current health system to prevent and treat more diseases and reach our ultimate goal: saving more lives," said Bradley J. Martin, FFMI commercialization program director for the MTRAC for Life Sciences Innovation Hub. "The great recognition and impact the FFMI program has already experienced here at U-M Medical School, in partnership with U-M Tech Transfer, helped inspire the decision to expand our program statewide."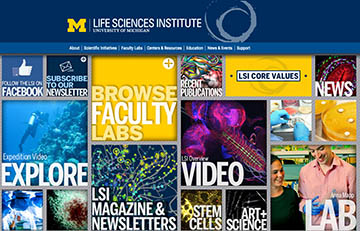 The hub's proposed projects will be based on two funding tiers, Mi-Kickstart and full Mi-TRAC awards. Mi-Kickstart awards will offer early-stage funding in the $25,000-$30,000 range and will be evaluated and awarded on a quarterly basis. Mi-TRAC awards will offer mid-stage funding in the $100,000-$200,000 range and will be reviewed and awarded on an annual basis.

One of the many start-up companies and projects that have resulted from the U-M MTRAC program is the Cryo-Anesthesia Device, a handheld medical instrument that provides a quicker, less painful eye-care anesthesia to improve patient care comfort, reduce side effects and increase physician efficiency. This cutting-edge technology will result in better treatment of ocular injections given for a number of eye diseases.

"Translational research funds are essential for developing promising technologies into attractive licensing opportunities that can provide life-changing health advances and economic opportunities," said Ken Nisbet, associate vice president for technology transfer and co-principal investigator for the MTRAC for Life Sciences Innovation Hub. Tech Transfer and FFMI will partner to provide the regulatory guidance, technology development, and mentorship needed to advance promising projects through the commercialization pathway."

"Along with advancing the research and commercialization potential of the current health system, leveraging collaboration among industry, the venture capital community, higher education, hospital systems and non-profit research centers will help increase the number of start-ups, jobs and industry licenses for the state of Michigan," said Denise Graves, MEDC university relations director.

As of June 2016, the MTRAC programs have funded 86 projects, helped develop 13 start-up companies, created 38 jobs, secured $23.8 million in follow-on funding, and licensed technology to eight Michigan companies.

MEDC's entrepreneur and innovation initiative establishes Michigan as the place to create and grow a business by providing high-tech start-up companies with access to a variety of critical resources, such as funding and expert counsel, from ideation to maturation. For more on MEDC Entrepreneurship & Innovation, visit www.michiganbusiness.org.