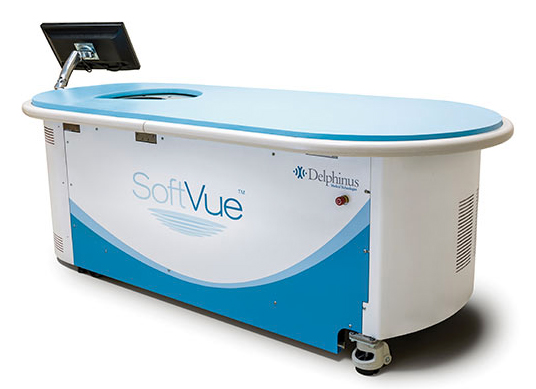 Mark Forchette knew what he was looking for, and discovered it in what he considers Michigan's thriving startup ecosystem.
Forchette is president and CEO of Delphinus Medical Technologies, a leader in advanced ultrasound development attracting international attention as the first company to design and manufacture a breast ultrasound system that images an entire breast with a single scan.
"I was looking for a highly disruptive and highly differentiated technology that was poised to transform an industry," he said. "And I found it in Michigan."
Recently, Delphinus moved out of its space at the Michigan Life Science and Innovation Center (MLSIC) supported by the Michigan Economic Development Corporation. Their new home in Novi – a 21,000-square-foot facility – is three times the size of the company's previous space. With the move, Delphinus increased their staff by nearly two-thirds, and expanded its onsite research-and-development capabilities.
"We have found the business environment to be so supportive here," Forchette said. "There's a sophistication and an authenticity among the venture backers and business community that makes me feel comfortable and confident in the team we have. It's a tight-knit and collaborative environment that has been ideal for building the foundation of a truly groundbreaking company."
Using a proprietary circular transducer to transmit and receive ultrasound signals, featuring TriAD™ technology, the company's SoftVue™ system delivers detailed images of breast tissue with no radiation and no compression.
The resulting data has the potential to help physicians detect and diagnose breast disease earlier, improve the patient experience and reduce false positive rates that trouble other imaging techniques. SoftVue was developed to address the needs of women with dense breast tissue, who often need additional testing following a mammogram.
"Michigan is truly progressing as a hub of life science innovation and Delphinus is a perfect example of life-changing technology that can be developed here," said Fred Molnar, vice president of entrepreneurship and innovation at MEDC and director of MLSIC.
Delphinus was formed in 2010 as a spinoff of Karmanos Cancer Institute in Detroit. The SoftVue technology was created by Peter Littrup from Karmanos and Neb Duric from Wayne State University. The technology has been approved by the FDA for diagnostic imaging, and is not intended to replace screening mammograms.