Students in Dollar Bay, Michigan, are participating in Square One Education Network's V2X program, building connected vehicles that "talk" to each other.
Michigan students are turning what look like toys into technological advancements – and it's all in the name of education.
Square One Education Network is giving 20 schools hands-on experiences in connected automotive technology through its V2X, or vehicle-to-everything, program as part of an ongoing effort to introduce kids to science, technology, engineering and math (STEM) education.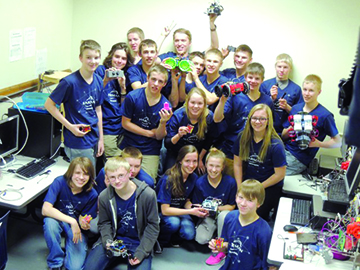 Introducing kids to the possibilities of what they can do in the future is a great way to get them energized about STEM education," said Karl Klimek, executive director of Square One.
"Everywhere we turn, there is a huge demand for talent but there is also a lot of nervousness about workforce readiness for the future," he said. "As a small, nimble foundation and having great relationships with the auto industry, the Michigan Department of Transportation, the governor's office and STEM and career education leaders around the state, we believe we can not only engage students, but develop some actual highly relevant materials, content and direct exposure for the K-12 environment."
Careers that involve STEM education have grown in Michigan by 12.8 percent since 2010, outpacing the 2.1 percent seen in overall occupational growth, according to Michigan's Department of Technology, Management and Budget. The top two STEM occupations, in terms of total employment, were mechanical and industrial engineers.
However, there is a shortage of qualified candidates to keep up with the demand for engineers. The Workforce Intelligence Network for Southeast Michigan reports the number of job postings seeking engineers and designers in Michigan outpaces the number of students successfully completing programs for these careers.
Square One's mission is to allow students to bring their own innovation and engineering skills to create vehicle technology.
In addition to the V2X program, Square One hosts challenges with school teams competing against each other by creating underwater and automated vehicles. The V2X program began last fall with 11 schools given starter kits and training. Another 10 schools were given kits and training in late February.
As part of the V2X program, students work alongside their teachers to equip model vehicles with connected vehicle technology. The teams use 3-D printed vehicle platforms they modify themselves with hardware from Arduino microcontroller hardware, sensors and other detecting electronics to conduct their research.
From the tool kit, students build two personalized vehicles, select their colors and design distinct wheels and mounting brackets for the ultrasonic sensors. The kit also has a minicomputer that connects to the sensors. By writing specific computer code, the teams create one vehicle that serves as the leader, traveling a predetermined path. The second vehicle they create follows directly behind it via the sensor technology.
While still in its infancy, the goal of Square One's V2X program is that teams will one day be able to develop a vehicle that is connected to the hallways of a school in the same way a real connected vehicle would communicate with the infrastructure of a roadway it's traveling on.
"The idea is the team would eventually create a vehicle that is aware of its environment," Klimek said. "This vehicle would be able to travel from one room of the school to another using connected technology."
A nonprofit foundation, Square One relies on grant funding and industry sponsorships to help support the challenges, school involvement and training for the teachers. The first group of 10 schools were given grant funding and workshop assistance for teachers from HARMAN International Industries Inc. The Stamford, CT-based connected technologies company has its North American headquarters in Novi. The company designs and engineers connected products for automakers, consumers and enterprises worldwide.
"Our main goal with this partnership is to give students the tools they need to better understand their world and its many possibilities, fostering creative thinking and experimentation," said Caroline Moore, senior manager for Corporate Social Responsibility at HARMAN. "We are also trying to empower the future workforce that will be employed by us, our partners and our peers – ensuring long term success for all."
Getting students interested in the field of engineering is on par with efforts being made by the Michigan Economic Development Corporation's Automotive Office, which has lent support and promoted Square One at industry events like the MICHauto Summit and the North American International Auto Show. Aside from assistance in getting displays for events and technologies for the students, the MEDC has enabled Square One to obtain funding by opening doors to partners for its overall initiative to get youth interested in STEM curriculum and the auto industry.
"Michigan has a higher concentration of engineers than any other state in the country, but we still need to do more to promote science, technology, engineering and math to our youth to build our future talent," said Kevin Kerrigan, senior vice president of the Automotive Office.
"Through programs like Square One, students get hands-on learning experiences with advanced technology in an environment that builds excitement around engineering the future of mobility."