'Detroiters' comedy series to film – where else? – in Detroit
Tuesday, January 26, 2016
Collaboration with city, state key to Comedy Central's decision; filming begins in summer
In the end, it just had to be Detroit.
Comedy Central has selected Detroit as the backdrop for its upcoming series, "Detroiters," a comedy series that follows the travails of two small-time advertising men who produce low-budget, off-beat commercials with an eye toward a bigger dream. The series, which filmed a pilot last summer in Detroit, features Sam Richardson (below photo, right) and Tim Robinson (below photo, left), both of whom have connections to metro Detroit.
"We welcome Comedy Central to the economic and cultural revival of Detroit," said Adrian Tonon, director of customer service for the city of Detroit. "Attracting Comedy Central is a symbolic victory for the city, state and private partners who came together to make a compelling offer on the many advantages of doing business in the city."
Filming is scheduled to begin this summer with pre-production as early as April.
The series is executive produced, created and written by Richardson (HBO's "Veep," former "Second City" member), Robinson ("Saturday Night Live" writer), Joe Kelly and Zach Kanin. "Detroiters" is executive produced by "Saturday Night Live" creator Lorne Michaels' Broadway Video and Jason Sudeikis ("SNL," "Horrible Bosses," "We're the Millers").
Prominent reasons for choosing to film series in Detroit include Richardson (who grew up in Detroit) and Clarkston-native Robinson's strong opinion the series should be shot in their hometown; that Detroit plays a major role in the series almost like a third character; and, the strong workforce and local production community, said Mara Waldman, vice president of production at Comedy Central.
"Ultimately, we made a talent-driven, business and creative decision," said Waldman. "We had such a positive experience when we filmed here in June, and fell in love with the city's iconic locations. It all came together as a result of seamless collaboration with the city and state film office based on what needed to be in place for the series to be a success."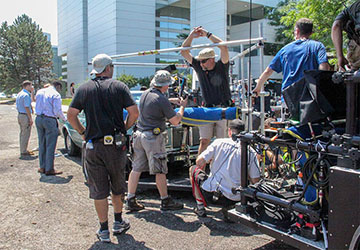 In addition to Comedy Central, City of Detroit, and Michigan Film & Digital Media Office (MFDMO), other members of the collaborative and creative team include Christos Moisides (Detroit Entertainment Commission Mayoral Appointee, 400 Monroe Associates, Tyre Corporation), a long-standing leader in the Detroit film community; and, Karla Murray (Film Detroit), who has extensive experience serving the film community in Michigan.
Winning the competitive selection process is a major boost to the state and city's efforts to attract film/digital media production companies, said MFDMO Commissioner Jenell Leonard. "Detroiters" received a state incentive to film a pilot. Last summer, the film incentive program was eliminated.
The keys to attracting Comedy Central, said Leonard, was the state's knowledge and expertise in dealing with production companies and the city of Detroit's streamlined, cost-efficient city-related services.
"We felt strongly a production that bears the city's name must be filmed in Detroit," she said. "Of course, we know that because of increasing technology, productions can be made anywhere. But in the end, that 'Detroiters' will be filmed in speaks to the tenacity and spirit of Detroit."
Since the elimination of incentives, MFDMO has established a new mission. Its role in working with Comedy Central, said Leonard, serves as a prototype, and example of its newly formed leadership in assisting municipalities across Michigan in attracting production companies and film projects.
Selam Ghirmai is a promotional agent at the Michigan Film & Digital Media Office.
Contact Us