Unmanned aerial systems industry taking flight
Wednesday, December 2, 2015
MEDC's $250,000 grant will help develop, promote test site at Alpena County Regional Airport
"Michigan has a rich history of innovation, a skilled work force, and leading academic institutions prepared to engage in the emerging public UAS space."
In response to the fast-growing commercial and defense-related demand for unmanned aerial systems (UAS), the Michigan Economic Development Corporation has awarded a $250,000 grant to the Northern Michigan Unmanned Aerial Systems Consortium (NMUASC) in Alpena.
"This is a great opportunity for Michigan to establish an ecosystem for UAS," said MEDC CEO Steve Arwood. "Unmanned aerial systems represents a new industry with great economic potential for commercial and defense sectors, and Michigan is in position to play a major role in the emerging market. Michigan has a rich history of innovation, a skilled work force, and leading academic institutions prepared to engage in the emerging public UAS space."
At this stage of UAS development, testing on the airborne vehicles is crucial as the FAA determines rules for how and where light-weight UAS can operate in U.S. airspace. Griffiss International Airport, a former Air Force Base in central New York, is partnering with NMUASC to develop standards for integrating unmanned systems into national airspace and for civilian use.
The funds will support the development and global marketing campaign of the test site for unmanned aerial vehicles. State general fund/general purpose grant funds were made available by the legislature as part of a special grant appropriation.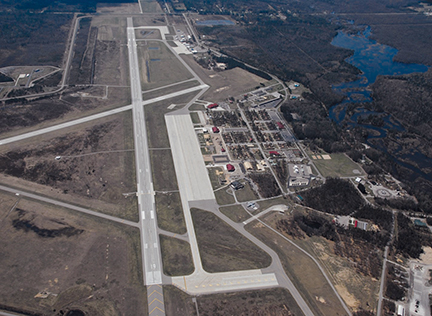 "Alpena has worked tirelessly to leverage regional strengths to take advantage of an emerging market," said Jim Stamas, whose district includes Alpena County. "We are pleased to provide additional resources through the MEDC to move the initiative toward a tangible impact on the regional Alpena economy."
Stamas and State Rep. Peter Pettalia, whose district also includes Alpena, worked with Gov. Snyder and the MEDC to find ways to invest in the Alpena region. Alpena County Regional Airport and surrounding expanse space of low population is an ideal site for research, testing and development of UAS.
"A few years ago, the unmanned flight technology seemed light years away, but now with so many different uses and applications being developed, it's exciting to think we can be at the front helping to guide wherever it's all going," said Rep. Pettalia.
In addition to military and national defense uses, UAS have multiple commercial applications, such as utility and construction companies' ability to monitor pipelines and electrical grids along with public agencies and private companies inspections of bridges and other difficult-to-reach sites.
"The state funding, and networking assistance from the MEDC, will enable NMUASC to reach more potential clients." said NMUASC CEO Jim Makowske. "The funding will build upon the previous efforts of Alpena County and generate more interest in centering UAS research and manufacturing activity regionally."
NMUASC will receive half of the total grant upfront with the balance to be allocated when additional companies utilize the unmanned aerial systems test site. In addition, the consortium will consult with aerial systems companies, and help to navigate the complex FAA regulation process, said Makowske.
The UAS industry could create as many as 100,000 new jobs and generate more than $80 billion in revenue from U.S.-based companies by 2025, according to the Association of Unmanned Vehicle Systems International (AUVSI), an Arlington, Virginia-based non-profit that aims to advance unmanned systems and robotics industry.
AUVSI estimates that the total economic impact of UAS integration into the National Air Space could reach $138 million and contribute over 1,400 jobs by 2025 in Michigan. The association's 7,500 members come from industry, research centers, academia, military and government agencies.
Currently, there are more than 50 companies in Michigan granted FAA 333 exemptions for commercial operations of UAS. Cost of UAS range from a few hundred dollars to sophisticated, long-range systems valued at tens of thousands of dollars and above.
Contact Us