Innovative approach to diagnosing cancer
Tuesday, December 29, 2015
Plymouth-based Celsee Diagnostics among companies with top scientific inventions of 2015
"Creating the environment for companies such as Celsee to succeed is crucial to Michigan's entrepreneurial success in the life sciences." ––Fredrick Molnar, MEDC, Vice President of Entrepreneurism and Innovation, and Managing Director of MLSIC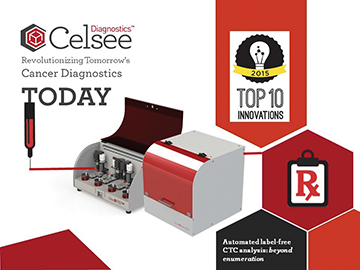 A minimally invasive invention designed to diagnose early stage cancers is among the top 10 innovations of the year named by "The Scientist," a magazine and online source for life science professionals. The list was published in early December.
Through a liquid biopsy, the Celsee PREP400 sample-preparation system separates circulating tumor cells from a blood sample. Subsequent to the cells captured on plates, the Celsee PREP400 delivers a stain for a range of molecular analyses. The companion to PREPR400, Celsee ANALYZER, captures images of single cells from the slides for prompt evaluation.
Both inventions are the products of Celsee Diagnostics, a Plymouth-based company founded five years ago in the Michigan Life Science and Innovation Center (MLSIC), an incubator managed by the Michigan Economic Development Corporation (MEDC). The 67,000-square-foot space includes state-of-the-art labs, offices and other business amenities.
"Creating the environment for companies such as Celsee to succeed is crucial to Michigan's entrepreneurial success in the life sciences." said Fredrick Molnar, MEDC's vice president of entrepreneurism and innovation and managing director of MLSIC.
Celsee Diagnostics is seeking U.S. FDA approval, which is necessary for clinical use.
"Wall Street analysts expect demand for liquid biopsies to rocket toward $20 billion a year within five years, from about $100 million today," according to a recent article in MIT Technology Review.
Priyadarshini Gogoi, who co-founded Celsee with Chris Seimer and Saedeh Sepehri, said the company's first boost of success came through Accelerate Michigan in the form of a grant for $500,000. Additionally, she credits the outstanding reputation of and community within MLSIC.
"We are very proud to be among like-minded innovative life science companies," said Gogoi. "MLSIC is a very credible incubator and fosters a helpful environment for us.
"When we began there weren't many resources to build a lab, which can be hard, especially for companies just starting out. Having this relationship with MLSIC has been crucial to our success," she said.
Contact Us