Turning the Page: Rae Gosling of Hidden Nook Booksellers
Rae Gosling, former Michigan Main Street Director for the city of Grayling, starts a new chapter as the owner of Hidden Nook Booksellers
Rae Gosling, 36, is vivacious and chatty, with vivid turquoise and magenta hair. Her love of literature is evidenced by the tattoo on her forearm of an open book surrounded by birds, flowers, and constellations. The interior of the Hidden Nook Booksellers, her new bookstore in downtown Grayling, reflects Gosling's whimsy and creativity. The tiny shop – the sales floor is only 800 square feet – is filled with "book art," including a book folded into a four-leaf clover, a bespectacled owl made of books that's perched in the window, and Gosling's pride and joy: a custom checkout counter made of 461 donated, used books stacked and glued together that she and her husband built themselves.
Her new role as small business owner is a departure from her previous job of Michigan Main Street (MMS) director for the city of Grayling, a position she held for seven years. During her tenure, Gosling planned special events and worked on programming and technical services for the community's businesses. The community was part of the inaugural Project Rising Tide program, which provided communities with the tools and technical assistance to become better positioned for redevelopment opportunities.
"My role as Main Street director plays a huge factor in my success with Hidden Nook," Gosling said. "People know me and know I want to share my passion and energy with them. And they trust me as someone who's going to give them a quality product and treat them fairly from a business perspective."
Gosling is not a native Michigander. She met her husband Liam in Denver and, when their children were young, they felt it was time to reevaluate where they wanted to raise their kids.
"My husband's sisters jokingly sent us a house listing in Grayling and I loved it," Gosling said. "So we came to Grayling, looked at houses over Valentine's weekend, and on our way home, put in an offer. By the time we got off the plane in Denver, we had an accepted offer."
Gosling made the move halfway across the country without having a job lined up, but she quickly found temporary work covering for Grayling's Main Street director at the time, who was going on maternity leave for the summer. When the director decided not to return to work, Gosling found herself in the position permanently.
Gosling says that a big part of her job as Main Street director was to work on beautification efforts that focused on bringing color and vibrancy to downtown Grayling, including the development of the community's brand: "the most colorful river town."
"One of my favorite things I did on the job was to work on the community rebranding project," Gosling said. "It was a ton of fun to touch base with everyone in the community – our professional services, our residents – and to gather all that information and then create something really cool. And now we have really great branding here in our community. I love actually seeing it on the street signs. I work right downtown and our banners are up everywhere. It's really impacted the cohesive image of our city."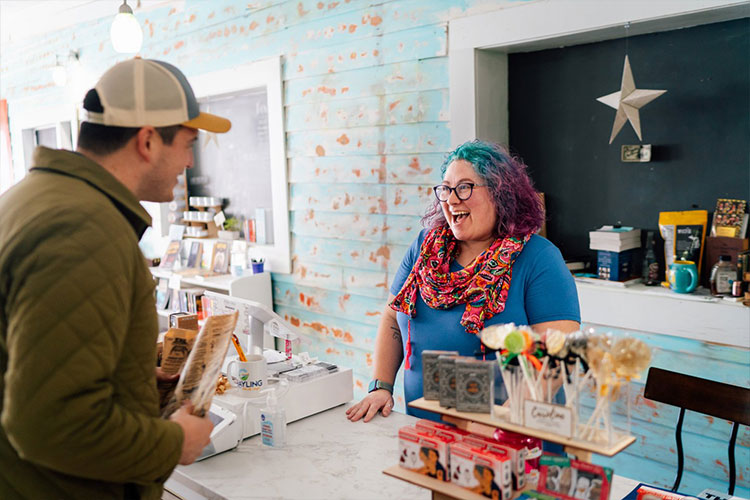 Gosling had always wanted to be a small business owner though, so she and her husband decided to turn their passion for games and books into a business. They had the chance to buy a bookstore in nearby Gaylord, but the 35-minute drive presented too much of an obstacle. The opportunity jumpstarted their search, however, and they started looking for locations in Grayling.
During a work-related visit to Lansing, Gosling passed a tattoo shop and, on a whim, got the book tattoo. She took that as a sign to continue pursuing her dream of owning a bookstore. At that same time, a building went up for sale in downtown Grayling, so she and her husband bought the building in September 2022 and opened the door to the Hidden Nook Booksellers shop in October.
As is the case with any new venture, coming up with capital to open the bookshop was a challenge, but Gosling's experience working with small businesses in the city helped prepare her. For example, she knew that MEDC's Match on Main program was doing another round of grants, so she applied and in December, was awarded a $25,000 in funding to assist with the purchase of inventory.
"Of course, raising capital was tricky. My parents helped us, but we also maxed out our credit cards, I dipped into my 401k," Gosling said. "We absolutely took some risks and we have a lot on the line. But it helped that I had some inside knowledge from my days as Main Street director. I knew how to apply for a Match on Main grant. And having worked with so many small businesses, I don't think anything we've faced has been anywhere near as difficult as it could have been."
Gosling has big plans for the tiny bookstore, which currently carries a wide range of books that appeal to a wide range of readers. About 25 percent of the inventory is dedicated to games, mostly of the European style including games like Ticket to Ride, Catan, Seven Wonders, and Pandemic.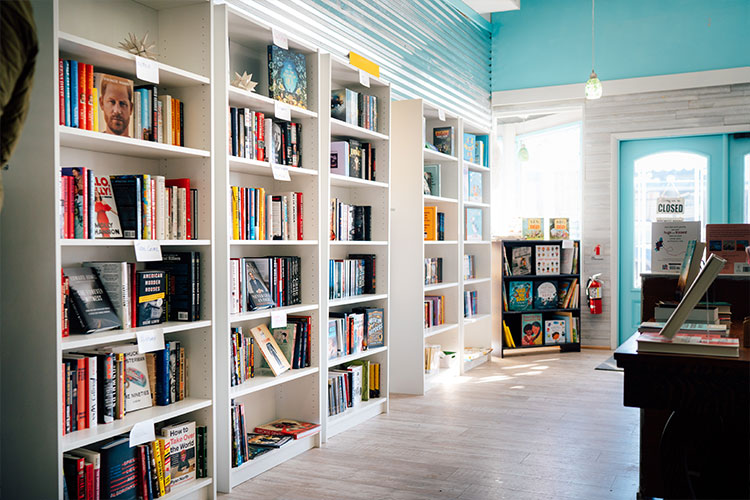 "The games we carry require more skill and strategy than traditional American games," Gosling said. "There's no Scrabble or Monopoly games here."
She plans to hold special events including author signings, game nights, book club get-togethers and more.
"We're really excited to do 'Books and Booze' events," Gosling said. "We have friends across the street who own Tip'n the Mitten (a Michigan-focused gift shop) and they have a catering licenses for their liquor sales. So we'll pick a few books and do books and booze pairings. We'll also start hosting game nights, and we'll bring our own copies of the games so people can experience the games before purchasing them."
Gosling says she strives to have a book for anyone who walks in the door. "Board books, picture books, middle readers, young adult, nonfiction, religious, food/cooking, fantasy, sci-fi, poetry, romance, murder-y fiction, and not so murder-y fiction. We also do special requests. If we don't have it on the shelf, we will gladly look for it and get it in stock," she said.
Gosling says she didn't have concerns about e-books or e-readers creating competition for her bookstore. She has a partnership with Libro.FM which works with independent bookstores for audiobooks, and while she hasn't discovered an e-book program that is comparable to the audio program they're in, she's on the lookout for one.
"I think there is a happy medium between physical books and e-books – they each have their place," Gosling said. "I think after being home for so long, people are 'screened out,' and that is driving some of the resurgence of independent bookstores, and really, small businesses across the board. Folks realized, or maybe remembered, what quality and personal service feels like and are craving it.
"I'm glad I had the opportunity to make a good impression and do positive things while I was here in a professional capacity as Main Street director," Gosling said. "Now I'm really excited to get to do this in a new professional capacity."